On The Bay
Family Fun On Our Local Waters
November 2011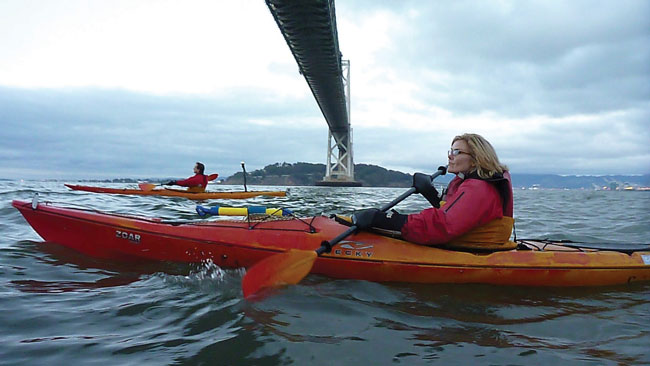 The last few months saw the Bay abuzz with really big boats – between the Big Boat Series, Fleet Week, and the return of Oracle Racing's AC45s. While the weather is still fine, now is perhaps the best time for you and your family to get out on the Bay in something a bit more manageable!
City Kayak offers family kayak trips around the Bay every Saturday at 10 a.m. With no paddling experience necessary, this is the perfect introduction to the sport for the whole family, and with reduced rates for youth (and children age 11 and under free), it's an affordable way to enjoy the Bay. You will go through a briefing about the area you'll be paddling, learn how to maneuver a kayak, and after some practice, you and your family will explore the fun route along McCovey Cove and Mission Creek. City Kayak guides will be on the water to lead the way and give you helpful tips as you paddle their extra-stable kayaks. Other trips offered include downtown San Francisco trips where you get to explore the waterfront from the Ferry Building to Mission Creek. If you are looking for a more romantic outing, you may want to try the full moon kayak trip planned for Friday, Nov. 11 or the sunset kayak trip on Saturday, Nov. 12. City Kayak is located at South Beach Harbor on the Embarcadero at Townsend Street. For more information or to reserve your spot for an upcoming outing, call 415-357-1010 or visit www.CityKayak.com.
If college football is more to your liking but you didn't get tickets to the Big Game, or you just want to get a jump on the Cal-Stanford rivalry, then check out the Big Sail on Tuesday, Nov. 15, hosted by the St. Francis Yacht Club. The Big Sail offers all the collegiate pomp and excitement as Cal and Stanford sailors battle on the Bay, with bands and cheerleaders from both schools providing pep and music. If you are not a yacht club member, you can still catch all the excitement from shore. For more information, go to www.stfyc.org and check the calendar section.
The third round of the inaugural America's Cup World Series takes place in San Diego from Nov. 12–20, and will once again feature both match racing and the exhilarating fleet racing. Much like in San Francisco, the races will take place within San Diego Bay with plenty of natural amphitheater viewing areas. You can check out www.AmericasCup.com for race updates, videos and more.
To watch for upcoming regattas on the Bay, you can check the schedules at the Yacht Racing Association of San Francisco Bay at www.yra.org, and of course our own neighborhood yacht clubs at www.stfyc.org or www.ggyc.org.
---
Jim Maxwell has been sailing for 20 years and thinks there is no finer place to be than on the Bay. E-mail:
[email protected]