Plans unveiled for Memorial Day weekend celebration for the Bay Area's most famous landmark
February 2012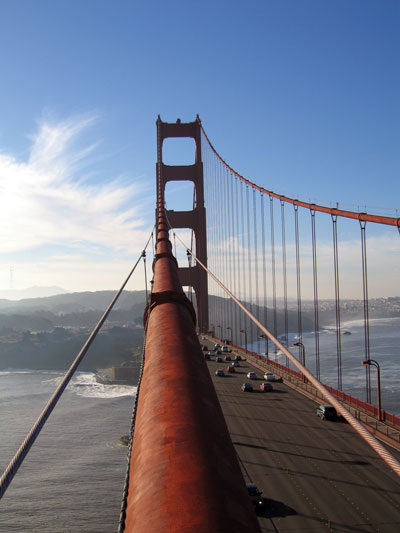 The Golden Gate Festival, a two-day public celebration for the 75th anniversary of the Golden Gate Bridge, will take place on Memorial Day weekend, May 26–27, 2012 and will span the San Francisco waterfront from Fort Point to Pier 39.
Under the theme "Bridging Us All," the Golden Gate Festival will be the center point of the bridge's yearlong anniversary program. Harkening back to the spirit of the Golden Gate Fiesta held when the bridge opened on May 27, 1937, highlights of the 2012 celebration include a historic watercraft parade, multiple music and dance stages, art installations, history and educational presentations, a display of vintage automobiles, and bridge-related activities on Crissy Field and the Marina Green. These activities will be complemented by bridge-themed events and performances at waterfront venues including Fort Mason Center, Ghirardelli Square, San Francisco Maritime National Historical Park, Fisherman's Wharf, and Pier 39, among others.
The bridge itself will remain open to auto traffic and planning officials are quick to point out there will be no bridge walk for this anniversary celebration. There will be numerous vantage points and ways for the public to share in the festival experience, however.
Events are planned to focus on the bridge's history and significance while highlighting the beauty of the national parklands that anchor the famed span including:
• art installations at Fort Point,
• interpretive talks and self-guided walks,
• YMCA-sponsored youth bike trips to the bridge,
• displays of historic bridge artifacts,
• bridge-related art at SFMOMA's gallery at Fort Mason Center,
• outdoor art installations at Fort Mason Center,
• photographic exhibition on military history in the Presidio,
• music, historic images, vintage automobiles, and maritime history displays at Fisherman's Wharf,
• tours aboard the Alma, music, photo displays, and vintage cars at the San Francisco Maritime National Historic Park
• film night in the Presidio with movies featuring the Golden Gate Bridge,
• a music and dance festival honoring the 1930s at Pier 39.
Weekend activities at Crissy Field and Marina Green will include history and educational presentations, a historic watercraft parade, music and dance stages, art installations, bridge construction films, and displays from corporate and media partners.
At approximately 9:30 p.m. on Sunday, May 27, the weekend celebration will conclude with a spectacular 75th anniversary fireworks display and grand finale. "The Golden Gate Bridge stands today as a testament of innovation and imagination, a bridge built by the people during the Great Depression," said Janet Reilly, president of the Golden Gate Bridge, Highway and Transportation District board of directors. "In honor of its 75th anniversary, we are reaching out to the people of the Bay Area and beyond to join us in a community-based celebration along the San Francisco waterfront. The bridge is not the stage this time; rather, the community will come together to celebrate this engineering wonder together in a festival atmosphere."
Entirely funded by private contributions, the yearlong Golden Gate Bridge 75th Anniversary is made possible by several private sector corporate partners including lead underwriters Genentech, Hewlett-Packard and Wells Fargo. Supporting corporate partners are Kaiser Permanente and Odwalla, with additional support provided by Hanson Bridgett LLP and Levi Strauss & Company.
In addition to the Golden Gate Festival, a series of public programs is being presented throughout the year by Bay Area museums, cultural centers, universities, arts organizations, children's groups, and others. For a full list of updated events, visit
www.goldengatebridge75.org
.