Longtime Marina resident
Gloria Corino remembered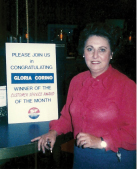 On Feb. 28, the Marina lost not only a longtime neighbor, but also a devoted friend. Gloria Corino passed away while being treated for lung cancer. She lived and worked in the neighborhood for more than 50 years, having built a solid reputation as a customer service banker who was popular with everyone due to her outgoing personality and charm.
Gloria was a San Francisco native who was once married to bandleader and composer Michael Corino. They had three children, Jeffrey, Glenn and Mark. She began her professional career in journalism working for the Giornale Italia. After she married, she helped manage the family music business located in North Beach. After a later divorce, she changed directions and worked for
two years as a secretary at St. Brigid Catholic Elementary School. Gloria is most known for her warmth, her sense of humor, and the personal touches she added when dealing with customers. She entered the banking industry in 1976 when she was hired at San Francisco Federal Savings. Up until the end of last year, she worked for First Federal of San Rafael at the corner of Chestnut and Divisadero Streets. One admirer said of Gloria: "She was one of a kind; God does not make them any better. She was a beautiful person."
There are countless stories from her customers and co-workers about her caring heart and motherly instincts. "Gloria would be the one to bring in the goodies on holidays or special treats. She was a good person and everybody loved her great smile. We will miss her." Socially, Ms. Corino was active with the Italian Catholic Federation and donated generously to favorite charities. "She was not the type to sound the trumpet when she did a good deed," said her son Glenn Corino. "She kept her charitable deeds private. But she loved helping people."
Irina Tovchigrechko worked with her at First Federal of San Rafael and felt like an adopted daughter: "She was beautiful. Her eyes were like stars that shined from the inside. They sparkled."
Her son Jeff Corino (a former Marina Times contributer) delivered an endearing eulogy for his mother at Saints Peter and Paul Church. In one part, he said that because of his mother's popularity, he and his two brothers mourned together with a "large extended family who adopted her as their spiritual mother, auntie, sister, or friend."
All who knew and loved Gloria Corino will miss her.