STREET BEAT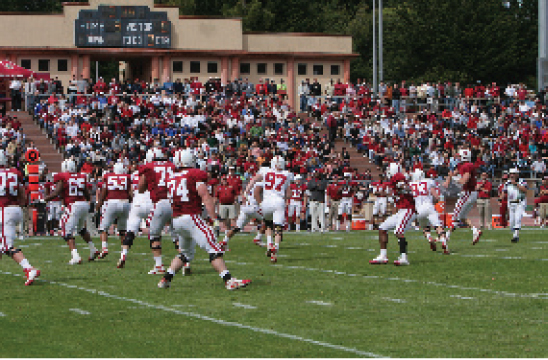 One of Clyde's favorite four-letter words is "free," and to see Heisman Trophy runner-up Andrew Luck play for bupkis on April 9 (2 p.m. at Kezar Stadium) is a day well spent. You'll be telling your kids or grandkids about seeing the kid who didn't want to join the egotistical owners and the spoiled brat players of the NFL, or at least he'll wait a year before doing so at most likely an extreme financial cost. Clyde recommends picnicking somewhere in Golden Gate Park, away from the junkies and beggars of course.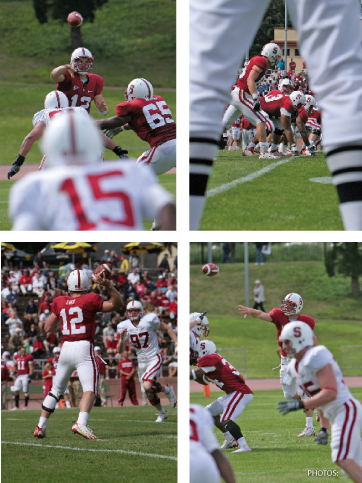 Clyde strongly suggests seeing master butcher Terry Bloom of Real Food (3060 Fillmore Street at Filbert, 415-567-6900, www.realfoodco.com) and having him slice you some cold cuts and cheese. Just ask Terry what's good and he'll tell you. Clyde is huge on the roast beef because it's cooked with garlic and has clove pieces on each slice. Clydissimo likes the provolone cheese. Clyde also appreciates how Terry and his capable staff use that evil-looking slicer without losing a digit. Next, buy the mini-loaves of bread from Semifreddi's Bakery that only cost 89 cents a piece. Step one finished: awesome sandwiches. Step two: stop by Michaelis Wine and Spirits (2198 Union Street at Fillmore, 415-921-5700) and load up on brewskis and vino. It's A-OK to bring in some suds or grape juice to the Cardinal and White game. Michaelis owner Jack Zeidan and his staff will point you in the right direction on where the good deals are. Don't worry, it won't be like the Kezar-era Niner games where the stands resembled an English soccer match with multiple fistfights and the heaving of beer coolers. No, civilized Clyde and his Stanford cronies don't do the thuggery of British football, mate.

Last, everyone needs dessert, so step three: bop on over to see Brian and Keisha Williams at That Takes the Cake (2271 Union Street at Steiner, 415-567-8050, www.that-takes-the-cake.com). If you call in advance, they can make cupcakes with the Stanford "S" on them! After a Real Food sandwich and a few bevies from Michaelis, why not spoil yourself with the best cupcakes in San Francisco?

And don't worry, Gigantes fans, the defending World Series champs don't take on the St. Louis Cards until 6:05 p.m. out at PacBell or AT&T Park (or whatever corporate entity thinks we'll subliminally give them our hard-earned money because they plaster their name all over a jewel of a stadium that is symbolic of our love of the Giants and the national pastime and has nothing to do with corporate greed). So you won't miss a thing. Join sports junkie Clyde at Kezar and perhaps later at the ballpark.
GIANTS SPRING TRAINING REPORT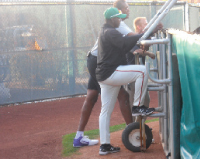 Speaking of the Giants, Friend-of-Clyde and Better Homes and Gardens/Mason McDuffie realtor Steve Hermanos (2200 Union Street at Fillmore, 415-497-4480, e-mail SF415@aol.com) – author of O, Gigantic Victory! Baseball Poems: The 2010 Championship Season, a huge hit that's available at Books, Inc. on Chestnut – was at spring training pimping his book and filed this Marina Times exclusive with the Clydester.

How do you fill people with confidence when they fail more than two-thirds of the time? That is the Freudian-New Age mentor-guru part of the job known as Major League batting coach. Hensley "Bam Bam" Meulens is the Giants' batting coach. He's been on the job one year and his record is perfect: 1 World Series title – 0 nontitles.

Imagine his job in 2010, saddled with the psyches of an inconsistent free-agent (Aurbrey Huff), and players dumped like broken engine blocks onto the scrap heap known as the waiver wire (Pat Burrell, Cody Ross). Meulens helped transform these gentlemen, and the other Giants, into a team that scored just enough to get to the World Series, and then offensively exploded all over a previously feared Texas pitching staff. The result was a victory parade down Market Street and a proud, eager, happy feeling not as widespread since the end of World War II.

Lincecum, Posey, Bruce Bochy, Brian Wilson, Huff, Cody Ross, all were heroes. But without the guidance of Bam Bam Meulens, it can be argued that Giants fans would have experienced their 57th championship-less season. Meulens had an up-and-down Major League career and played in Japan and Korea. He speaks English, Spanish, Dutch, Papiamento, and Japanese.

"He doesn't try to mold anybody into what he thinks the player should be," said Buster Posey. "He works with what their approach is." Cody Ross adds, "If he sees a little certain something, he'll mention it and get the feeling back to normal. For me, a good hitting coach is always available and very positive. He's able to relate to players where they're coming from." Pablo Sandoval said, "He's going to get you better."

"Some hitting coaches try to change your swing," says Emmanuel Burriss, a switch-hitting infielder. "Bam Bam zeroes in on what makes your swing work. He observes hitters, rather than make them apply his own approach to hitting."

Hensley Meulens echoes his players. "I treat everyone differently according to personality, style of hitting, and experience." In the case of Pat Burrell, "I looked past the fact that the guy was released and to his earlier great years. I tried to get him back to where he's comfortable, calm him down, try to get the best out of him. He did it himself."

Meulens recalls a meeting in Chicago last August, when the hitters got shut out. He said he told them to, "Check egos at the door and let's play team baseball. And move the guys along the line. We ended up winning the next game 16–0. Fun game."

Thanks, Steve, Clyde did not know that about hitting and our hitters.
20th ANNUAL UNION STREET SPRING CELEBRATION AND EASTER PARADE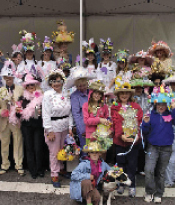 Ah, yes, a Cow Hollow right of Spring: the Union Street Easter Parade is on Sunday, April 24 from 10 a.m. to 5 p.m. Clyde's pals at the Union Street Association (415-441-7055, www.unionstreetsf.com) can't contain their excitement about this year's event. There is going to be a stage at Buchanan and Union with live music for the kids, and the ever-so-popular Easter Bonnet Contest for every man, woman, child, and pet. Yes, you can enter Fido or Bruiser if you can keep the bonnet on the dog or pet of any kind! But, get your bonnet on early, the judging starts at 11:15 a.m. and stops at 1:15 p.m. near the Buchanan Street stage. Union Street will be closed off from Gough to Fillmore with a gauntlet of frolicking fun. Newsflash: The Easter Bunny will be there and available for pictures with the tots! There will also be the Jest Jewels Bubble Wrap Jump, face painters, pony rides, and a petting zoo. If you want some grub, eateries like Perry's and Betelnut will be throwing it down. Clyde says support our local merchants on this one because of a lot of them will be open for business.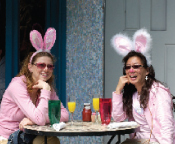 Now, for the parade … it has been called the Biggest Little Parade in San Francisco and it starts at 2 p.m., also from Gough to Fillmore. The grand marshal is our new guy to shut down the obnoxious lefties, Supervisor Mark Farrell (415-554-7752, Mark.Farrell@sfgov.org), and he will lead some 45 units which will include vintage cars, rainbow-clad stilt walkers, only-in-San Francisco floats, and really, really only-in-San Francisco costumed characters. Last year, rain tainted the parade; let's hope Mother Nature will let us all have a little more fun this year. Clyde will see you there!
GOING POSTAL ON MARINA RESIDENTS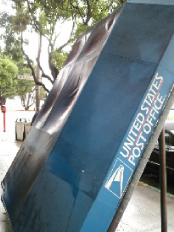 During the horrific rains of March, Marina Times reader Joe Newhoff rang Clyde with quite a story. He was going to the post office at Beach and Buchanan and noticed the canopy was a little droopy. He thought nothing of it, until it fell and hit him on the shoulder. Thank goodness he didn't break his collarbone, but he did have to go to the E.R. to make sure. What Joe also told Clyde is several 94123ers stepped up, like Gary Elliott who took pictures, and several other eyewitnesses who coughed up their business cards in case there is litigation. Clyde usually frowns over litigious San Francisco, but not this time.

Why? The two USPS employees couldn't have cared less, according to Newhoff. When the canopy collapsed, water gushed into the post office and the employees couldn't be bothered to clean it up. A man with crutches limped in, and Good Samaritan Joe warned the man to watch himself. "There are so many women down there with strollers, this could have been a lot worse," Newhoff told Clyde. Patriot Clyde does not mean to denigrate the hard-working men and women of the United States Postal Service, but come on guys. Yeah, you're not the landlord, but you are part of the fabric of the community, and showing a little more concern would be a grand idea. We are all in this together.
MARINA MOMS, WHERE
ARE YOUR KIDS EATING ON PROM NIGHT?
During the months of April, May and June, McCormick and Kuleto's Seafood Restaurant (Beach Street at Larkin, 415-929-1730, www.mccormickandkuletos.com) is offering two prom night prix fixe menus. A two-course menu for 25 clams or three courses for 30 smackaroonies. Both menus include a glass of sparkling cider and unlimited soft drinks.

Friend-of-Clyde chef Liz rocks and makes some of the best food in our fair city. If you have a large party of prom-going teens, please call another Friend-of-Clyde, general manager Mia Harriman in advance so she can help you make arrangements. Clyde can't think of a better place for your kids to spend their once-in-a-lifetime experience of prom night than a place with to-die-for food and spectacular views!
E-mail:clyde@marinatimes.com