STREET BEAT
Nectar of the gods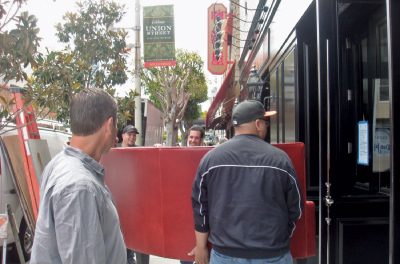 If there's a mecca for olive oil, it's on Chestnut Street at We Olive (2379 Chestnut Street at Divisadero, 415-673-3669, www.weolive.com). Managing partner Ruth Mercurio loves the neighborhood because it provides a good mix of tourists and locals and a good demographic: "We get the best of both worlds." To talk to Ruth is educational. "According to UC Davis agriculture department, 69 percent of imported isn't extra virgin," she says, but "only 10 percent of California olive oil isn't extra virgin." So Clyde asked the obvious question: Is all the olive oil at We Olive from California? "Yes, it's all from California. We have eight stores up and down the state so we can go straight to the farmers and if we like the crop, we buy the whole crop." Ruth loves her work. "I feel like a kid in a candy store." For you olive oil lovers, We Olive has tastings every Wednesday from 5–7 p.m., and Ruth will even sneak you a glass of wine!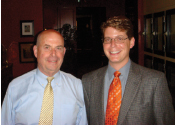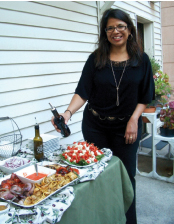 Clyde didn't know there was olive oil soap, lotion and lip balm, but trying all the goodies at We Olive could take a while. Besides the oil that We Olive makes, they feature other brands too. There are also vinegars and dipping oils. Customers are encouraged to taste everything. Stephanie, the manager, is so nice, as is all the staff. Ruth and her husband Frank plan to renovate the store's backyard and put in a wine bar. When asked what olive oil aficionados and wine connoisseurs share, Ruth said, "Passion," adding, "People that love wine love to cook." And eat.

Ruth hates being away from the stores when she is pushing paper as a managing partner and loves getting back into the stores. "It's like I had withdrawals," she said. So pop on down to We Olive – it's one of Clyde's new habits.
Eyesore No More
Friends of Clyde, enemies of Clyde, and even Clyde himself complained about the unfinished construction site on Buchanan and Union for years. But it pained no one more than Tim Stannard, owner of Café des Amis (2000 Union Street at Buchanan, 415-563-7700, www.cafedesamissf.com). Tim told Clyde he's a local guy, a neighborhood guy. "My mom worked for Spectrum Foods, which owned Prego, the previous restaurant in this space. I grew up in this space as a kid; I used to peel carrots in the back." He even took his Lincoln High sweetheart to Prego for the junior prom. "The first thing I did when we got the property was take a look at the table where I took my prom date." He managed the old Il Fornaio on Union and Steiner (which is now Rose's Café) as an 18 year old and was even director of operations for the PlumpJack empire. So his resume says neighborhood guy. Wow. He's got more roots in Cow Hollow than Clyde!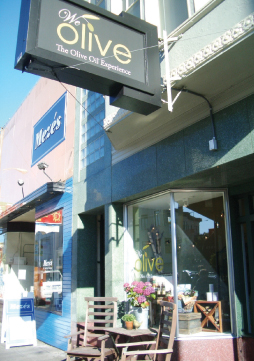 Stannard's Bacchus Management Group also owns the hyper-successful Spruce in Presidio Heights and the lovely Woodside Pub, which is a great place to go before and after Stanford football games. (Bacchus owns some 11 businesses with some 2,700 employees). He's always loved Union Street and considered the former Prego location "one of the jewels." So with a deep emotional attachment to the building, he signed a lease back in 2007. His elation soon subsided. "The whole place was dry-rotted; it was three rooms strung together." To make matters worse, "You could put your hand through huge beams; they were like butter." He called the landlord, an SFPD captain whose family has owned the building for decades, and said, "This isn't going to work." Needless to say, the folks upstairs at Provident Financial were a little spooked that their offices were held up by plywood. But the landlord got busy on the renovation, and Tim calls him an honest partner. The building's rehab took a year and half, and the day the renovation was finished in October 2008 was "the day Lehman Brothers went down."

A major investment in bad economic times was just not prudent. According to Tim, those "were dark days, we didn't even know if BofA would be gone." The restaurateur felt the pinch at his other properties and rode it out. "Then, in the last quarter of last year [2009], our other properties saw an up-tick." Stannard ignored the advice of some who told him it wasn't time and started "to get the thing done." He admits Union Street has had a tough run during the downturn, and even says his boarded-up eyesore didn't help things, but that's old news now. Tim told Clyde he hopes his new joint will lead to a "renaissance on Union Street."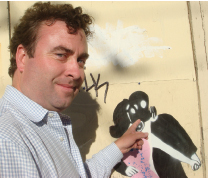 La Canasta Mexican Take-Out (3006 Buchanan Street at Union, 415-921-3003, www.lacanastasf.com) owner Alberto Mier couldn't be happier about his neighbor Café des Amis, saying, "It will bring more foot traffic that we've lost to Chestnut Street." Alberto told Clyde the café's construction workers chow down on his delectable Mexican food all the time. Now Alberto wants the last Union Street eyesore to be taken care of – The Metro Theater – but that's another story for another day.

Clyde caught up with Stannard during the frenzy of pre-opening in July, a time he called "controlled chaos." The owner was sitting on a bench in front of the café taking numerous calls on his mobile phone as pedestrians walked by saying, "It's about time." Workers were bringing in furniture. He took his surgically attached cell phone out of his ear for a few minutes to talk to the Clydester, and he seemed like a dad who watched his son hit his first homerun in Little League. "It's a great location for a restaurant." He has a number of partners including Perry Butler of Perry's (1944 Union Street at Laguna, 415-922-9022, www.perryssf.com), whom he considers a legend. Tim told Clyde, a fellow Francophile, that he loves Paris and wants Café des Amis to be as close to Parisian as possible. "We have outdoor seating. … We knocked down a wall on Union and put in a window so people can see the chefs at the raw bar." The décor is magnifique, with French doors and windows and there's even a chandeliered room in back that has pre-World War II Parisian dignified decadence to it. Tim explains the menu is large because, "We're going to be open from 8 a.m. until 1 a.m. serving breakfast, lunch and dinner." There's something for everybody on the menu. He wants a neighborhood place and has done his homework. "People here eat at strange hours; some people eat lunch at 4 p.m., so we'll have the same menu all day. … You can go to the bar and have a beer and a croque-monsieur and come back later and have something more elaborate." So despite the fact that Union Street has been through some tough stuff, there's a new monument to Stannard's perseverance: Café des Amis, serving "simple brasserie food" in a neighborhood place owned by a neighborhood guy.
Downtown News
There has been a changing of the guard down at Alfred's Steakhouse (659 Merchant Street at Kearny, 415-781-7058, www.alfredssteakhouse.com). Former math professor and longtime owner Al Petri has retired, bought an RV, and is going to discover America with his wife. But don't worry, Alfred's isn't going anywhere and Al's son Marco is the new helmsman. "Dad had enough. My father has been running Alfred's for 37 years (remember the Broadway location?) and that is a long time to do anything." Al believes the business tax structure in S.F. creates an unlevel playing field – restaurants pay more taxes then biotech firms, which pay none, "He is disgusted with the state of affairs in San Francisco and will not capitulate to the Board of Sheistervisers or [City] Hall. I, however, am young, naive, and not jaded enough to worry so much about these things yet."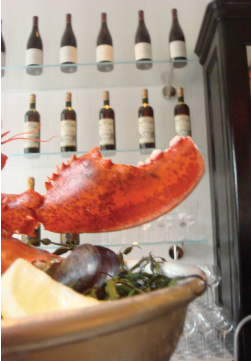 Marco is a joker, and has just finished trekking around the globe. "Having been traveling for the last two years, I feel that I have gotten a lot of those oat-sowing needs out of my system. Having said that, of course I am extremely jealous! But as they say, you pay to play, and that's where I am at right now. And it doesn't really seem like 'paying' to me, as walking into Alfred's is like walking into my Mom's living room. It's home for me. It brings me peace. And steak."

Marco is smart enough not to change Alfred's winning formula, "I plan to change nothing. I love Alfred's just the way it is. If anything, I would like to see more of the 'old school' brought back. Probably the most significant change will be to change the way we advertise, as we want to find new patrons that are my age [31], and that will be the next generation of the once-a-weekers at Alfred's. And I see that as a definite possibility. It makes me laugh that all these new eateries and pubs opening up play on the Prohibition-era style of speakeasies, whiskeys and debauchery, when Alfred's has been that place all along. Who else can tout an original 'Closed for violation of Prohibition' sign on their walls?"

For you rolling coffin [Muni]-riding downtown workers, Clyde strongly suggests joining Alfred's famous Buckaroo Lunch Club on Thursdays from 11:30 a.m. until 2:30 p.m.. Clyde loves the Deficit Busting Lunch for $19 – your choice or mixed green or Caesar salad, filet mignon en brochette and garlic mashers. Clyde is also huge on the New York strip sandwich and the Joe's Special, and if you wear your Buckaroo badge, your first drink is on Marco! We're sad to see Al go, but Marco gets it and we wish him continued success.


Another cool place downtown is the Wayfare Tavern (558 Sacramento Street at Montgomery, 415-772-9060, www.wayfaretavern.com). It's star chef Tyler Florence's new joint, and Clyde somehow got invited to a preview party. Chef Florence was busy cooking but took a few minutes to chat with Clyde saying, "You have to try the chicken" (Clyde ate the organic fried chicken; it rules) and posing for a picture. It's American 20th century cuisine in a beautifully restored building and it's worth strolling upstairs and checking out the billiards room. This place is worth trying a long, leisurely lunch or romantic dinner. The oysters Rockefeller rock, too!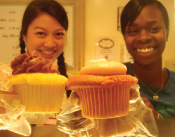 Back to Cow Hollow
Pop into Brian and Keisha Williams's That Takes the Cake (2271 Union Street between Fillmore and Steiner, 415-567-8050, www.that-takes-the-cake.com) now offers matcha tea cupcakes on Wednesdays, Fridays and Sundays. The anti-oxidant-rich tea makes for a tasty and good-for-you cupcake, and when Brian and Keisha aren't working, go see friends-of-Clyde Meaghan and Capriah. They're just nice folks, nothing phony.

Clyde's tolerance for graffiti equals his tolerance for rap music. Zero. But once in a while a good rap song comes along, and sometimes there is actually likeable graffiti. Enter Cow Hollow local and friend-of-Clyde Brendan Foley. On the side of building that houses Michaelis Wine and Spirits (2198 Union Street at Fillmore, 415-921-5700) there was a Banksy original (or copy). Banksy is a famed London artist, and one of his genres is street art with a strong antiwar message. Foley immediately went to Romeo Ziedan of Michaelis and asked him not to paint over the picture of a couple ballroom dancing in gas masks. Then he went to Fredericksen's Hardware (3029 Fillmore Street at Union, 415-292-2950) where workers were already appreciating the Banksy. They gave him a good deal on some plexiglas and Foley screwed it on to protect the street art piece. "It's something cool, something different," says Foley, and we couldn't agree more!
E-mail: clyde@marinatimes.com