THE URBAN HOME & GARDEN
New carbon monoxide detector law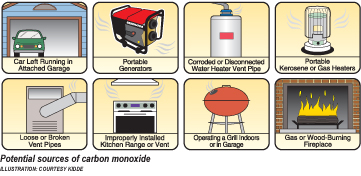 As of July 1, California state law requires that all homes with a fireplace, gas appliance or attached garage, have a carbon monoxide (CO) detector installed. The law was passed to help prevent the death of hundreds and sickness of thousands, lawmakers said. More than 30 people die statewide of carbon monoxide poisoning and hundreds die nationwide each year.
Carbon monoxide is a colorless, odorless and tasteless gas and is the leading cause of poison-related deaths in the United States, according to the American Medical Association. Carbon monoxide is a common byproduct of all home furnaces and appliances that use flammable fuel. The number one cause of residential CO poisonings is faulty furnaces. Breathing high levels of CO can be lethal in minutes.
Know the possible sources of carbon monoxide in your home. Learn the early symptoms of exposure and act quickly if you suspect CO poisoning. Symptoms include dizziness, nausea, headaches, and sudden tiredness. If you are feeling any of these symptoms, do not ignore them. You could lose consciousness or worse if you do nothing. Get out of the house and into fresh air immediately.
Install CO detectors in your home if you don't already have them. Ranging in price from around $25 to $60 depending on the model, this is a small investment to ensure a safe environment and peace of mind for your family. Detectors come in a variety of styles, including wall plug-in models, battery operated units, and models wired to the home's internal wiring. Each with specific advantages, these various styles of CO detectors continuously monitor the air and sound a loud alarm when harmful CO levels are present.
· Tabletop or wall mount CO detector: This type of detector can be battery powered or hard-wired and usually features a self-testing system and malfunction alerts.
· Plug-in CO detector: This type of unit requires no batteries, covers only one outlet, and samples air once every few seconds. Features usually include various indicator lights for service, power and warnings.
· Dual carbon monoxide and smoke alarm: This combination provides added safety. A unique horn sound and lights distinguish between a smoke or CO incident.
· Explosive gas and carbon monoxide detector: These wall plug-in models allow for high mounts (natural gas) and low mounts (propane gas) and many feature a backlit digital display, infrared remote testing and silencing, and 9V battery backup.
How to Avoid Carbon Monoxide Poisoning in Your Home
• If you are unsure about any of the fuel-burning appliances in your home, consider having them inspected by a knowledgeable professional at the start of the winter season when you will be using these appliances.
• Alarms should be installed outside each sleeping area and on every level of the home, including the basement. If the CO level rises in any part of the house, you will be warned.
• Detectors should be installed high up in your rooms or hallways. A detector in a low area near the floor will only detect the CO after it has almost completely filled a room.
• Make sure your alarms are plugged in, clear of dust and debris, and have working batteries. Check the batteries regularly.
• Never idle a car in the garage. It only takes a short period of time to fill the small space with gas.
• Never use any type of gas-powered machines or a charcoal grill indoors where carbon monoxide may fill the enclosed area.
· Have fireplaces cleaned and inspected annually and keep chimneys clear of animal nests, leaves and residue.
· Makes sure exhaust ducts and vents for ranges, dryers, water heaters, and furnaces are kept clear.
• Never ignore the symptoms of carbon monoxide poisoning (dizziness, nausea, headaches, and sudden tiredness). If you are feeling them, you could lose consciousness and die if you do nothing. Get out of the house and into fresh air immediately.
Julia Strzesieski is the marketing coordinator at Cole Hardware and can be reached at
julia@marinatimes.com.
___________________________________________________________________

Don't fall prey to carbon monoxide alarm compliance scam

From the San Francisco Fire Department
The San Francisco Fire Department has received reports that persons falsely identifying themselves as San Francisco Fire Department Inspectors are going to residences in San Francisco and advising homeowners that, for cash payment, they will make their homes compliant with the new carbon monoxide detector law. Please note: The San Francisco Fire Department does not conduct home visits, nor do we do carbon monoxide detector installations at any time. If there is some sort of a threat made or other form of extortion, a police report should be filed. For information on the new carbon monoxide detector law, please visit http://38.106.4.187/index.aspx?page=1230.