REAL ESTATE TODAY
Surprise! Buyers are screaming for property
It's time for another review of neighborhood real estate results. How are the Marina and Cow Hollow doing right now? Looking at both neighborhoods, the numbers, as derived from the San Francisco Multiple Listing Service, are reflected in the table below.
Properties sold more slowly in the second quarter of 2011 (2Q/2011) versus the same quarter in 2010 (2Q/2010) in all categories. Average "days on the market" (DOM) is the key indicator here. For single-family homes in the Marina, DOM went from 31 to 86; in Cow Hollow, DOM went from 20 to 72. For condos in the Marina, DOM went from 58 to 78; in Cow Hollow, DOM went from 58 to 64. These are unusually long time frames for our great neighborhoods. Although the numbers reflect a slowdown, nice properties that are nicely priced are still selling within 30 days. Prices have fallen also, so buyers are wielding more power now than they have in the last several years.
Mortgage rates continue to remain at historical lows and adjustable rates mortgages (ARMs) are back in vogue. Besides the "normal" 30-year fixed-rate loan, 5/7/10-year ARM products are being offered to buyers. The big banks are offering loan products at 3 percent on 5/1 ARMs with 25 percent down. Money is cheap right now. There is no expectation that an increase in rates will occur in the immediate future. Concerns over the federal deficit and how our elected leaders handle the debt ceiling crisis could make things very interesting, depending upon what happens after the bill is signed.
Overall, there hasn't been a lot of good news lately for the real estate industry. However, there was some recent good news for the housing sector, as June housing starts and building permits both reported better results than expected. One number does not signify a trend, but any good news is great to hear.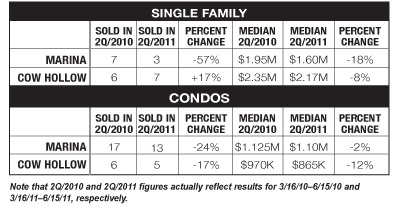 Jim O'Neil is a local Realtor and has lived in Cow Hollow for the past 20 years. E-mail: jimo@marinatimes.com