Crissy Field Center marks its first decade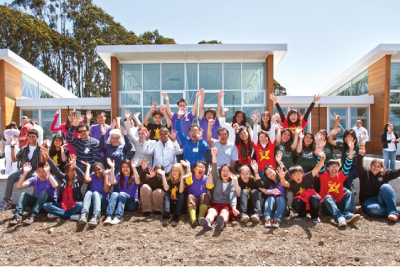 Celebrating 10 years as an innovative environmental education leader working with urban youth and families, Crissy Field Center just released a comprehensive report summarizing its most significant impacts and outcomes from the past decade. Whether serving San Francisco's public elementary, middle and high schools with its educational programs or providing more than 7,000 residents from underserved communities with their first camping experience at Rob Hill Campground, Crissy Field Center is a dynamic hub of community engagement.
On July 28, 2011, youth leaders in the Center's Inspiring Young Emerging Leaders (I-YEL) program accepted one of the National Park Service's highest honors, the 2011 "Building the Future" environmental achievement award, on behalf of Crissy Field Center during their year-end ceremony. This prestigious award recognizes the Center's efforts to meet the policy and performance goals of the President's Executive Order on Sustainability through building design, daily operations, cradle-to-grave supply chain management, community engagement, employee involvement, and innovation.
Additionally, I-YEL students and Crissy Field Center staff were recently in Washington D.C. to receive a national "Take Pride in America" award in the youth program category. The award recognizes the I-YEL interns' Backyard Bound youth summit, which brought together more than 100 Bay Area high school students in March for a discussion on how to connect their generation with the outdoors. Administered by the U.S. Department of the Interior, Take Pride in America is a national partnership program authorized by Congress to promote the appreciation and stewardship of public lands.
"The contributions made by the 14 Take Pride in America award winners are a prime example of the president's call to service to enhance and promote America's great outdoors," said Secretary of the Interior Ken Salazar in a press release. "Their hard work and determination to support our public lands demonstrates that caring for our nation's natural and cultural resources helps to strengthen our communities, our public lands, and our commitment to making our country a world leader in conservation."
Since opening in May 2001, Crissy Field Center – a nonprofit partnership of the Golden Gate National Parks Conservancy, National Park Service, and the Presidio Trust – has provided relevant, multicultural environmental education to nearly 600,000 people and worked with more than 400 community organizations and schools throughout the Bay Area. Reaching urban youth and families who have had little or no access to the outdoors, the center's programs help inspire young people to lead positive changes in the national
parks, their communities, and in their lives.
Crissy Field Center's camps, programs, and youth leadership programs have been modeled across the United States and abroad. "Working with the Crissy Field Center has been the most rewarding experience of my teaching career. By providing amazing staff, resources and facilities, they have helped countless Galileo students engage in meaningful, hands-on scientific exploration," says Lisa Franzen, an environmental science teacher at Galileo Academy of Science and Technology and a Project WISE partner. "What they have given the students and me over the past 10 years is a gift beyond measure."
In July, I-YEL program staff traveled to the White House to accept the 2011 Take Pride in America national award for outstanding youth programs. Prior to this, Ernesto Pepito, the center's senior youth leadership specialist, was invited by President Obama to serve on a distinguished panel of academic, business, environmental, and political leaders during the America's Great Outdoors Conference in April 2010. Secretary of the Interior Ken Salazar has visited Crissy Field Center as well, citing how its programs are prime examples for getting the nation's young people active in the outdoors.
On a global level, Crissy Field Center staff attended the last International Conference on Environmental Education in Ahmedabad, India – a gathering of 1,500 delegates from 90 countries organized by United Nations agencies UNESCO and UNEP – and for the past six years they have hosted a youth forum for the Goldman Environmental Prize winners to give budding youth leaders a chance to meet and exchange ideas. "The center has created a national model for how national parks and their partners can work together to provide urban youth with transformative learning experiences," says Dr. Milton Chen, executive director emeritus of the George Lucas Educational Foundation. "Through the center's programs, young people become citizens and leaders."
But what makes Crissy Field Center so unique is its commitment to youth empowerment. Prior to their involvement with the center, many young participants had little interest in the environment. Yet, through hands-on participation in programs, these youth are able to connect to their environment on a deep, personal level and see how national parks are relevant to them. They are exposed to new opportunities and some end up pursuing careers within the parks or in the environmental sector as a result. Plus, they share this experience with their friends, families and neighbors, so the importance of engaging in healthy, outdoor activities circles back home.
Perhaps 16-year-old Jenna Fiorello, a second-year I-YEL intern and sophomore at Lowell High School, sums up the center's mission best when she states, "The outdoors belong to all of us – it's one of those rare things that all humans naturally share. Yet, people don't often realize this, and spending time outside seems to be more of a privilege or chore these days. I hope our team inspires people to fight for their right to enjoy and rediscover nature."
Dedicated to multicultural environmental education, Crissy Field Center strives to encourage new generations to become bold leaders for thriving parks, healthy communities, and a more environmentally just society. To learn more, visit www.crissyfieldcenter.org or call 415-561-7752.