STREET BEAT
94123 WAS A COOL PLACE TO BE FOR GIANTS VICTORY!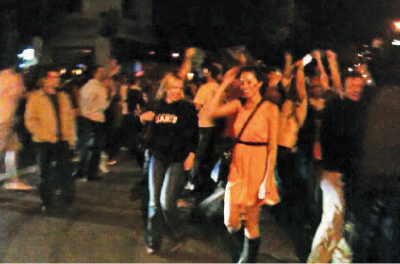 One of the challenges of working on a monthly paper like the Marina Times is that our news window can be challenging. Because our stories are due mid-month to our editors, we missed the boat on the World Champion San Francisco Giants in November. (If you know anyone who doesn't like saying World Champion, please form your own firing squad or give them a one-way ticket to L.A. and cab fare to Chavez Ravine Divorce McCourt). Well, that's not going to stop Clyde, and no one in 94123 is sick of talking about it. Clyde watched Game 5 at the Mauna Loa (3009 Fillmore Street at Union, 415-563-5137) and the place went bananas! Some resourceful patrons went across the street to Michaelis Wine & Spirits (2198 Union Street at Fillmore, 415-921-5700) and bought copious amounts of champagne, pouring free glasses for all! Complete strangers high-fived, and even Clyde got kissed by women he didn't know (which never happens) … enemies became friends … Chestnut and Union Streets were packed with peaceful orange- and black-clad revelers … ice was broken on first dates … Clyde wonders how many World Series babies will be born nine months from now … even the more than 50 percent of the Giants fan base who are whiners shut up, smiled, laughed, celebrated, and became tolerable until first pitch next April.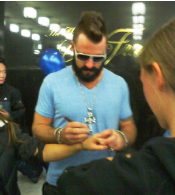 What's cool is several of the Giants live in and around our fair neighborhood. Aubrey Huff had a few cold ones at the Mauna Loa after winning the pennant in Philadelphia. During the season, several Giants were seen at Patxi's Chicago Pizza (3318 Fillmore Street at Lombard, 415-345-3995, www.patxispizza.com) after day games or on their days off. Clyde has seen class act Barry Zito on his beach cruiser on Fillmore. Several of Clyde's spies have seen The Freak (The Franchise, big game Timmy Jim) and Sausalito resident Tim Lincecum around, and he's always cool. Brian Wilson has been spotted at The Grove (2250 Chestnut Street at Avila, 415-474-4843) doing crossword puzzles. Stefan Wever, owner of the Horseshoe Tavern (2024 Chestnut Street at Mallorca, 415-346-1430, www.horseshoetavernsf.com) says that after the Series, "The Giants have been showing up almost nightly. They get a little spooked with lots of cameras, though." Wouldn't you be a little camera shy in this YouTube, TMZ, any-scumbag-is-a-reporter era? But reports on Giants players in the Marina are always positive.


Just ask The Republic (3213 Scott Street at Lombard, 415-817-1337, www.republicsf.com) co-owner Don Davis about the Giants: "Last Wednesday [the night of the victory parade in November], Brian Wilson, Aubrey Huff and Pat Burrell all came in for a few hours, and the place went absolutely crazy." Fellow owner Peter Scully secured the fab three in the Republic lounge and good thing he did. "People were trying to jump in the window on Scott Street and more than 20 people had their faces on the window on Lombard trying to get a look at them." He also added, "Some celebrities come in and want bottle service, but these guys had buckets of Bud Light and of course some bubbly. They're easy-going, good guys having a great time."
We all thank the Giants for an early Christmas present!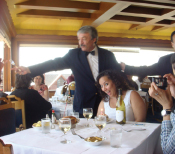 DUNGENESS CRAB, THE HOLIDAY HARBINGER

Before the blatant commercialization of the birthday of Jesus Christ begins, some only-in-San Francisco moments signal that the holidays are here. Like Dungeness crab season! Clyde bopped on over to see his pal Gigi Fiorucci of Sotto Mare (552 Green Street near Columbus, 415-398-3181, www.sottomaresf.com) on the first night of crab season and his joint was packed. Gigi told Clyde he likes what he sees so far from the lovely crustaceans saying, "They're all three-quarters of a pound or above." That means more meat for us. The veteran restaurateur put two crabs in his special bubbling vat of Italian spices (New Orleans crab boil? Fuhgeddaboutit!), and he and the Clydester had quite the munch. Hey-I'm-working-on-my-waistline Clyde ate the whole thing. Gigi also whipped up crab butter, which is "the oil in the crab shell behind the eyes – just add a little mayo and salt," and Clyde will tell you, it's delicious.

Gigi also has a fish market at his place and he's selling crabs for about $3.50 a pound, which is quite a deal. He says the fish market is for the locals who, after eating at Sotto, steal his recipes and cook at home! For those of you who ride the rolling coffins (aka Muni) from downtown or SOMA, Clyde strongly suggests exiting at Columbus and hitting Gigi's market. Several of our dear readers already have, with petrale sole being the top seller (pre-crab season), and Gigi says, "Cook it in rice oil four or five minutes a side, and it's delicious."

Just down the street at Fishermen's Grotto No. 9 (2851 Taylor Street at Jefferson, 415-673-7025, www.fishermensgrotto.com, FREE validated parking), pop in and ask for Tito, the best waiter in San Francisco, to give you what Clyde thinks is the freshest crab in San Francisco. Why? The Grotto owners, the Geraldis, have their own fleet of fishing boats. Also, check out the Grotto fish market where the seafood is still wiggling it's so darn fresh!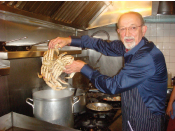 Closer to 94123, Nettie's Crab Shack (2032 Union Street at Webster, 415-409-0300, www.nettiescrabshack.com) is having a nightly crab feed for most of crab season (through January). For $45, I-hate-doing-dishes Clyde says it's a good deal to not mess up your kitchen, and you get a big bowl of salad, spuds, broccoli, cornbread, your choice of boiled or oven-roasted crab, and whoopee pie for dessert. Like Gigi, Nettie is huge on the crab butter. So, when you hit her feed, ask her how to extract the lovely stuff and you won't be disappointed!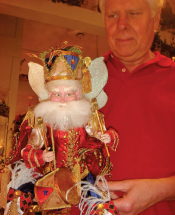 ON THE ORNAMENT HUNT

Christmas time is not Christmas time without a stop at the Enchanted Crystal (1895 Union Street at Laguna, 415-885-1335). Affable owner Dennis Beckman showed Clyde his Mark Roberts-designed Drummer Boy Fairy tree ornament and it's most likely going to become a huge seller. When Clyde bopped into the Crystal, a salesman was showing Dennis some Giants and 49ers tree ornaments, which should also move well this season (well, not so much the Niner ornaments – fire Singletary!). He also has some cool San Francisco ornaments with cable cars, the Golden Gate Bridge and other S.F. landmarks, which might be a must buy if you have some out-of-towners around. Clyde's gal pals tell him the Enchanted Crystal is the place to go to complete your set of ornaments whether it be elves, Santas, pigs that fly (kidding), or reindeer, so bop on in to the Union Street institution.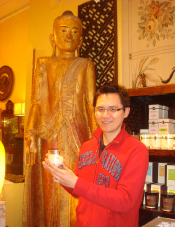 Almost next store to the Crystal is Eurasian Interiors (1861 Union Street between Laguna and Octavia, 415-775-1610, www.eurasianinteriors.com). Co-owner Eric Wang proudly showed Clyde his collection of the ever-so-lovely smelling Trapp candles. The White Fir candle smelled a lot like Christmas as it gently burned in the store. Wang is running a deal, too: If you buy four Trapp candles, you get 10 percent off. (Marina dudes, Clyde says buy these for your gal pals, they'll think you're not just a swiller of PBRs who watches sports all the time.) And if you buy four candles, he throws in a FREE seasonal diffuser – a $48 dollar value that smells great and exudes that Yule Tide vibe we all crave this time of year. Some of the more unique ornaments in 94123 are sold by Wang – have you ever seen a Chinese food takeout box with chopsticks sticking out of it as an ornament? Or a sushi roll? Really cool stuff to make your tree the most unique on your block.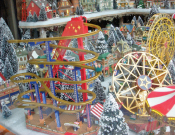 Friend-of-Clyde and Fredericksen Hardware (3029 Fillmore Street at Union, 415-292-2950) manager Sam Black shot the Clydester an e-mail to come check out his back porch, and probably only Rockefeller Center in New York City or the North Pole has more on Fredericksen with Christmas decor. Not-so-rich Clyde noticed the "Buy Three Ornaments Get One Free" sign at first, and there was just about every kind of conceivable ornament hanging from an array of trees. Take the time to walk through Fred Hardware and get to the back porch, which is usually full of barbeques but now has a display that would make Santa jealous. Also, don't forget arguably the best holiday window displays in 94123. You won't have one inkling of bah humbug after you check out the Fredericksen windows.


If "Please Daddy, Don't Get Drunk This Christmas, I Don't Want to See My Mama Cry" is your theme song on Christmas Day, head down to City Tavern (3200 Fillmore Street at Greenwich, 415-567-0918) and escape. Friend-of-Clyde and Tavern owner Andrew McCormick knows that the holidays can be stressful or, quite simply, they just get old, and he provides an oasis for sanity starting at 5 p.m. on Christmas Day. You will most likely see Santa Clyde there.


Despite the fact that Macy's is giving stuff away with a sale every five seconds, the time is now to shop locally in 94123. Clyde has seen one too many unrented retail spaces in our fair hood, and the fact that new merchants like Cyrus Saatez of San Francisco Surf Company (2181 Union Street at Fillmore, 415-440-SURF, www.SFSurfcompany.com) is making a go of it in these times tells us that the economic recovery will happen on the backs of small business, not the corporate dinosaurs who got us into this mess. Marina moms: Surf gear is never out of style for the men and boys in your life, so please hit the Surf Co.! Several merchants Clyde has spoken with are tense, and rightfully so, so we should all try to make them happy this month.

Clyde and the Marina Times wish you all a politically correct Happy Holidays or Season's Greetings, despite the fact that all of Clyde's atheist and non-Christian friends always wish Santa Clyde a Merry Christmas. We also wish you a Happy New Year and hope that the optimism we've experienced in 2010 can go from snowball to avalanche in 2011.
E-mail: clyde@marinatimes.com