Andrew Hoyem of Arion Press named a 'San Francisco
Living Treasure'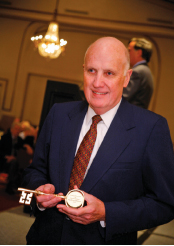 The San Francisco Museum and Historical Society awarded Andrew Hoyem with the San Francisco Living Treasure Award on Nov. 18 during the annual Celebration of History Heroes awards luncheon at the Palace Hotel.
Hoyem is the founder and director of Arion Press, which has been located in the Presidio since 2001. He will celebrate 50 years at the press this coming January. "One of the things I'm most proud of is that we've managed to stay in business," Hoyem said. Through years of economic hardships, the publisher is confident that his business's unique and valuable work is what kept them going.
Charles Fracchia, founder of the awards ceremony, got the idea for a lifetime achievement award after seeing a collection of Japanese baskets at the de Young museum. The artist had been awarded for his lifetime achievement by the Japanese government. "I accuse myself of being a thief, and my specialty is stealing other people's ideas," Fracchia said.
The award is meant for people who maintain high standards in traditional arts and crafts and those who continue great traditions. According to Fracchia, Andrew Hoyem is considered one of the leading fine printers in the world.
Though this was not Hoyem's first award, he remained modest. "It's a little bit creepy getting these awards that are lifetime achievements because I think, 'Wait a minute, my lifetime, is it already over?'" Hoyem joked softly.
Growing up in South Dakota, Hoyem studied government in a liberal arts program at Pomona College. "It was a major I sort of picked out of a hat," he said. Hoyem finished college, spent the next three years as an officer in the Navy, and moved to San Francisco in 1961 where he began printing.
According to Hoyem, printing was supposed to be done as art with the intention of attending graduate school, but instead, after just six months working in the field, he was hooked. This was something he really wanted to pursue.
Though Hoyem had prior interest in books and art, he had no experience in printing, publishing or business. "Sometimes it was difficult," he said. "I wouldn't say it was intimidating, but I had to learn everything from scratch."
For the next few years, Hoyem took turns in partnerships and sole proprietorships. Though his work with David Haselwood and Robert Grabhorn was just the beginning, they were true inspirations to Hoyem as a novice publisher.
In 1974, Arion Press was born in San Francisco, which has been, according to Hoyem, the center of fine printing since the late 19th century. Named after a legendary poet who was rescued by a dolphin, Arion Press began its legacy.
The printing house is a center for uniqueness and talent. Being a customer of Arion means entrusting the design to the publishers, according to Hoyem, because they never print from anyone else's design. Hoyem made it clear that they are not commercial printers, though some commercial subsidy was necessary in the beginning to get started.
"We still do a certain amount of that work," he said. "Far less than we did in the early days, though." The press continues to service customers with customized letterheads, invitations and so on, but the majority of the time spent at Arion is on the three to four books published each year. "Nowadays, we continue to accept [printing] work because it fills in the space between publishing projects," Hoyem said.
A tour of Arion Press (available every Thursday at 3 p.m.) helps to justify why, in fact, the projects are so prized. The Folio Edition of the Holy Biblethat is on display, considered one of Hoyem's most ambitious works, is 1,350 pages divided between two volumes and can cost up to $8,500. The upstairs gallery is glamorous with a vintage feel, slightly different from the basement that holds the historic pressrooms and approximately 100 tons of type foundry equipment.
The living treasure at Arion Press will continue to thrive, as the almost 75-year-old Hoyem has no official plans for departure any time soon. "I've thought about trying to transition a lot, and we're working on that," Hoyem said. "As far as I'm able, I do enjoy the work."