Lucca Delicatessen celebrates 81 years as a Chestnut Street destination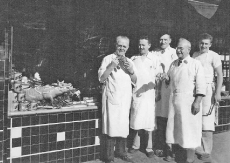 Every store on Chestnut Street has its catchphrase. There is a GNC to help you live well, a Gap to fall into, and a UPS Store to show what brown can do for you. So much of a vendor's insides are characterized by the slogan it displays outside.
The motto for Lucca Delicatessen says everything its customers need to know: "Che mangia bene, vive bene. He who eats well, lives well."
Lucca celebrates its 81st anniversary of eating and living well this month. Despite the drastic metamorphosis of its surrounding neighborhood, Lucca has been providing the Marina community with high quality, fresh foods in the same authentic way since 1929.
Today, the salami hangs on the same rack it did at the deli's founding. Huge wheels of Parmesan age on shelves built by the original owners. Lucca's signature ravioli are still rolled by hand daily. The meats and cheeses still come direct from the finest vendors in Italy. An aroma of fresh sourdough bread and olive oil wafts from behind the counter, just as it did on Day One.
Lucca has stayed in the same family for three generations. "My grandfather … he founded [Lucca] with two other partners and then my father took over the business for about 40 years or so. Now my sister and I are partners," said current co-owner Paul Bosco, who took over in 1992 with his sibling, Linda Bosco Fioretti.
The deli was named after the historic Italian home of the Bosco family, Lucca, a city in northern Tuscany.
"We're carrying out the tradition that was handed down to us, which a lot of people don't really want to do anymore," said Bosco. "There's just a lot of family history here."
Lucca's enduring history is unique in the Marina, which has undergone a radical evolution over the years.
Since its founding, Lucca has remained a constant presence as the Marina transitioned from what the San Francisco Chronicle described as a "haphazard dumping ground" in the '30s, to a quiet family neighborhood in the '50s, and finally into affluence as one of the City's most desirable areas.
"Back in the day, this used to be more of a small town. Everyone knew everyone. You walked down the street just saying 'hi' to everyone," said Bosco. "Today it's totally different. It's a little transitional."
This shift in affluence is reflected in the shops that surround Lucca on Chestnut Street.
"There used to be a great candy store and a tiny stationery store nearby, but they're long gone," said Sydia Long, who has been a Lucca customer for close to 40 years. "There were no big stores in the old days. I miss that."
Gone are the mom-and-pop stores that used to be the standard on Chestnut. They have been replaced by the titans of American commercialism. An Apple Store, Gap, Starbucks, Pottery Barn, Jamba Juice, and Walgreens all share the same block as Lucca.
Eateries in the Marina typically skew to a modern, upscale style. While many are among the best restaurants in the city, there is a palatable emphasis on modern flair rather than the classic style of Lucca.
Lucca provides a refreshing simplicity in a food scene defined by $14 martinis, avant-garde plating and amuse-bouches.
Lucca isn't modeled after a classic Italian deli; it is a classic Italian deli.
"It's authentic Italian. This is the stuff we have at home" said Italian-American Joanne O'Neill, who has been a customer for 35 years. O'Neill said she started coming to Lucca with her parents when she was 10 years old.
Bosco credits the loyalty of his customer base with giving Lucca its staying power.
"We have a lot of customers that came in as they were growing up and they go away to college … when they move back to San Francisco, they still keep coming in," he said. "There's a trust. It's a relationship we have with our customers."
Consistency of staff helps build the familial atmosphere that keeps customers coming back throughout their lives.
"Part of it is employees. We don't really have a lot of turnover. We have some employees going on 15 years," said Bosco.
"There are a lot of friendly people back here [behind the counter]," said sandwich-maker Francisco Gallegos, whose three-year tenure makes him a relative newcomer.
"The relationships you establish with your community and employees is really what helps determine how successful you're going to be," said Bosco.
In the end, Bosco realizes that all the history, charm, and rapport mean nothing if the food is not up to par.

"Customer service is a big deal of course. But really, the ultimate goal is right when [a customer] is done eating, how happy are they with their meal?" he said. "Your stomach is the ultimate judge."