NEIGHBORHOOD NUGGET
A traditional Japanese izakaya comes to the Marina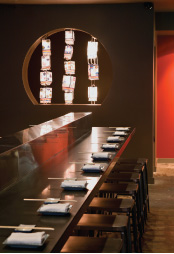 While sushi bars have long been popular in the U.S. and very much so in San Francisco, in Japan there is a popular hybrid of bar and restaurant. Known as an "izakaya," it serves both food and drinks and is a common post-work destination to blow off steam. Now the Marina has its own izakaya: Chotto, which translates into "a small unit of measure" in Japanese. Owners Tad and Zerlayna Horie explain the word can also mean "for a moment" or "excuse me." The best way to describe Chotto is a Japanese-style tapas or small-bites bar that serves sushi on the weekends.
The 66-seat restaurant features a gleaming white sake bar juxtaposed against a rustic dining room with reclaimed barn planks over red walls, making it feel modern and homey at the same time. Equal focus is given to the menu items and to the selection of Japanese sake and shochu cocktails (shochu is a clear distilled spirit similar to vodka), with an international selection of wine and beer available. Every weekend, chef Armando Justo flies in nigiri sushi from Tokyo's famed Tsukji Market.
Midweek, come by to sample the menu of small dishes, which is divided into several categories: sunomono, or vinegar-cured salads; agemono are fried dishes; sakana, or grilled fish; house-made otsumami, a variety of original dishes; kushiyaki are grilled skewers; and sumiyaki, or charcoal-grilled items. Everything has a Japanese foundation, but there is plenty of fusion going on. Chotto boasts a generous variety of selections under each category, far too many to list, but some standouts include aoba (a Japanese green) with spinach, crispy bacon, Parmesan, and soy lemon; koika, baby Monterey calamari with chili aioli; or any of the grilled fishes, including Spanish mackerel with sweet sesame miso, striped bass with shiso lemon butter, Atlantic salmon with house-made teriyaki, and black tiger shrimp with jalapeno ginger soy.
The otsumami portion of the menu offers such eclectic combinations as miso-marinated chicken liver pâté, mashed potatoes with spicy pollock roe, and grilled pork belly with sweet miso. Grilled skewers include freshwater eel, pork cheek or belly, chicken wings or thighs, beef rib eye, and duck breast, all with unique, savory sauces. Chotto focuses on using a combination of Japanese techniques and cooking methods along with fresh products from local farms, ranches and fish markets.
Take time to study the menu and ask the wait staff for recommendations on cocktails, wine, sake, or beer to balance the dishes you select. Chotto is a wonderful place to share new flavors and open up your taste buds to the true Japanese izakaya experience.
Chotto: 3317 Steiner Street (near Lombard); Sunday–Thursday 5:30 p.m.–11 p.m., Friday–Saturday 5:30 p.m.–1 a.m.; 415-441-2223, www.chottosf.com