STREET BEAT
They're heeeerrre


Yes indeed, my fellow 94123ers, PG&E's SmartMeters are already in our neighborhood. PG&E contacted Clyde and said they want to talk to you. Clyde's geek factor on a scale of one to ten is negative two when it comes to anything having to do with technology, so PG&E's media relations man, Joe Molice, sent him a press release.
"SmartMeter technology will provide customers with more information about their electric and gas usage and options to save money, while also helping utilities make better use of renewable power." So basically, your old PG&E system is now more computerized and SmartMeters will tell you just how much power you are using and let PG&E know where power is being used so they can manage northern California's power grids more efficiently.
When Clyde asked him about SmartMeters, Golden Gate Valley Neighborhood Association (415-931-3438) president Bob Bardell jokingly put on his '60s hippie hat (when bill paying was an optional activity) and said, "I hate the idea that with the click of a mouse someone could shut off my power. In the soon-to-be good old days, if you missed a couple of payments (for whatever reason), someone would come out to your house, flip a bar on your meter, and padlock it in the off position. But if you could lay your hands on a pair of bolt cutters, you could easily restore power yourself. With SmartMeters, you'll need the skill of a hacker to bring back the juice."
Back here in 2011, Bardell told Clyde he's concerned about the new technology. "All devices that rely on computer code are inherently glitch prone, particularly when code is upgraded." PG&E spokesman Jeff Smith says PG&E hired an outside auditor known as the Structure Group who says the SmartMeters are working 99 percent better than the old ones and are performing accurately.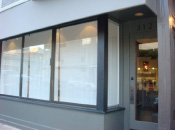 The spokesman went on to assure Clyde that the technology is safe and that it's not a big-brother Orwellian nightmare (Smith didn't say big brother, Clyde did). "Really, there is nothing more important than maintaining our customers' privacy," said Smith, and he went on to assure Clyde that they have both in-house and out-of-house cyber-security experts to ensure this. Smith kept the cyber-security details close to his vest though, saying, "The more you talk about it, the more you give away."
Some of you may remember reading stories about problems with SmartMeters in Bakersfield last year, where residents complained about higher rates during a blistering hot summer. Smith says it was PG&E's bad: "We were slow in providing information to customers about infrastructure change and we had rate changes, too." Smith assures Clyde, "Now we're engaged more fully and providing a higher level of cooperation with customers." And that they're not leaving the P.R. up to PG&E engineers who don't really do customer relations.
PG&E also plans to meet people who have questions at its office at 1593 North Point (at Buchanan) on Feb. 15, 16 and 17 from 4–7 p.m. They also encourage 94123ers to call or e-mail with questions (866-743-0263, www.pge.com/smartmeter). Clyde knows PG&E has mended their ways since the Erin Brockovich days, so let's give them a chance before Clyde can hear the 94123 whines about SmartMeters all the way to Honolulu.
BOOHOO, THE BANKSY IS GONE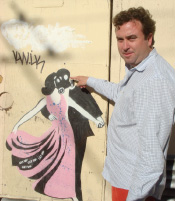 Remember last year when Clyde told you about how his friend and patron of the arts Brendan Foley saved either a Banksy original or copy (we don't know which) on the side of Michaelis Wine & Spirits (2198 Union Street at Fillmore, 415-921-6700)? He and the cool kids from Fredericksen Hardware (3029 Fillmore Street at Filbert, 415-292-2950) cut some plexiglass to cover it from vandals, Now it's gone. Michaelis owner Jack Zeidan had to paint over it or risk being fined by the People's Republic of San Francisco (Stalin and Mao were huge on the arts – come on comrades!). A Banksy is not the mindless and dangerous graffiti or tagging that makes a neighborhood eyesore. Sometimes, the City of San Francisco is a mindless bureaucracy.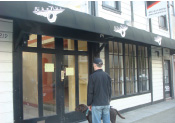 On that note, Clyde is sad to see BikeNut bike shop gone from Filbert and Fillmore because owner Husayin was a real neighborhood guy and loved doing business here. Clyde hasn't been able to speak with Husayin the bike expert, but a sign on the door doesn't say flattering things about the City of S.F., citing unfair business practices. Our new supervisor, Mark Farrell, is just on the job and has pledged to be a friend of small business. He has his work cut out for him, but thank God those lefties on the Board of Supes, who are ever so educated yet have never worked in the private sector, are now marginalized. It's just too bad their years of "out of touch with people who work for a living" rule ended up with collateral damage like BikeNut.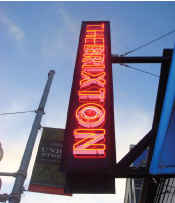 OK, breathe Clyde. There are new businesses open in 94123 and Clyde, as always, is a huge fan of any business opening during these hard times. Friend-of-Clyde and veteran restaurateur Adam Snyder is a partner at Brixton (2140 Union Street at Buchanan, 415-409-1114, wwwbrixtonSF.com). When Clyde used to live in London, Brixton was a center for nightlife, concerts and clubbing despite some dodgy neighborhoods. There is nothing dodgy about this cool place, which has a rock 'n' roll vibe and master chef Michelle Mah, whose distinctive spin on American food won her praise from S.F. foodies when she was at Midi. Clyde drinks beer out of a can, but for you folks into mixology, Brixton is your kind of place and Clyde's spies report the drinks are to die for.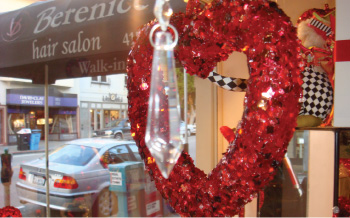 VALENTINE'S DAY
If you haven't made a Valentine's reservation at one of our fabulous 94123 eateries, do so now! They're filling up fast – just ask friend-of-Clyde Eddie Savino of the Brazen Head (3166 Buchanan Street at Greenwich, 415-921-7600, www.brazenheadsf.com), where the booth in the back with the dark romantic vibe is made for Feb. 14.
If you want to get away, but not too far, don't forget the Presidio Cafe (300 Finley Road at Arguello, 561-4600, www.presidiocafe.com). Food and beverage manager Michael Perry has a special three-course prix fixe menu for sixty-five bucks with an optional wine pairing for twenty clams. Trust chef Clyde, the food is awesome, the portions are huge, and the wine flows, and not in some two-sips-and-you're-done kind of way. The Cafe has a lovely dining room, which has that hunting lodge vibe, and the Presidio's strange, chilly microclimate will most likely give you lovebirds a reason to cuddle after some great grub and vino.
OK, God-knows-I-tried-Clyde's chances of a romantic evening on Valentine's Day are about as remote as dethroned Tour de France champion Floyd Landis getting his title back or ever wearing the yellow jersey again, but Clyde has not thrown in the towel. One place Clyde picks up trinkets for his gal pals is the Enchanted Crystal (1895 Union Street at Laguna, 415-885-1335). Even in late January, their rose quartz hearts were moving out the door at 25 percent off, as were their line of heart pins. The store has a museum quality to it with bargains galore and is worth a look-see on your next Union Street stroll. Owner and friend-of-Clyde Dennis Beckman and his ever-so-helpful staff will put heart into your Valentine's Day.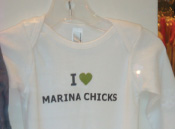 Hey Marina moms, before you hire a sitter for your night out, you have to get the kids a Valentine's present! Why not pop into Bubble (3108 Fillmore at Filbert, 415-687-1344, www.gotbubble.com) and pick up something cool for your kids! Clyde is huge on the toddler gear that reads "I Heart Marina Chicks." Their togs are hilarious and great for future Marina-babes in training. There's a whole array of clothes for the little ones and they're always having a sale. Pop on by!
CLYDE'S CALENDAR
Some of these events are in March, but Clyde has newsheimers and may forget to tell you about them next month.
• Feb. 1–28: Help battle heart disease with friend-of-Clyde Ruth Mercurio and the ever-so-cool Stephanie Lo Duca of We Olive (2379 Chestnut Street at Scott, 415-673-3669, www.weolive.com). For every bottle of 12-ounce olive oil sold, one dollar goes to the American Heart Association's Go Red for Women campaign as part of February's American Heart month. Preventing and treating heart disease is a huge issue for all of us, so Clyde says let's help Ruth and company raise dough for a good cause!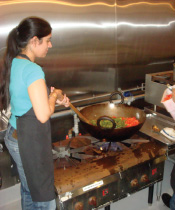 • Feb. 6 and 27, time TBA: Indian cooking classes at Real Food (3060 Fillmore Street at Filbert, 415-567-6900, www.reasfoodco.com) by the one and only (and friend-of-Clyde) Anamika Khanna of Kasa Indian Eatery (3115 Fillmore Street at Filbert, 415-896-4008, www.kasaindian.com). Instead of buying those crummy Indian meals at Trader Joe's like single-guy Clyde, learn how to make Indian the Kasa way, and have Anamika teach you her centuries old culinary mastery!
• Feb. 10, 4–8 p.m.: The first annual Union Has a Crush on You Valentine Wine Walk will take place along Union Street (from Gough to Steiner) and Fillmore Street (from Union to Lombard). Purchase a $30 wristband on the day of the event in front of the Metro Theater (2055 Union Street between Webster and Buchanan) or online at www.sresproductions.com/union_street_valentine_wine_walk. You'll get a map of restaurants and retailers participating in the event, and you and your loved one can shop, drink vino, shop, and drink more vino! Clyde's gal pals love to drink and buy jewelry, so this is a good event for everybody – merchants and 94123ers alike!
• March 1–31: McCormick and Kuleto's (900 North Point in Ghirardelli Square, 415-929-1730, www.McCormickandKuletos.com) may be part of a huge chain, but chef Liz makes some of the best seafood you'll ever have and she and general manager Mia Harriman are all about the neighborhood. Starting on March 1, bring any coat to McCormicks to donate to the One Warm Coat program and you get a ten-buck gift certificate. Keep the have-nots warm in 2011 and get a good munch out of the deal.
• March 8: It's Fat Tuesday, and the Mauna Loa Club (3009 Fillmore Street at Union, 415-563-5137, www.facebook.com/loa) is going to throw down some serious New Orleans grub for Clyde's favorite four-letter word, free! Dine on gumbo and shrimp étouffée from 4:30 p.m. on, and have one last bash before fasting and sacrificing for Lent (as if Clyde will fast and sacrifice).
E-mail: clyde@marinatimes.com