Pet Pages
Kibbles and Bits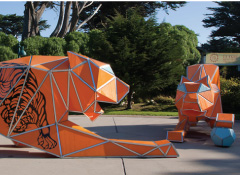 SF/SPCA
2500 16th Street
415-522-3000, www.sfspca.org
Feb. 12 – Wines + Valentines: Treasure Island Wines (995 9th Street, Treasure Island), a dog-friendly artisan winery, will hold an amorous valentine-themed fundraiser at their historic Treasure Island facility to benefit the SF/SPCA. Highlights include a heartfelt pairing of boldly flavored artisan wines with Aidell's spicy sausages plus custom valentines inspired by on-site muses and local artists and writers. Tickets: $15 advance (online), $20 at the door if available. 415-394-9463, www.winesplusvalentines.eventbrite.com

Feb. 19, 9:30 a.m.–2:30 p.m. – Community Service Saturday: If you are 11–18 years old, go behind the scenes to help care for shelter animals, and learn more about responsible pet guardianship. Assist employees with feedings, clean the habitats, and help with other daily duties at the shelter. This opportunity fulfills school, community, or club service requirements. $50 (financial aid and scholarships available). Call 415-554-3065 or e-mail humaneeducation@sfspca.org for more information.
PETS UNLIMITED
2343 Fillmore Street
415-563-6700, www.petsunlimited.org
Feb. 5 & March 5 – The Bunnies Are Coming: It's the Year of the Rabbit, so come to the shelter lobby from noon–3 p.m. to meet playful, loving rabbits that are available for adoption! Have a question about rabbit care? Come in and ask. For more information about this adoption event, visit www.saveabunny.org.
SAN FRANCISCO ZOO
1 Zoo Road
415-753-7080, www.sfzoo.org
Feb. 12 & 13 – Woo at the Zoo: Woo at the Zoo with Jane Tollini offers an exciting slideshow presentation full of wild animal factoids, new positions and kinky information – literally the ins and outs of mating for all animals A to Z, including U. The Sunday brunch event includes breakfast, dessert, mimosas, and more. The popular Saturday and Sunday evening events include dinner, champagne, delicious desserts and more. Reservations are required as this "sense-ational" event sells out each year. Tickets $65–$75. Adults 21 and over only.

Through Feb. 28 – Digital Origami Tigers: A pair of monumental-sized public sculptures commemorates the end of the Year of the Tiger. Adopted by the World Wildlife Fund in 2010, the installation has traveled the world to raise awareness about the plight of tigers in the wild, as fewer than 3,200 remain worldwide. The crouching tigers will be on display at the main entrance of the Zoo.


MORE THINGS TO HOOT ABOUT …
A Valentine's Day Pitty Party
Feb. 12, 7 p.m.
Lucky 13 Pub (2140 Market Street)
What says Valentine's Day more than a burlesque show? Party for the pitbulls with Shorty Rossi and Hercules of Pit Boss, with proceeds benefiting Pinups for Pitbulls and Choko.org. There will be a silent auction, a raffle, PFPB merchandise and calendars, and more. $15 suggested donation. Adults 21 and over only. www.pittyparty.eventbrite.com
Caution Canine Seminar
Feb. 15, 7–9 p.m.
SFRaw (2500 Napoleon Street)
Join Paws & Reward and Wags 'n Wellness for an evening of tips and tools to help bring your fearful dog out of his shell. Learn how to understand your dog and provide him with the confidence he needs when interacting in the world. This is a human-only seminar, as animals are not permitted at the event location. $25, space is limited. www.cautiouscanine.eventbrite.com/
Bay Area Pet Expo
Feb. 26, 10 a.m.–6 p.m.
Santa Clara County Fairgrounds
(344 Tully Road, San Jose)
A full – and free – day of pet-filled fun that includes multi-agency adoption booths, a pet fashion show and costume contest, agility and obedience demonstrations, discounted vaccinations and microchipping, free nail trims, vendors galore, and live entertainment. Pets are welcome (bring proof of current age-appropriate immunizations, if applicable, and have your canine companion on a nonretractable lead). 800-977-3609 ext. 107, www.bayareapetexpo.com
Sevengill Shark Feedings
Through March 31, Thursday & Sunday, 11:30 a.m.
Aquarium of the Bay, Pier 39
Have you ever wondered what – and how – San Francisco Bay's largest predators eat? Find out when Aquarium of the Bay divers feed Sevengill sharks in the Under the Bay exhibit tunnel. Learn more about these animals and the aquarium's efforts to care for, study and protect them. 415-623-5300, www.aquariumofthebay.org