ON THE BAY
America's Cup coming to our door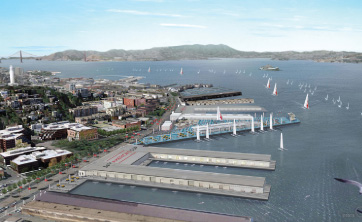 It's now official: The 34th America's Cup will be contested here on San Francisco Bay in 2013, with the Louis Vuitton Cup – the America's Cup challenger series – scheduled for July 13 through Sept. 1, and the America's Cup match finals to be held Sept. 7 through Sept. 22.
As Mayor Ed Lee's first executive directive, he officially established the management structure to coordinate the City's effort to host the Cup. Development will feature Piers 30 and 32 as team bases, a public race village on Piers 27 and 29 (Embarcadero at Chestnut Street), regatta operation headquarters at Pier 23, and a media center at Pier 19.
Former mayor and now Lt. Governor Gavin Newsom will serve as the America's Cup "ambassador at large" in recognition of his efforts to bring this historic regatta to San Francisco for the first time. "We worked very hard to win the right to host the America's Cup in San Francisco and bring more than $1 billion in economic activity and thousands of new jobs to California," said Newsom.
On March 1, USA 17 – the 90 foot trimaran engineering marvel that Oracle Racing built to win the 33rd America's Cup – is scheduled to arrive at her new home in San Francisco. USA 17 only raced twice, but that was all Larry Ellison and the Oracle team needed to win the contested Cup in Valencia, Spain last year. USA 17, along with her 223-foot "wing-sail," has already departed Valencia for the 7,900-nautical-mile voyage to her new home on the Bay. With the Oracle team focused on developments for the next Cup, USA 17 will likely remain in storage for some time, but the team plans to announce the boat's sailing plans later this year.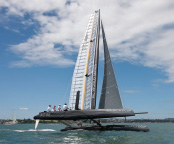 In the meantime, the new AC45 wing-sail catamarans are making their debut down under in Auckland, New Zealand. These hi-tech carbon fiber catamarans will be the centerpiece of the America's Cup World Series, which begins later this year. The AC45 is the forerunner of the 72-foot wing-sail catamarans planned for the America's Cup in 2013. Capable of tripling the wind speed, these boats are also designed to be extremely nimble, which will make for close and exciting racing. The plan for tight racecourses means teams will be actively engaging each other, and the thought of the America's Cup being just 100 yards offshore in a few short years will surely bring a new breed of fans to the sport of sailing.
For more information and updates, visit
www.americascup.com
or
www.ggyc.org
.
Jim Maxwell has been sailing for 20 years and thinks there is no finer place to be than on the Bay. E-mail: jim@marinatimes.com