MATTHEW OLYPHANT: Rockin' the local art scene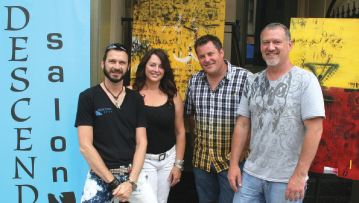 His art has been described as "jagged, spiky lines covering dramatic conflicting colors, with misspelled words and phrases, shared space with vague scratchy characters and cityscapes that come alive." His name is Matthew Olyphant and he's been making a name for himself in the Bay Area as a hot young painter with a bright future.
Olyphant was born in Oakland in 1972 and raised in Modesto. He studied fine art throughout high school and then moved to Berkeley in 1990 to enroll in UC Berkeley and to become part of the burgeoning punk music scene there. While living there Olyphant formed a band called Fetish, which later signed with Billy Joe Armstrong's (Green Day) label, Adeline Records.
While attending Cal, Olyphant studied color and composition and fine art painting under Kim Anno and Loretta Dunkleman. During those years, he showed his work extensively in many public art spaces.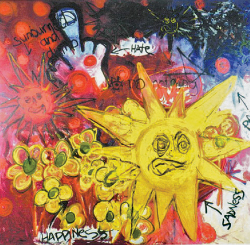 Olyphant's visually engaging paintings have received a tremendous amount of attention in the creative business and entertainment world. His paintings have been purchased by the likes of Billie Joe Armstrong, Mike Dirnt, and Tre Cool of Green Day; movie and music video producer Brett Ratner; music and artist manager Pat Magnarella; and casting director Joseph Middleton, to name a few. His paintings were also showcased on the MTV reality show
Cribs.
Olyphant explains that his paintings explore the tensions often existing between humans and their surrounding environment. The composition of many of his pieces is based largely on shape and movement, which plays a role in creating that sense of tension and harmony. However, Olyphant also skillfully employs color to support his aims. Color and texture function to reveal mood and gain a reaction from the viewer. Relationships among colors suggest harmonies or discord among people and their environment.
Olyphant draws on his environment, memories, thoughts, and emotions to create his visual pictures. The paintings are highly personal, but the artist strives to create images that are also archetypal to allow for more universal, metaphoric associations. He is also interested in exploring patterns of learning and communicating through visual art. By merging visual cues with these ideals, he composes paintings that are layered with content.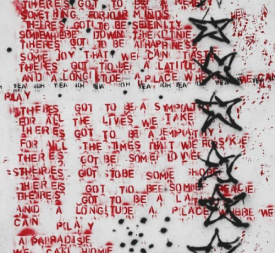 Olyphant is very pleased to have his paintings currently on display at Descend Salon on Union Street. "I have 17 of my paintings and drawings at Descend right now. I'll be rotating them every six to eight weeks and incorporating new stuff all the time. They'll be there indefinitely and I love having them in this incredible space."
Matthew Olyphant:
matthewolyphant.com; represented by Amelia Hyde Art & Design (www.ameliahyde.com)

Descend Salon:
2185A Union Street; Tuesday–Friday 10 a.m.–7:30 p.m., Saturday
10 a.m.–6:30 p.m.; 415-440-6608, www.descendsalon.com