SPORTS CORNER
Local boys who made it big with golf clubs and catchers' mitts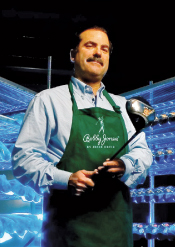 I always enjoy hearing great success stories about local people who have made it. Jesse Ortiz is a good example – a Galileo High School and University of San Francisco graduate who has made it big in the sport of golf as one of the premier golf club designers in the world.

Ortiz, 57, began his club-designing career as a teenager in 1968 with guidance from his father, Lou, the founder of Orlimar Golf. Together, Jesse and Lou handcrafted golf clubs for many of the world's best golfers. The Ortizes became personal craftsmen for Northern California's finest golf professionals.

Ortiz worked for his father at his shop on Harrison Street during school vacations. "It was an exciting place to be because professional golfers came by all the time – guys like Chi Chi Rodriguez, Tom Weiskopf, Johnnie Miller, and Ken Venturi."

While at Orlimar, he designed and developed many successful products introduced by the company, including the TriMetal fairway metal line, widely considered to be among the most lucrative and innovative lines ever introduced. It was consistently ranked among the top fairway metals by professional PGA Tour and senior PGA Tour players.

Before leaving Orlimar, Jesse introduced the critically acclaimed TriMetal HipTi Driver, which featured not only the thinnest conforming face in golf, but also the strongest and most rigid. Jesse's metal wood innovations propelled sales from $1.5 million to $100 million in the late 1990s.
Since 1998, over 700 PGA professional players have used Ortiz clubs in tournament play. Ortiz's name has become synonymous with high-quality woods and fairway metals design.

In 2004, the Jesse Ortiz Design Studio partnered with the upstart Bobby Jones Golf Company, and resounding success has followed. Driven by the commercial and critical triumph of the Bobby Jones Hybrid by Jesse Ortiz, the Bobby Jones Players Series by Jesse Ortiz continues to benefit from heavy media acclaim and increasing sales.

In 2008, after nearly four years in the workshop, Jesse launched a revolutionary new 460cc driver and a collection of technology-shaping wedges for Bobby Jones Golf. In 1999, Jesse received the International Network of Golf Business Achievement Award and was recognized as the Entrepreneur of the Year for Northern California by Ernst & Young.

Ortiz fondly recalls his time growing up in North Beach and playing golf at Galileo. "Our team was terrible. We had to sneak on courses, and the kids at Lincoln High were all members at the Olympic Club, so they were obviously better than we were. I used to get upset, because the competition would often beat us using our clubs."

For Ortiz to lose to an Ortiz club is one of those precious ironies of life.
The Big Greek: Rocket Arm and Slow Feet
Gus Triandos is one of the most famous alums of Mission High School, along with Carlos Santana and Maya Angelou. Triandos was a very decent catcher during the 1950s and 1960s. He hit 167 career homers, and although he was not fleet of foot (he stole only one base, and holds the record for most consecutive games played without being caught stealing: 1,206), Triandos had a great arm and was known as one of the top-fielding backstops in the league throughout his years with five major league teams. He now lives in San Jose and runs a postal company. He was wearing a neck brace the morning I met him, the result of a recent car accident.

Gus was a part of a lot of baseball history. A two-time all-star, he caught Jim Bunning's perfect game in 1964, used the big oversized mitt to catch knuckleballer Hoyt Wilhelm during his no-hitter in 1958, and was the opposing catcher when Ted Williams hit a home run in his final plate appearance in 1960.

The perfect game he caught: "Bunning was on his game that day and everything just fell into place. A perfect game is so rare, because it's never completely in the pitcher's hands. An error can mess it up, and I've seen it happen more than once. In the ninth inning, Bunning called me to the mound. He said I should tell him a joke, just to get a breather. I couldn't think of anything. I just laughed at him."

High school: "My senior year, we had 11 guys sign professional contracts. Mission High was the baseball school, Polytechnic was the football school, and Lowell was the basketball school in San Francisco at that time. The only one who really made it for any time in the majors was me."

The 1957 All-Star game: "That [coach Casey] Sten-gel didn't even put me in that game. That Stengel really hated my guts. And then the next year it was in Baltimore. That's when they let the players pick the All-Stars for the first time. And I got in because I was elected by the players. And Casey still didn't want to play me, but he had no choice."

Players he liked/disliked: "I never got to where I disliked a guy right off the bat. There were a couple I ended up disliking, but heck, life's too short. I stayed away from them. You see them now, and you never get a chance to talk. Maybe for a minute at some dinner or event or something. But, there were very few people – players and managers – that after it was all over, I disliked … Stengel was one of them. I wasn't his type of ball player. You know, I couldn't run. I couldn't hit to the opposite field. And for some reason he just didn't like me and it was patently obvious. The greatest thing that ever happened to me was him disliking me. He also made the right pick. He decided that he liked Elston Howard better than me. And that was a helluva pick."

Umpires: "You almost have to be an [expletive] to be an umpire. You have to take so much [expletive]. You start the season out real good friends with them; by the end of the season guys were salivating, hell, saying they hated each other's guts. The only reason the umps liked me is I didn't show 'em up, and I never argued with them. Stayed off them so that the fans wouldn't get on them."

Players today: "The way things are now, the kind of money these guys are making, it's messed everything up. In our era, there was more integrity and more love for the game. Look at these guys, they buy two to three million dollar homes; some of them have six or seven kids with five different women? It's crazy."

HOFers: "Any Hall of Famer who thinks he's so wonderful because he did all these great things in baseball is full of crap. He was able to do it because he was blessed by God with natural ability. He didn't necessarily have to work that hard to be a star. I've seen .220 hitters work a lot harder than a lot of Hall of Famers. There were some good ones, but there are also a lot of bad guys who are Hall of Famers. That's why I never really idolized Hall of Famers, because I thought they were blessed."
Ed Attanasio is an author who loves his wife, two dogs, and just about any sport that's on TV – except competitive sudoku. He would have been the Segovia of Scrabble, but he couldn't handle Qs. E-mail: ed@marinatimes.com