Wesla Whitfield to sing at 'Eggnog and Jazz'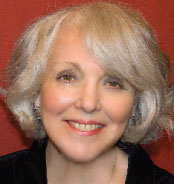 At the intersection of jazz and cabaret, Wesla Whitfield brings lyric to limelight with clear pitch, signature phrasing, and charismatic presence. An evening of sophisticated music with Wesla Whitfield and her accompanist and husband, Mike Greensill, will unfold for "Eggnog and Jazz" at the Episcopal Church of St. Mary the Virgin, 2325 Union Street, on Saturday, Dec. 4.
Telling stories from the Great American Songbook, Wesla's impact on an audience has been compared to Broadway luminary Ethel Merman, her phrasing to the legendary Frank Sinatra, and her accomplishments to singer Rosemary Clooney, her role model. A resident of the city for nearly 40 years, Wesla has been dubbed San Francisco's signature chanteuse, even as her career took her far across the country and while she cut 20 albums.
"People love stories," says Wesla, who favors the songs of Lorenz Hart, Ira Gershwin and Yip Harburg. "When a concert's coming up, I'm really thinking about the lyrics of what I'm going to be singing and the stories in that song," she says. "People love stories. We all do. And that's what makes this exciting."
Known as a singer's singer, Wesla now spends a good part of her time teaching master classes. Her students know she prepares for a concert meticulously. "If there's any part of a song that's difficult vocally, I'll certainly go over that many, many, many, many, many times so that it doesn't distract me from telling the story when I get up there to tell the story," she says, delivering the "manys" with easy melody and buoyant rhythm.
When and how she literally gets up there to sing the stories in her creamy alto voice is a story in itself. She became the victim of a random shooting when she was 29 years old and lost the use of her legs. Mike, her husband of 24 years, used to carry her onstage to a stool, where she perched. Until recently, that is, when she decided to take her entrance into her own hands and wheel herself onto the stage. How come?
"My husband got older and I got heavier," she says simply. "And one day we just decided, you know, let's just come as ourselves. And it's been glorious. I'm so comfortable because I'm myself. I can move a little bit on that stage," she says. "It was always such a strange feeling to be trapped there and unable to go anywhere until somebody came and got me. And then try to pretend that it was comfortable. And it isn't really. And for all of those reasons, it seems like a very sensible decision."
Wesla says she is looking forward to Eggnog & Jazz, which will benefit St. Mary's parish outreach programs.
"I'm so happy that I can still do this," she says, "because it gives me great joy. It's a great privilege to go through life as a musician. It's not necessarily the easiest route to take, but it's a real privilege."
Eggnog and Jazz:
7:15
p.m., Saturday, Dec. 4, Episcopal Church of St. Mary the Virgin, 2325 Union Street. For tickets ($50 advance, $60 at the door), contact the St. Mary's office at 415-921-3665 or visit www.smvsf.org.
Sandra Gary is a freelance writer and parishioner of St. Mary the Virgin.