Pet Pages
Pet cemetery closed during Presidio Parkway construction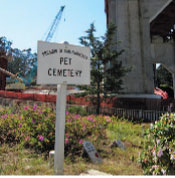 The Presidio Parkway project is taking special care to protect the beloved Presidio Pet Cemetery that was established by military families stationed in the Presidio in the 1950s.

Nestled next to one of the columns of the existing Doyle Drive high viaduct bridge, the pet cemetery is situated directly below the new, southbound bridge currently under construction. To protect graves like those of Willie the hamster and Buddy the bird, falsework (temporary structure used to build the new bridge) will span the entire length of the pet cemetery. To support the long span, 105-foot-long beams will be placed across the cemetery and will be covered to prevent any debris from entering the grounds.


During this construction period, the pet cemetery will be closed to the public. The closure is in effect now through late 2011, when the pet cemetery is expected to reopen.