NEIGHBORHOOD NUGGET
Much to love at We Olive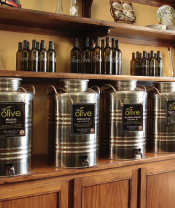 Most of us buy our olive oil at the grocery store, be it Safeway or Trader Joes, and if we're buying extra virgin olive oil, it means we're usually buying Italian imports. But olives have been grown in California since Spanish settlers planted olive trees in the late 18th century, and there are currently more than 200 producers of extra virgin olive oil throughout the state. California extra virgin olive oils rival or better the finest imports from Italy. And even when you purchase what you think is extra virgin olive oil at the market, you might not be getting the real thing since there are no regulations regarding product labeling for olive oils. The only way to know for sure is to look for the California Olive Oil Council seal, and at We Olive on Chestnut that is the only kind of olive oil they sell. This charming shop features the best, most diverse California extra virgin olive oils as well as gourmet foods, soaps and weekly olive oil tastings.
The best way to describe We Olive, which has eight stores in California and online at www.weolive.com, is that it's very much like a fine wine shop. You can go inside and be educated about the subtle differences between different types of oil – which range from nutty or earthy to cooling or salty – or you can browse and let one of We Olive's cheerful staff help you select just the right oil for cooking, a salad dressing or as a gift. The shop prides itself on selling only oils made from olives mechanically extracted without chemicals so they taste clean and fresh. We Olive also sells flavored olive oils and a tasty range of artisan, handcrafted balsamic vinegars, pestos, mustards, tapenades, and other goodies. When you can't stop by the shop, go online and check out We Olive's monthly newsletter, blog and recipes such as bruschetta with aged balsamic or grilled Asian shrimp.
Each We Olive shop features a tasting bar where you can sample from among 20 extra virgin olive oils from all over California. And on Wednesday evenings from 6–8 p.m., you can enjoy complimentary wine tasting and light snacks to go along with the store's newest olive oil offerings. Once you've used up your We Olive bottle of oil, bring in the empty and the shop will be happy to refill it, going along with San Francisco's commitment to being a haven for eco-friendly cooks and foodies.
We Olive:
2379 Chestnut Street (between Divisadero and Scott); Monday–Saturday 10 a.m.–7 p.m. (Wednesday until 8 p.m.), Sunday 10 a.m.–6 p.m.; 415-673-3669, www.weolive.com