STREET BEAT
LOMBARD SUCCESS STORIES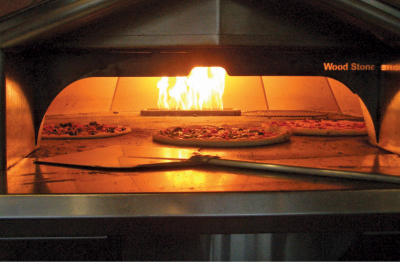 Lombard Street can be a graveyard for some restaurants or an absolute gold mine for others. Clyde won't laundry list the failed and departed but has high praise for institutions like Bobo's (1450 Lombard at Van Ness, 415-441-8880, www.boboquivaris.com), La Barca (2036 Lombard at Fillmore, 415-921-2221), Mas Sake (2030 Lombard at Fillmore, 415-440-1505, www.massake.com), and last but not least Amici's East Coast Pizzeria (2200 Lombard at Steiner, 415-885-4500, www.amicis.com).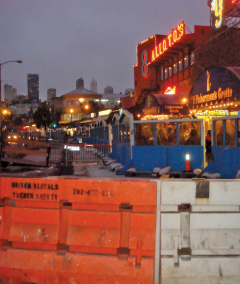 Clyde ducked into Amici's for pizza and a chat with manager Joselly Olivera, who told Clydisimo, "We were on Union Street about five years ago and we kept our customers in a database with their favorite pizzas for delivery and they kept coming back. We only moved three blocks." Delivery is huge for Amici's and the lovely manager told Clyde she has some 20 drivers who are always busy. Customers will call or order online and say or write "the usual" and the pie is cooked, boxed and delivered within minutes. When Clyde was hanging out at the Lombard location, there was not doubt that Olivera was in charge of the drivers and took no lip from them whatsoever!
Amici's was packed with families and couples when Clyde was there, which demonstrates the eatery is more of a goldmine than a graveyard. Olivera attributes their success to the owners, led by Mike Forter. "He's got an office right upstairs." Olivera says he's very hands-on and knows how things should be run. For those of you whiners – oh, Clyde means San Franciscans – who don't like chains (Amici's has 12 Bay Area locations), Olivera says, "We have no franchises; we're still privately owned, and we listen to our customers." That's hardly the attitude of an insensitive corporate mastodon. Quality does not suffer because of the farm-fresh ingredients and great workers who make sure the pizzas are fresh, hot and out in 10 minutes. This is because the wood-burning ovens are always at 760 degrees and employees still maintain quality despite being very busy. Heck, it makes the workday go a lot faster, the manager conceded.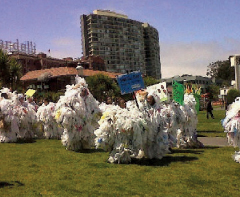 Clyde and intern/photographer Clemence Burckel had had enough of work and it was time to eat. A large, "true New York style" pizza came out with chicken breast, ham, roasted red peppers, caramelized onions, olives, and green onions. The manager told us not to get more than five ingredients because the pizza wouldn't come out right, so the pie was half ham and half chicken breast. Clyde and his intern devoured the pizza in seconds!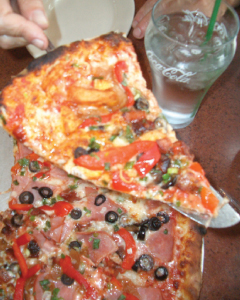 Clyde saw the families at the pizzeria digging into giant bowls of noodles known as Family Style Pasta – Clyde has had it before and it's a winner – and there's even a gluten-free menu for those of you who don't do wheat. Olivera's favorite pizza is the Trentino, and you'll just have to order a delivery online or pop into the Lombard location to find out what kind of pie it is!
LAUGHING ON UNION STREET
During the frenzied opening of Café des Amis (2000 Union Street at Buchanan, 415-563-7700, www.cafedesamissf.com) last month, Clyde had a laugh with executive chef Gordon Drysdale. Monsieur Clyde told the famed chef he'd be back to have a chat, as the chef loves Union Street. "Union Street is a beautiful place, and it's not just because of Café des Amis. About 10 years ago, it was the coolest place in San Francisco because it was a great place to stroll, shop and eat, but things started to slide a little bit over here. Then, a few years ago, that brash newcomer A16 came to Chestnut Street and that started to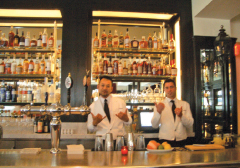 draw a lot of people to Chestnut Street. There was lots of energy on Chestnut. The Apple store opened up, lots of places opened up. Chestnut Street was going up, and Union Street was going down." Then he gave praise to the stewards of Union Street like the Union Street Association, Supervisor Alioto-Pier and Perry Butler of Perry's (1944 Union Street at Laguna, 415-922-9022, www.perryssf.com). "They loosened the restrictions and look at it now! In the last two years there has been a renaissance on Union Street that has been terrific. Marengo [1980 Union Street at Buchanan, 415-441-2575] opened up, the Brickyard [1787 Union Street at Octavia, 415-440-4712, www.brickyardsf.com] opened up; lots of other places and people were like, 'Union Street is happening? I thought that place was dead.'"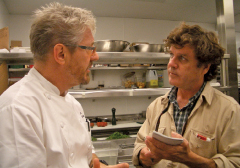 Drysdale has roots on Union Street. During the dot-bomb era, he owned Gordon Drysdale's House of Fine Eats in Portero and his general manager was Annette Yang, whom he calls a consummate professional. His nickname for her was Nettie, "much to her great annoyance." Well, Nettie's Crab Shack (2032 Union Street at Buchanan, 415-409-0300, www.nettiescrabshack.com) is now well on it's way to becoming a Union Street institution and is definitely part of the Union Street renaissance. Drysdale says, "It's ridiculous that we'd go our separate ways seven years ago, and now we're neighbors separated by 100 feet."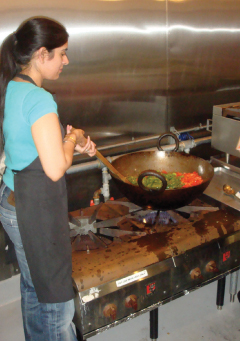 Much like Café Des Amis owner Tim Stannard, Drysdale was bummed the eatery took so long to open, but is happy now with the renaissance. "This corner was blighted and now it's the cherry on top of the cupcake." When asked how things were going, "So far, so good. In fact," he added, "it has been fantastic!" The dining room has been packed and the reception has been great, although he noted, "We had some foodies say that we weren't clearly all the way French," but added he wants to tell "anybody and everybody that this isn't a French restaurant, but it's French food filtered through the lens of Northern California. We tend to go to the market a lot for fresh ingredients." Good point Gordon; what works in Paris doesn't necessarily work in San Francisco.

Last month, Clyde mentioned the Fruits de Mer, the chilled raw seafood stacked high on a bed of ice, a popular Parisian delicacy. Clyde noticed there were lots dishes for two on the menu, so bon vivant Clyde asked what to order if God-Knows-I-Tried-Clyde could ever get a date to bring to the Café, and his answer was the Cote de Boeuf for Deux. "It's a beautiful two-inch-thick steak finished off over our beautiful wood-burning grill." As for the chicken for two, "That's for mom and dad when they go out for dinner." Gordon is a quite the joker.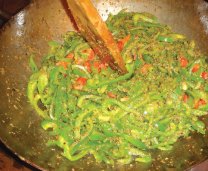 What Clyde really likes about Café des Amis is that they're in it for the long haul. "Our goal is to be a beautiful old brasserie like in Paris and be here for a hundred years, and we're also going to listen to our customers about the menu and make changes." Keep it up Café des Amis; Clyde thinks you're going to be around for a while.
ECONOMIC STIMULOUS PACKAGE BLIGHTS THE WHARF
Clyde asks, have any of you been down to Taylor and Jefferson lately? Five local agencies led by the Port of San Francisco have torn up the street to lower it and fix the antiquated water and electrical systems. Great! And the project is funded with economic stimulus money, so we can actually see where this money is going with our own eyes. Problem is, this was supposed to happen in the spring, not during the peak of tourist season in the summer. Sure, the weather has been dreadful this summer, but millions of tourists have still flocked here, and they all head to the Wharf. Several merchants have complained to the Clydester about the leaders of the project being out of touch with the realities of business. Start dates for the construction have been pushed back ad nauseam. In fact, one business owner told Clyde, "They wanted to start before July Fourth, could you imagine what kind of trouble and injury there would have been when thousands of people are down here watching fireworks on the fourth?" No, Clyde can't, and neither could the merchants who negotiated to get ground broken on July 8. This same long-term merchant told Clyde the project managers initially wanted to shut down all the crab stands and restaurants on Taylor. Clyde doesn't think any of the Taylor Street merchants received any stimulus money, so they all need their doors open in this up-and-down economy. They're all still open, but it is an eyesore and can't be good for business.


The eventual goal of the project is to have a park and walkway where tourists and locals can be on the water's edge from Pier 39 to the area of Taylor and Jefferson. This is good for local merchants on the water because now the foot traffic goes down Beach Street, which is full of tacky T-shirt stores and other places where locals wouldn't be caught dead. Another merchant told Clyde the bottom line is that, "It's a good project that is poorly executed." In an election year, isn't it kind of silly to load the weapons of the snarling right wing with a project that has been a comedy of errors from the get-go?
KASA INDIAN EATERY: BEST MEAL UNDER $15!
Clyde caught up with Tim Volkema, who owns Kasa Indian Eatery (3115 Fillmore Street at Filbert, 415-896-4008, www.kasaindian.com) along with British-born lawyer-turned-mother-turned-chef Anamika Khanna and her husband, Suresh. Kasa opened a little while back and the good Indian grub reminds Clyde of his London days.

Clyde: You have a successful eatery in Noe Valley, what made you decide to give the Marina a go?

Tim: We're on a mission to introduce people to the simple, delicious way Indians eat at home, and the Castro (duh, Clyde, it's in the Castro and Tim's too polite to call you an idiot) really embraced Kasa right out of the gate. We were looking for another vibrant S.F. neighborhood that would appreciate high quality cooking at an affordable price with dine-in, takeout and delivery, and the Marina was an obvious choice.

Clyde: How do you like 94123 so far? Is it what you expected? Do you like the business climate here?

Tim: We've had a blast meeting so many wonderful folks from the Marina and turning them onto our home-style food. It's fun to see them get hooked on something like Chicken Tikka Masala and then delve deeper into more of the menu. The business climate seems to be improving, but the block we are on is sleepier than we anticipated. We're excited to see some new businesses going into some of the nearby vacant spaces. Hopefully we're helping to bring some life back to this section of Fillmore again!

Clyde: Do you find the San Francisco palette to be sophisticated?
Tim: Clearly San Francisco is one of the culinary capitals of the world, but it's not something we think about much. Kasa's food is purposefully simple, unfussy, tasty, and comforting. You have to have amazing food to make it in this city, and we think that's why people return often once they try us.

Clyde: Can you shoot down a rumor that all Indian food is spicy like Vindaloo?
Tim: I'd be happy to. There are Indian dishes all along the spice spectrum from blazing hot to no heat whatsoever. At Kasa, two of our six permanent dishes – Karahi Paneer (Indian cheese with bell peppers and tomatoes) and Lamb Curry – are not spicy. Those two dishes are especially great for kids.

Clyde salutes anyone opening a business and dealing with the People's Republic
of San Francisco and in these tough economic times. Welcome to the neighborhood, Kasa!
Clyde implores you to become a fan of the Marina Times on Facebook; all of Clyde's pics are on the site. Keyword: MarinaTimes
E-mail: clyde@marinatimes.com