The Urban Home & Garden
Gardening in tight spaces: Experiment with containers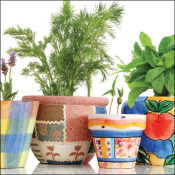 Ever since Michelle Obama planted her vegetable garden at the White House last year, interest in gardening has skyrocketed. Many seed companies across the country have reported record sales in the past year. Not only is gardening fun, but it's cost effective and rewarding too. With limited space, city dwellers can sometimes find it challenging, but there are ways to take advantage of what little space you may have.

Container gardening is particularly suited to urban environments – you can be certain the soil is well-drained and you can plant a container garden just about anywhere. Many varieties of herbs and vegetables thrive in containers. Think about where a pot will be located, and then find plants that will like that location.

Most plants exhibit one of three forms: upright, broad or trailing. Be sure to stand back and consider height, shape and growth habits. You can make a strong statement by using one bold plant such as an upright clump of bamboo or the perfect symmetry of a single agave. Another way is to combine all three in one pot. For instance, plant a tall, spiky New Zealand flax with a couple of broad-growth heliotropes and some trailing ivy geranium. Just make sure you choose plants that have compatible soil interests, whether well drained or continuously moist.

Foliage is as important as color in creating a successful container planting. As a general rule, most of the foliage in a pot should be harmonious, but remember that contrast grabs the eye. When considering color, think bold contrasting hues such as purple with yellow – or create a harmonious combination of pinks and lavenders. Or skip the color altogether and combine greens with a spot of white.
Innovative Planters
• Planters on wheels allow you to follow shifting sunlight or to wheel plants to a water spigot. Rolling casters easily attach to a wine barrel for mobility. Wine barrels also offer a fairly large space suitable for a vegetable garden.
• If you don't have horizontal space for containers, go vertical! Place containers of climbing plants (such as cucumbers and climbing beans) or plants that can be tied up (vine-type tomatoes) next to a gutter, railing or fence – or string up cord or net for them to climb on.
• Hanging baskets are ideal for a balcony or porch. Cherry tomatoes look great in a hanging basket, as do draping floral plants. Special hanging planters with side holes allow flowers to grow into bountiful floral arrangements.
• Window boxes also take advantage of otherwise unused spaces and add some curb appeal to the front of your building. Geraniums are well suited for hanging planter boxes and offer a Parisian ambience.
• Short sections of large ceramic, metal or plastic drainage tile, pipe or culvert make great pedestals for container plants. Place the pipe section on end and partially fill with gravel or similar material. Select a plant pot that will set into the top of the pipe and rest on top of the gravel. Try grouping different heights of pipe in one area ... the effect can be stunning.
• Plastic pots are durable, long lasting and lighter weight for easy maneuvering around. These are generally inexpensive too.
• The Topsy Turvy planters that you see on television actually do work and are well-priced, ranging from $10–$15. In addition to the tomato planter, they are also offered now in hot pepper, strawberry and hummingbird-attracting flower planters.
Don't be afraid to experiment!
Julia Strzesieski is the marketing coordinator for Cole Hardware and can be reached at [email protected]