Street Beat - By Cow Hollow Clyde
Hop to it!
Springtime is not for Hitler
For some tasteless, extremely politically incorrect, and offspring-of-survivors-of-World-War-II reason, Clyde thinks of The Producers signature song when folks mention spring. Maybe Astrud Gilberto's "It Might as Well Be Spring" is a better thought. Besides, fascism is dead in 94123 and this spring puts pep in Clyde's step, not a goose step.

One place to cool off post-El Nino is Lilly's Yogurt (2760 Octavia Street at Union, 415-674-8831). Mimi Zeidan, niece of Jack Zeidan, the owner of Michaelis Wine and Spirits (2198 Union Street at Fillmore, 415-921-5700), loves her job at Lilly's. "I'm his niece and I'm nice. I love kids and the neighborhood." Clyde likes the off-the-beaten-path location with the Euro-style table out front, and Mimi stresses the low-cost 30-cents-an-ounce price for the ever-so-tasty Straus frozen yogurt. It's organic and non-fat, so Marina-ites, it's not on your thighs or belly after ingestion! The two best sellers are plain tart and chocolate. "I eat it everyday," Mimi told Clyde with a smile. Jack and Mimi have partnered with That Takes the Cake (2271 Union Street at Steiner, 415-567-8050, www.that-takes-the-cake.com) owners Brian and Keisha Williams, whose lovely TLC is in every single delectable cupcake! Clyde overheard one of those ever-so-stylish gals from Jest Jewels (1869 Union Street, 415-563-8839, www.jestjewels.com) say how great it was that she didn't have to walk all the way down Union on her break for these mouth-watering creations from master baker Keisha!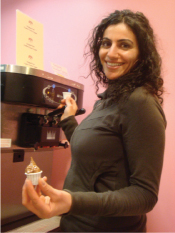 Some merchants couldn't deal with it, but Lilly's gets slammed with the after-school set daily around 2 p.m. Mimi is also a huge fan of the Marina school kids "They're so polite and well-behaved, and always say, 'Please' and 'Thank you.'" Well done, Marina moms, and kudos to Mimi and Jack for keeping us cool in the spring.

Another place to "spring into summer" is Canyon Beachwear (1728 Union Street at Octavia, 415-885-5070, www.canyonbeachwear.com). CEO and friend-of-Clyde William Mudd is bullish on spring because "people with kids like to go to places like Hawaii or Mexico for Easter, Spring Break or Memorial Day." So why not pop into Canyon Beachwear for a new swimsuit before hanging ten in Hawaii or hanging out in Cancun.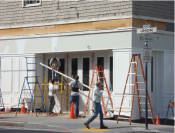 When Clyde popped into the Canyon Beachwear Union Street shop, sales associate Lourdes Llanes was zooming, "It's super busy. Everyone is doing last-minute shopping for Spring Break trips to Hawaii or Mexico, and there are lots of people going on cruises, too." When Clyde asked Lourdes what the hot sellers were, "Vitamin A – really cool colors and you can mix and match, and the styles go from skimpy to full coverage." She went on to say the Karla Colletto line is hot because "they're one piece and super sexy for the long torso" women. Lastly, Vix from Brazil makes swimsuits out of "uber-soft" fabric. And Clyde knows how much we all love uber-soft!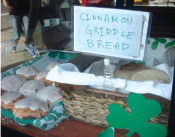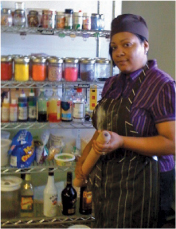 For you Marina families looking for a bargain spring trip to Hawaii or any points tropical, Mudd has a partnership with Pleasant Holidays (800-742-9244, pleasantholidays.com). Yes, they're based in southern California (let's chill on our SoCal hatred unless it's directed towards USC), but Pleasant Holidays V.P. of marketing Amy Terada says the San Francisco Bay Area is always on their radar screen, with San Francisco being extremely important. "It is our second largest origin city; a very close second to Los Angeles." Is Pleasant offering us deals to go tropical here in 94123 during these not-so-great economic times? "Absolutely!" says Terada. "Everyone is looking for the 'deal.' Anything anyone can do to add more value to attractively priced vacation packages will provide further incentive to book and go!" Ring Pleasant or check out their Spring Break deals online because what better place to show off your new Canyon Beachwear bikini than the black sand beaches of Kona! Or turn some heads strolling down Waikiki!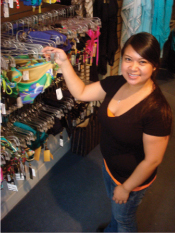 Clyde's Calendar
Easter meats! Clyde's mouth is watering just thinking about digging into that Easter ritual. Master butcher Terry Bloom of Real Food Company (3060 Fillmore Street at Filbert, 415-567-6900, www.realfoodco.com) says to order your Easter ham now! Funny enough though, Terry told Clyde leg of lamb is his best Easter seller. When Clyde pressed the butcher extraordinaire what kind of marinade he would use, his mind took off like a locomotive, and like Picasso at the easel Bloom said, "I'll have to get back to you on that one." Whatever the master of marinade makes, it will rock.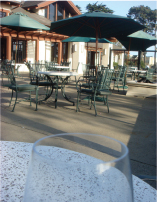 Sunday, April 4, brunch o'clock: So, if you don't feel like cooking Terry's leg of lamb, walk, bike, Muni, Presidio Shuttle, or drive up to the Presidio Cafe (300 Finley Road at Arguello, 561-4661, wwwpresidiocafe.com) where friends-of-Clyde food and beverage manager Michael Perry and star chef David Seawell will throw it down with a carving station and the Easter Bunny!

Sunday, April 4, 2 p.m.: Don't forget the Union Street Easter Parade sponsored by the Union Street Association and a plethora of supporters like Perry Butler of Perry's. Good times for all! Happy Easter from the Marina Times! Clyde will see you there!

Sunday, April 4, after 5 p.m.: Bring your Mom to the Brazen Head (3166 Buchanan Street at Greenwich, 415-921-7600, www.brazenhead.com) and she eats for free (Clyde's favorite four-letter word).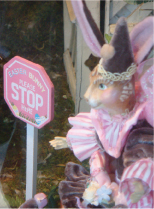 Tuesday, April 6: Pop into the Mauna Loa (3009 Fillmore at Union, 415-563-5137, open daily 2 p.m.–2 a.m.) for bartender Tammi Miller's first annual "Goodbye to Lent" party where abstainers and sinners like Clyde can indulge in free beef brisket, yummy homemade potato salad, and Girl Scout cookies!

Sunday, April 25, 2 p.m.: The Golden Gate Boys Chorus and Bellringers (510-887-4311, www.ggbc.org) are having their annual Bell Spectacular at St. Thomas More Catholic Church (1300 Junipero Serra Boulevard at Brotherhood and Thomas More Ways). If seeing good, well-rounded kids play really, really moving music is your thing, don't miss this one. And the GGBCB is led by a Cow Hollow local, St. Vincent de Paul's music director Steve Mayer.

April, all month: Bop on down to see the Geraldi family at Fisherman's Grotto No. 9 (9 Fisherman's Wharf, Taylor Street at Jefferson, 415-673-7025, www.fishermansgrotto.com) who are celebrating 75 years and have a prix fixe menu for $19.35. The year 1935 is when the Geraldis started selling the fish they caught in the Bay and Pacific Ocean, offering huge portions in a lovely setting with breathtaking views, and the price is right too. Trust Clyde, you'll be taking leftovers home. And for you landlubbers, there are non-seafood dishes on the prix fixe menu. The staff is friendly and helpful – tell 'em Clyde sent you. Ask for Ted Krikos, the best waiter in San Francisco.
In these times of staycations and underwear bombers, there is so much to do here in our neck of the woods. The aforementioned Presidio Cafe's Michael Perry throws down a tasty lunch and brunch of fine American fare at a fair price, and he gets a nice crowd for both. But, one of Clyde's favorite spots is the Presidio Cafe patio during happy hour to watch the sun set, sip one of Perry's great wine selections, watch golfers clink by in their spikes and hang out in a quiet, clean, well-lighted place. It's like being on top of the world in your own microclimate and it's a stone's throw away from us. The deck is usually uncrowded and Clyde likes being left to his thoughts and some lovely vino. Give the Presidio Cafe's Happy Hour a shot sometime.

Clyde's a typical potato-famine Irish-American who goes to church every Christmas and Easter. Clyde's knowledge of the Emerald Isle involves going on a trip as a child and seeing lots of churches and museums. And whilst living in London, Clyde popped over to Dublin for weddings and concerts, but Clyde doesn't really know much (about anything) about Ireland.

For instance, Clyde knows and has consumed Irish coffees, (in both Ireland and the Buena Vista) Guinness, Galway Bay oysters, and some great Atlantic salmon, but what Clyde didn't know was that the Irish are known for their baking. Lo and behold, we welcome John Campbell's Irish Bakery (3101 Fillmore Street at Filbert, 415-563-1519) where their lovely treats like scones, soda bread, cookies, foccacia, and a long list of other goodies are there for the taking. Golden Gate Valley Neighborhood Association president and friend-of-Clyde Bob Bardell is already a huge fan and remembers the days when there were "loads" of bakeries in Cow Hollow. Maybe merchants are going to shy away from trendy and head back to practical? One can only hope.

Lastly, hat's off to Liverpool Lil's co-owner Gil Hodges for chasing down a thief who stole his employee's purse. Gil actually boarded a Muni bus and found the scumbag and rang SFPD, who popped the purse snatcher as he got off the bus. We all need more neighbors like Gil. Well done my friend.