Already busy boating season officially opens with a parade on April 25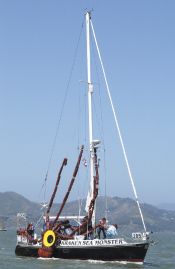 In keeping with our district's moniker, the Marina has been a hub for boating news this year. With the America's Cup trophy coming to roost at the Golden Gate Yacht Club, the area made headlines worldwide in February.
Then on the first day of spring, the Plastiki set sail from Sausalito on its 100-day journey to the South Pacific. This seaworthy vessel made from 12,500 plastic bottles hopes to deliver a timely "message in a bottle" about the global need for improved waste management on both land and sea. You can follow their voyage online at
www.theplastiki.com
.
And in the first week of April, boats competing in the Clipper '09–'10 Round the World Yacht Race will pull into the Bay and the Marina Yacht Harbor, ending the mammoth 5,680-mile Pacific Ocean leg of the race. Among the yachts will be the California, a Governor Schwarzeneger-endorsed entry that had hoped to win this leg of the race until a storm at sea shattered its mast. You can follow the race and the estimated time of arrival of the yachts at
www.clipperroundtheworld.com
.
These international events are a fitting warm-up for the official opening day of the San Francisco Bay boating season on Sunday, April 25.
"Building Bridges" is the theme for the 94th annual Opening Day on the Bay Decorated Boat Parade that starts at noon. Over 120 historic, classic and contemporary power and sailing vessels will take part in the parade, making it the largest season-opener in the country. An SFFD fireboat will lead the parade with an impressive water display.
One of the best viewing spots for the family-friendly event will be along Crissy Field, as the vessels head east along the waterfront from Anita Rock to Pier 39. Hyde Street Pier will also provide good views of the passing flotilla.
For a closer view of the parade boats, spectators can cruise aboard one of the Hornblower yachts while enjoying a light breakfast and gourmet lunch onboard. Visit www.picya.org for reservations or contact Lizette Collins at 415-883-7106 or
[email protected]
.
Prior to the parade, boats are invited to participate in the 47th Blessing of the Pleasure Craft ceremony in Raccoon Straits (between Angel Island and Tiburon) from 10:30 a.m. to noon. Hosted by the Corinthian Yacht Club, benedictions will be bestowed as vessels sail southwest through the strait, between the blessing vessel and the yacht club.
The parade is hosted by the Pacific Inter-Club Yacht Association (PICYA), which represents over 105 yacht clubs in Northern California. PICYA has coordinated San Francisco Bay's opening day celebrations since 1917.