Pet Pages
Take a hike for canine cancer research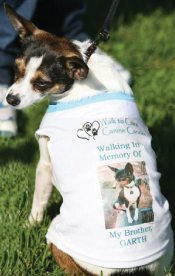 I'm sure you are familiar with the Susan G. Komen Race for the Cure. Last year, 1.5 million people participated in 5K runs and fitness walks around the world to raise funds for breast cancer research, allowing the Susan G. Komen foundation to award $100 million in research grants. People participate in the walks and sponsor runners because of the sobering disease statistics: 1 in 8 women will be diagnosed with breast cancer in their lifetime.
Would you be shocked to find out, then, that 1 in 4 dogs will be diagnosed with some form of cancer? Or that it is the leading cause of death in dogs over two years old? Not if you've loved dogs for very long, since I'm sure you've been a sad member of those gut-wrenching statistics.
The Morris Animal Foundation (MAF) was established in 1948 to help fund research that protects, treats and cures companion animals and wildlife. In April 2007, MAF launched its Canine Cancer Campaign (Best Friends Helping Best Friends) with a goal of raising $30 million specifically for cancer research by April 2012. Compare that with the annual grants bestowed by Susan G. Komen for the Cure, and it seems incredible that it is such a tentative goal.
All monies raised by the Canine Cancer Campaign go to administer research grants for doctors and scientists at prestigious colleges of veterinary medicine and universities including UC Davis, Colorado State University, Cornell University, Tufts University, and many others.
MAF has done the statistics: If just one percent of the 44 million dog-owning households in the country contributed $50, it would equal $22 million. That's just one percent of a population that will see 25 percent of its members affected by cancer.
On Saturday, April 24, participants in the K9 Cancer Walk will be walking to reach those funding goals. The 3K/7K event at Elk Grove Regional Park in Elk Grove, Calif. has a goal of raising $30,000 through entry fees and walker sponsorships, with 100 percent of the money raised going directly to the Canine Cancer Campaign.
The walk will be followed by a panel of experts who will discuss cancer prevention, wellness, cancer research, treatment, and how to be an advocate for your dog's health.
You can participate by joining in the walk either physically or virtually (you can sign up as a "Sit and Stay for the Cure" member), or by making a donation in support of an individual or team. I'm walking with "Team Berner" for my own dogs, both past and future.
Register to participate in the walk, make a donation, or just find out more about the Canine Cancer Campaign by visiting www.curecaninecancer.org and clicking on the K9 Cancer Walk medallion.
Your donation may help save your own dog from suffering cancer's effects, but it can also have a profound impact on the battle against human cancers. According to pediatric oncologist Dr. Richard Gorlick, vice chair of the Bone Tumor Committee at the Children's Oncology Group (whose members treat 90 percent of all children with cancer in the United States and Canada), canine cancer research is invaluable. "Cancer in pet dogs strongly resembles the cancers we see in pediatric patients. If agents are shown to be helpful for pet dogs with certain cancers, it is quite likely that these agents will also be helpful in children with the same cancers. We strongly support MAF's initiative and believe that results will be ultimately helpful for both children and canine cancer patients."
So it's not a matter of choosing between supporting human cancer or canine cancer research – funding research for early detection methods and effective treatments for dogs could ultimately unveil a cure for us all.