"For me, people come first. I have tried to assert the dignity and eternal importance of the human being."
— Alice Neel
The first comprehensive museum survey of figurative painter Alice Neel (1900–84) is coming to the de Young Museum, from March 12 through July 10. A radical champion of social justice, Neel had a long-standing commitment to humanist principles throughout her career. The award-winning exhibition features Neel's painting, drawings and watercolors, and more, including works exclusive to the de Young's presentation, which will be the only West Coast venue.
THE WORKS PROGRESS ADMINISTRATION
Born in 1900, Neel studied art at the Philadelphia School of Design for Women before moving to Cuba, where she had her first solo exhibition. After returning to the United States, Neel became one of the first artists enrolled in the Works Progress Administration (WPA). While building up the public infrastructure during the depression, the WPA paid artists through the Federal Art Project. It was during this period that Neel's work began to gain attention.
PICTURES OF PEOPLE AS HISTORY
Neel spent most of her life in New York City, where she painted the diverse, resilient, and passionate people she encountered in the civil rights and feminist movements as well as political leaders, queer cultural figures, mothers, visibly pregnant women, musicians, and nude figures.
The exhibition is divided into seven sections representing seven decades of Neel's creativity:
'COUNTER/CULTURE' 
The largest section within the exhibition is dedicated to the counterculture people Neel interacted with during her life. Her painting Robert Avedis Hagopian (1971) celebrates, in bright blues and yellows, the beloved local San Francisco concert pianist who died from complications of HIV/AIDS.
'THE HUMAN COMEDY' 
This gallery draws on the work of French novelist Honore de Balzac. These are Neel's most emotional drawings and paintings, reflecting the pain, suffering, and endurance of people, including those in hospitals and suicide wards. The Fuller Brush Man (1965) is a portrait of Dewald Strauss, a salesman for the Fuller Brush Company who survived Dachau and escaped Nazi Germany. He then enlisted in the U.S. Army and earned a Purple Heart for his service.
'HOME' AND 'MOTHERHOOD' 
These two sections focus on Neel's depictions of domestic intimate situations and personal moments as a mother, lover, and artist. Pre- and postpartum bodies are represented with a refreshing candor and emphasize the complexities of this female experience.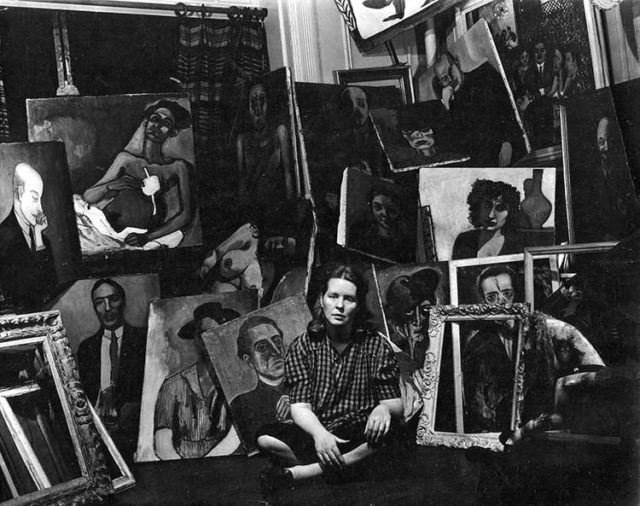 "Alice Neel dedicated her practice to portraying both people and moments in life that have often been erased or forgotten through time," says Lauren Palmor, assistant curator of American art at the Fine Arts Museums of San Francisco. "Whether portraying the strength and struggles of her neighbors in Spanish Harlem, the labors of pregnancy and motherhood, or a generation of creatives devastated by the AIDS crisis, her works are unflinching in their honesty and radical in their interpretation."
'ALICE NEEL AND ART HISTORY'
The presentation will also include an interlude dedicated to Neel and San Francisco. She made two trips to the city to visit her son in 1967 and 1969. Ginny in Blue Shirt, a painting of her son's wife, will be on view along with a rare film showing Neel in the process of painting Ginny. Other select works drawn from the collections of the Fine Arts Museums of San Francisco by artists Neel admired, including Imogen Cunningham and Richard Diebenkorn, will be juxtaposed with her own work.
'THE NUDE' AND 'GOOD ABSTRACT QUALITIES'
The "Nude" section of the exhibition presents provocative, groundbreaking nudes, including a self-portrait painted by Neel when she was 80 years old. The artist meets the gaze of the viewer, holding her paintbrush in one hand and oil rag in the other, representing the realism of the female body in old age.
The final room, "Good Abstract Qualities," shows the artist's experimentations with abstraction. A brilliant example of "unfinishedness" is Black Draftee (James Hunter), which depicts a draftee of the Vietnam War scheduled for duty within a week. Hunter was to return for a second sitting but did not. As a result, Neel rendered much of his body in ghostlike lines, giving the painting an ominous characteristic.
Alice Neel painted her world, from the bohemians, dissidents, and activists with whom she collaborated to other artists, family, and friends. Neel called herself a "collector of souls," a phrase that encapsulates her ability to reflect her subjects and the eras in which they lived.
Alice Neel: People Come First Tues.–Sun. through July 10, $28, de Young Museum, 50 Hagiwara Tea Garden Dr., 415-750-3600, famsf.org
Sharon Anderson is an artist and writer in Southern California. She can be reached at mindtheimage.com.