The Haight Street Art Center presents an exhibition by famed U.K. artists Roger Dean and his daughter, Freyja Dean. Roger Dean's career spans more than 60 years and his dazzling large-scale paintings, drawings, and sculpture have cemented him a place in both popular culture and the world of fine art.  Freyja Dean is the next generation of Dean family artists and has won international attention for her painting, sculpture, and fabric art. This exhibition connects all facets of the Deans' wide-ranging and restless imagination.
BEYOND THE VISUAL
The Deans have forged a broad path of cultural influence through the years. Roger Dean, an award-winning album cover artist primarily known for his extensive work with the band Yes, is also known as the "only member of Yes who doesn't play an instrument." Visitors to the Art Center will recognize famous paintings that became the artwork for some of his legendary album covers, as well as studies of his extraordinary design work, including his iconic Yes logo.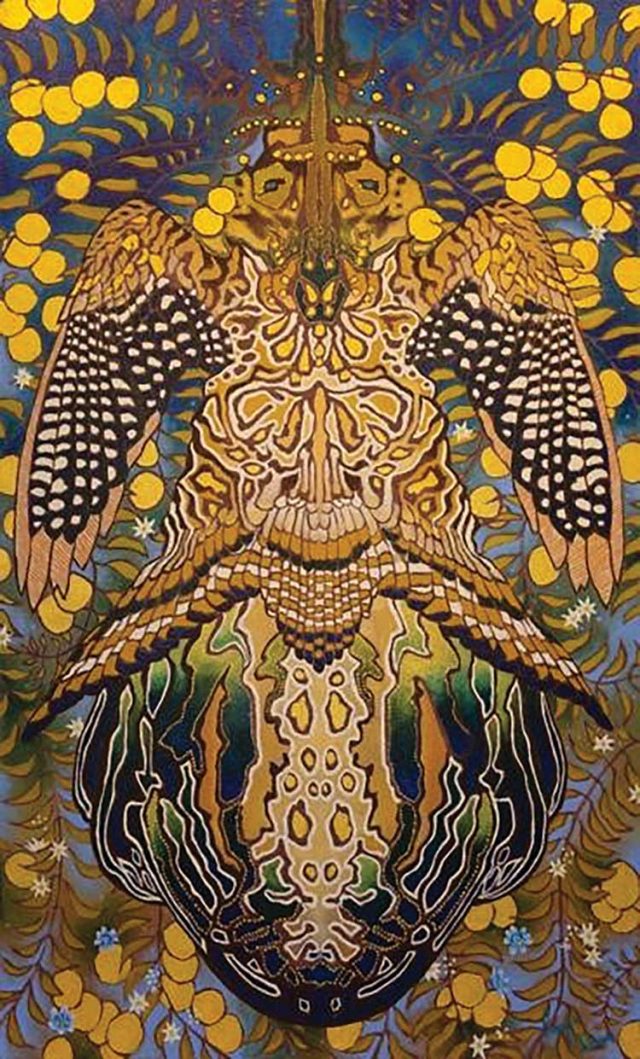 Not to be easily confined, Roger Dean's work spans fine art to graphic design, architecture to stage sets, from small-scale drawings to stadium-sized vistas. Blue Planet Alliance Founder Henk Rogers says, "I've worked with Roger for 35 years and could not be more honored to support 'The Secret Path' at the Haight Street Art Center. In all my years in publishing, I've never met an artist as talented and easy to work with as Roger. We've worked together on dozens of projects, starting with the cover and logo for the game Super Black Onyx to the Tetris logo, our biggest and most widely known collaboration, for a game that has sold 500 million copies. Roger's art has enriched us in so many ways."
Freyja Dean has made her own way and developed her own style that bears a relationship to her father's. The precision and detail in her otherworldly landscapes are informed by her studies in natural history illustration. She has also studied forensic facial reconstruction at Cambridge University and the history of medicine through the Open University. Influenced by these diverse topics, she has worked designing opera costumes, character design for computer games, and album covers, and has also created work for public art spaces and medical museums. She recently worked for the Royal College of Surgeons creating synthetic body parts for surgical trainees to practice procedures on, as well as freelance design projects and exhibitions in the U.K. and Japan, where she is currently living. "With every project, I start by asking myself, 'what do I want to exist in the world where this bit of space is, in front of me.' This question applies whether I'm doing an album cover, designing costumes or characters for an opera or game, or when I'm working on projects of my own."
Curated by Roger Dean in consultation with Freyja Dean, the exhibition includes more than 50 works that will furnish patrons with an imaginative and immersive experience that speaks to the challenges of the present while looking forward toward a positive future.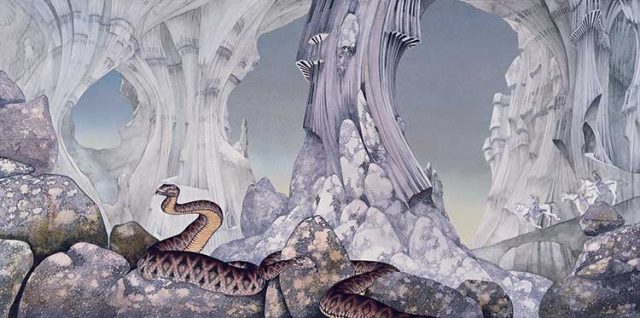 THE SECRET PATH OF LIFE
The art of the Deans embarks the viewer on a journey filled with stories. Those stories are imbued with magic: the magic in nature and in natural phenomena and formations. "This exhibition invites viewers to become participants," said Roger Dean. "We are all fellow travellers on the secret path of life. The signposts along the way are our art works, but the destination — the future — belongs to everyone."
For the Deans, this exhibition is an important step in that journey. "We must believe in a future worth striving for," explained Freyja Dean. "For all of us, there is a secret or hidden path whose entirety we cannot see while we live it."
The Secret Path: The Art of Roger and Freyja, Thu.–Sun. noon–6 p.m. through Oct. 30, free, Haight Street Art Center, 215 Haight Street (at Laguna), haightstreetart.org 
Sharon Anderson is an artist and writer in Southern California. She can be reached at mindtheimage.com.