I'm troubled by the possibility that, as the Bay Area has become increasingly wealthy and more ideologically self-selecting, the Chez Panisse ethos has become a touchstone for the tastefully furnished stone houses and rolling, lavender-covered hills of an elite preindustrial agrarian fantasy. I worry that we have begun to reflexively equate an aesthetically beautiful lifestyle with a morally good life, and that the way we cook and eat has become bound up in that mix.
— "To the Moon, Alice?" by Daniel Patterson,
The New York Times, Nov. 6, 2005
In 2005, San Francisco chef Daniel Patterson drew the ire of the Bay Area restaurant community when he wrote a piece for The New York Times called "To the Moon, Alice?" which presented his theory that Alice Waters and her lauded restaurant Chez Panisse had stifled culinary innovation, particularly in San Francisco. "But as the simple, delicious $200 dinner for two — not including wine — that I recently had at her restaurant (not to mention the phenomenon of the $5 heirloom tomato) demonstrates, something has gone awry," Patterson opined. "How can we build an egalitarian society based on a lifestyle that so few can afford?"
A decade later, Patterson is back in The New York Times, quoted for another critique of the city's culinary landscape by San Francisco freelance writer Daniel Duane called "Dinner, Disrupted." The subtitle of Duane's article, "Silicon Valley has brought its wrecking ball to haute cuisine, and the results are not pretty," puts the blame squarely on pretentious, shallow, nouveau riche tech workers. Restaurants, Duane says "must satisfy a venture-capital and post-I.P.O. crowd for whom a $400 dinner does not qualify as conspicuous consumption and for whom the prevailing California-lifestyle fantasy is less about heirloom tomatoes than recognizing inefficiencies in the international medical technology markets, flying first-class around the planet to cut deals at three-Michelin-Star restaurants in Hong Kong or London and then, back home, treating the kids to casual $2,000 Sunday suppers." (Heirloom tomatoes get another dubious mention, though they're now a $10 phenomenon.)
When Twitter and other tech firms extorted San Francisco for a special tax break in 2011 ("We'll move to Palo Alto!"), Mayor Ed Lee touted them as the saviors of the Mid-Market and Tenderloin neighborhoods, known more for drug deals than venture capital deals. Restaurateurs saw their meal ticket, opening fancy restaurants where a dinner costs more than the average Tenderloin resident makes in a month (or three). Too bad they didn't take heed of my warnings — having grown up in the Silicon Valley, where I worked for a budding computer company called Apple, I knew that tech workers rarely set foot outside the office. Why should they? Respected chefs, lured from restaurant gigs with promises of stock options, are whipping up spectacular meals in the company cafeteria — and it's free for the employees. In the past few months, upscale restaurants Cadence and Oro both closed after less than a year.
But Mid-Market isn't the only area where restaurants are hurting. The ridiculous cost and sheer difficulty of doing business in the city has also forced closures (or moves to the East Bay), with chefs often citing San Francisco's "tough conditions" for their struggles. While I have no doubt tech workers and the harsh business environment deserve some of the blame, I feel a bit more like Patterson did in 2005: Chefs are resting on their laurels, showing little innovation, and following each other into the abyss. California cuisine, however, is no longer the culprit. In fact, "local, organic, sustainable, and seasonal" (or as I call it, LOSS) is now a given, as are dishes "with a California sensibility." I believe San Francisco's new poster cuisine is "upscale comfort food."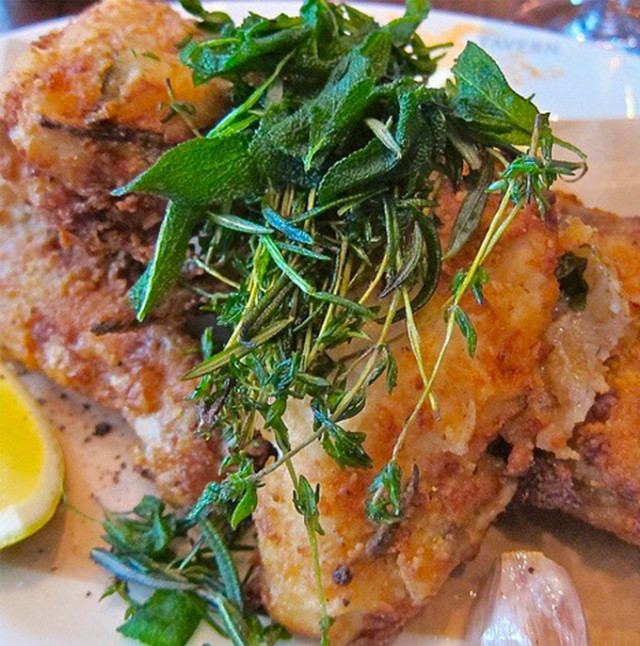 THE WAYFARE TAVERN EFFECT
When celebrity chef Tyler Florence opened Wayfare Tavern in the Financial District in 2010, he met with generally good reviews (including one from me), and the place has been packed ever since. His fried chicken is legendary, even making Food & Wine magazine's 2016 "Best fried chicken in America" list. I personally don't think "upscale" and "comfort food" belong together in a sentence, but Florence has made it his trademark. I do understand charging extra for the best ingredients (humanely raised meats, wild-caught seafood, pastured eggs), but it's tough to swallow $26 fried chicken at Wayfare Tavern when you have to pay an additional $20 for sides of rainbow chard and mashed potatoes. On top of that, they add a 4.5 percent surcharge to offset the costs of San Francisco's employee mandates. Include sales tax and the expected bare minimum tip of 15 percent, and you've got a $60 fried chicken dinner that doesn't even include a glass of wine (that'll set you back another 10 to 26 bucks). No matter how expensive it is to do business in San Francisco, you're making money on a $60 chicken dinner.
Florence has a big name from his many years on the Food Network, not to mention deeper pockets than the average chef, yet that hasn't stopped countless others from stepping into his shadow. Alongside the ubiquitous $20 cheeseburger, menus tout $15 deviled eggs, $18 kale salads, $25 bone marrow, and $100 steaks at restaurants with names that invariably end in "tavern," "pub," or "bistro." Scariest of all, chefs are taking on thousands, sometimes millions of dollars in debt just to compete in a city where restaurants close as fast as they open, and where rent and construction costs are the highest in the country.
In "Dinner, Disrupted," Duane focused on the haute dining scene, about which Patterson said, "The food has never been better and the business climate has never been worse and so we are speeding toward a cliff." I would argue that $25 bone marrow at upscale comfort food pubs, taverns, and bistros is heading for that same cliff, driven by chefs who are in way over their heads financially and creatively in what has become the toughest restaurant city in the world.