In the first place, God made idiots. This was for practice. 
Then he made school boards.

— Mark Twain, Following the Equator, 1897
By now everyone is familiar with the sordid tale of San Francisco School Board member Alison Collins, who posted crude, racist tweets in 2016, two years before she was elected. To recap, Collins, who is white and Black, accused Asian Americans of using "white supremacist thinking" to assimilate and get ahead. "Being a house [n-word] is still being a [n-word]," she tweeted. Once the tweets surfaced, the board (with the exception of her friend, President Gabriela Lopez) approved a "no confidence" motion and removed her from the role of vice president. Collins responded not with an apology but with an $87 million lawsuit against the San Francisco Unified School District and five of her Board of Education colleagues for violating her First Amendment right to tweet those racist tweets. "I invite you to join me in making this moment count, to not let me or anyone else be swept under the rug, canceled, or dismissed … ." she said at a sparsely attended support rally. 
That's rich coming from a woman who wanted to cancel President Abraham Lincoln, a.k.a. "The Great Emancipator," during the board's embarrassing, ill-fated attempt to rename the city's schools by picking "racists" out of Wikipedia. On a side note, they also wrongly accused Paul Revere of seeking to colonize the Penobscot people and confused the name of Alamo Elementary School with the Texas battle rather than the Spanish word for poplar tree. To add insult to injury, all of this went on while San Francisco students still had no path back to in-person learning, stuck in their Zoom rooms with frustrated parents trying to juggle working from home and homework.
On March 26, after some robust Twitter banter about the Collins debacle, I received an anonymous email that included her home address in Russian Hill. The person said they wanted to point out the hypocrisy of Collins's many convoluted Twitter threads presenting herself as the voice of poor Black and Brown children when she lives in one of the whitest, most exclusive neighborhoods in town. As I viewed the home on Zillow, I noticed it had been listed for sale by Collins and her husband, Chris, in 2019 for $3,249,000. It didn't sell, but the real estate agent's description remained. "Behind the updated Edwardian façade lies a stunning 3-level modern retreat that shows you can have it all," the agent wrote. "This spectacular home has been thoughtfully and thoroughly reimagined by a leading SF developer and a top architect creative collaborator." When I looked at the photos, however, I noticed something odd: there were two addresses on the building, along with two doors. An Internet search for the individual addresses brought me to Redfin, where I discovered the bottom unit had been sold for $560,000 in 2004 as a "Loft-like flat in a 2 unit building in Russian Hill."
That evening I posted my findings on Twitter. I have some really smart followers, so naturally they started doing their own digging. Several days later I received another anonymous email from someone who researched the permit history with the Department of Building Inspections (DBI) and found nothing pertaining to such an extensive renovation, nor was there anything filed with the Planning Commission related to the interior work. There also had been no reassessment of value, which would have been triggered by all that construction and the conversion of two units into "a 3-level modern retreat." Further investigation revealed that neighbors had complained to DBI in February 2019 about work being done "in a dangerous manner with expired permits," alleging they had "notified the Collins " [sic] to no avail, and that "all record of previous complaints had disappeared from the department."
According to the documents, a contractor also filed a lawsuit against Chris Collins, seeking copies of the plans, where he discusses his work on the exterior of the home in 2017 and 2018, and alludes to previous work in 2004, 2013, and 2014. In 2018, the contractor was fired and sued for payment, calling out Collins for his "refusal to let DBI inspect the interior of the house."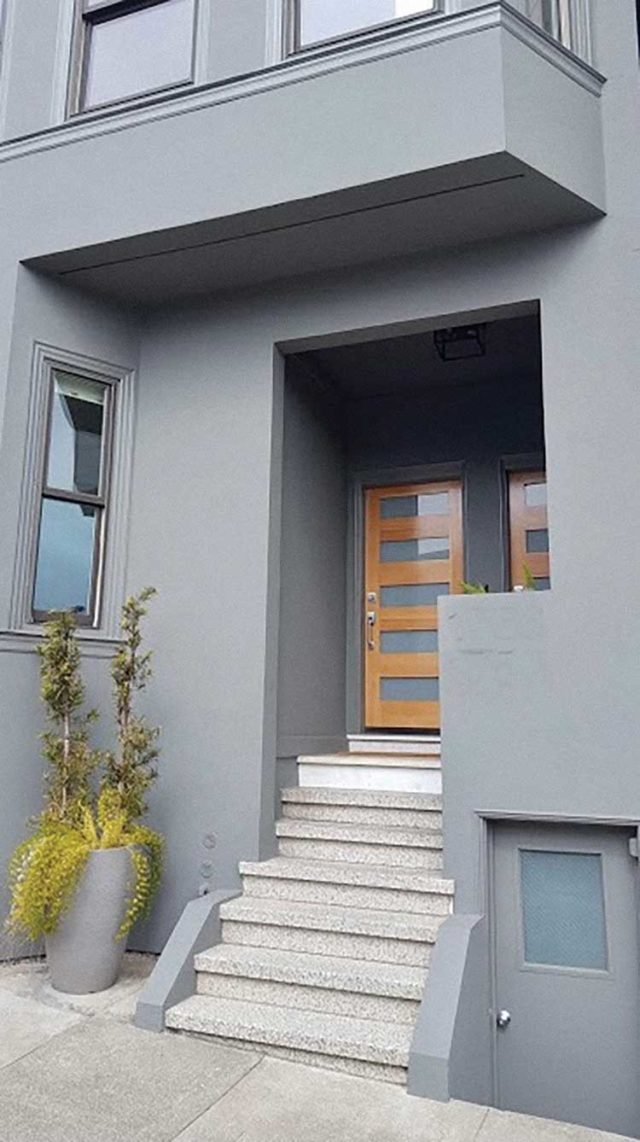 'RANG THE SINGLE DOORBELL'
On April 4, I received another email from a person who claimed to have filed a 103-page anonymous complaint about "the illegal merger and construction." As I tracked the complaint, notes from inspectors began to appear. One said, "Rang the single doorbell," proving my initial suspicions were correct. (An April 23 update notes that DBI inspected the site and "observed building violations throughout," with a Notice of Violation to follow.) But beyond the arrogance of an elected city official doing illegal construction on her home is the infuriating fact that her husband is the "leading SF developer" mentioned in the Collins's 2019 Zillow listing. He's one of two principals at Urban Pacific, a privately held real estate firm "focused on large-scale, transformative urban investment and development" with a portfolio that includes One Rincon Hill, One Embarcadero South, 560 Mission, and Jack London Square.
Alison Collins also receives $100,000 in annual compensation for "consulting" with her husband's firm, which owns a 1 percent interest in the recently approved $1 billion Transbay Parcel F project at 542–550 Howard Street (that's a whopping $10 million). The 806-foot, 60-story building will become the city's fourth tallest tower and will include 325,000 square feet of Class A office space, 165 condominiums, and 189 luxury hotel rooms. Despite all this, Alison Collins had the gall to tweet about research on "ambient identity cues" sent by her husband. "He builds things," she says coyly. "We talk about the built environment all the time and ways gentrification signals who is welcome and who isn't." Ironic considering her husband's latest built environment, Parcel F, is a poster project for gentrification. And, in a city struggling with a housing shortage, the couple did some personal gentrification by converting a two-unit building into a three-story single family home.
JUST PLAIN PRIVILEGED
When the school board moved to change Lowell High School, one of the top public schools in California, from merit-based admissions to a "more inclusive" lottery system, Collins's 2016 tweets once again came back to haunt her. "Talk to many [Lowell High School] parents and you will hear praise of Tiger Moms and disparagement of Black/Brown 'culture,'" Collins tweeted about the school, where 54 percent of students are Asian American. During the October 2020 meeting, as Lowell parents expressed their unhappiness with the change, Collins was caught on an open mic saying, "I'm listening to a bunch of racists."
Prior to the meeting, Collins did some of her infamous virtue signaling on Twitter to bolster her support for changing Lowell's admissions policy. "Please be mindful that 'merit' is an inherently racist construct designed and centered on white supremacist framing that justifies who IS and ISN'T worthy of education, safety, justice, empathy . . . basically humanity. When we say some kids 'deserve' access to a quality education, we are also inherently saying some don't . . ." she opined. Back home on Hypocrite Hill, Collins's own kids obviously are the deserving kind: they go to Ruth Asawa School of the Arts — the only other merit-based high school in San Francisco.
"Having a White husband doesn't give me White privilege . . . " Alison Collins said in another tweet. That's true. She's just plain privileged, no matter what color it is.
Email: [email protected]. Follow Susan and the Marina Times on Twitter: @SusanDReynolds and @TheMarinaTimes.