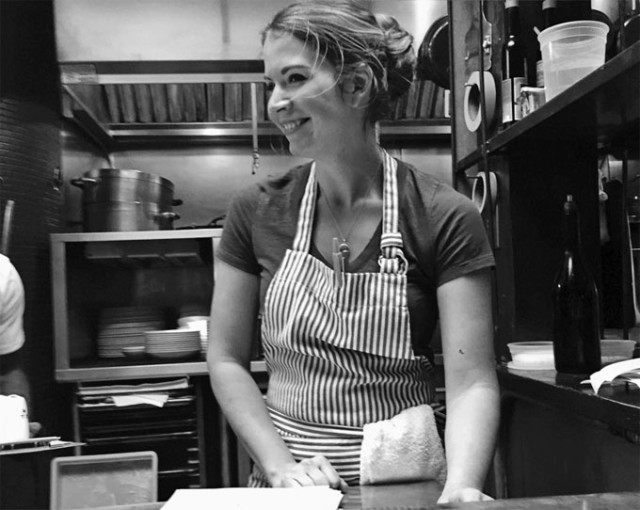 MARINA
Congratulations to chef Nicolette Manescalchi, who has been with the A16 group for eight years, most recently as chef de cuisine at A16 (2355 Chestnut Street, 415-771-2216); she is now going to be executive chef of the group. A16 executive chef Rocky Maselli, who opened A16 Rockridge, will be moving back to Eugene, Ore., at the end of May.
Manescalchi was raised baking with her mother and cooking traditional Sicilian food with her father, and moved to San Francisco almost eight years ago from Minnesota to work at A16. Not only does she have an English degree from the University of Minnesota, but she also has her culinary degree from the Art Institutes International Minnesota and her sommelier certificate from the International Sommelier Guild. She was so dedicated to learning about Southern Italian food she even spent her honeymoon in Southern Italy to immerse herself more deeply in the cuisine. She was executive sous chef at A16 Rockridge and helped open it, and one year later took the executive chef position at Le Marais Bakery and opened Le Marais Bistro. She returned to A16 San Francisco as chef de cuisine and is now taking this next step.
A couple of updates regarding both A16 locations: If you have visited A16 San Francisco lately, you would have noted the beautiful pottery pasta bowls and dishes, all by Mary Mar Keenan of MMclay. (Did you know she was originally a server at A16 and made the chili-oil containers?)
And here's a fun thing: A16 is planning a mobile pizza truck! You may have enjoyed their live-fire pizzas at Off the Grid Fort Mason and other events, so look for a better oven transport, soon. Will keep you posted.
The Marina's new wine bar, Cultivar (2379 Chestnut Street, 415-962-4200), features small-production and coveted Napa Valley wines with some European selections. Siblings Jody Harris and Gingy Harris Gable are San Francisco natives. Their family started Caspar Estate in Napa, and Harris created Cultivar Wine. There are 65 producers on the list, including Azur, Matthiasson, Relic, and Failla, along with Cultivar's estate wines, which can be enjoyed on tap. Also on offer: wine by the bottle or keg (Cultivar's Cabernet Sauvignon, Sauvignon Blanc, Merlot, or Rosé), plus their estate-brewed beer.
There are seasonal small plates, with a focus on vegetables and products from Caspar Estate's one-acre certified organic garden — chef Kyle Young also oversees the garden. The 36-seat space was designed by Sutro Architects and features a brass-top bar, walnut tabletops, and chocolate leather seating; it will double as a private event space for industry events. There are also temperature-controlled wine lockers for Caspar Estate and Cultivar wine club members. Open Wednesday–Sunday 3–11 p.m.
PRESIDIO
It's that time of the year again: Off the Grid and Presidio Trust's Presidio Twilight (Main Parade Ground) is back as of last month. Come by for all kinds of food (like El Sur, Chairman Bao, and the Lobsta Truck), music, games, lantern-lit cabanas, and fire pits. Don't forget your sweater! Thursday 3–5 p.m.
RUSSIAN HILL
The party people of Russian Hill have a nice Mobius strip at Mezcalito (2323 Polk Street, 415-441-2323): Stop by on Saturday night for mezcal and tacos, and then come back on Sundays to cure that hangover. The menu features baked farm egg cazuela with saffron sofrito and English peas, horchata French toast, and more; and the Michelada del Conejo with carrot and jicama sangrita, pasilla de Oaxaca, sal de gusano, and cerveza Negra Modelo should get you feeling right. Or you can start the hurt all over again with bottomless mimosas for $20 per person. Sunday 11 a.m.–2:30 p.m.
FILLMORE
Wake up and smell the coffee at the new Flightless Coffee at Jaxson (3231 Fillmore Street, 415-713-584-5119) coffee window. Owner Kevin Lopata is from Houston, so Flightless features Houston's Boomtown Coffee. You can find a variety of espresso drinks and pour-over, plus cold brew, and Lopata is working on a summer specialty drink. He also stocks some baked goods from Mr. Holmes, including their croissant and a sweet pastry, but those go fast. Monday–Thursday 7:30 a.m.–4 p.m., Friday 7:30 a.m.–2 p.m., and Saturday 8:30 a.m.–2 p.m.
LAUREL HEIGHTS
After closing in February due to water damage in their kitchen, which required immediate repairs, Sociale (3665 Sacramento Street, 415-921-3200) now has a new kitchen (along with some other upgrades) and reopened last month. Chef Tia Harrison has reportedly made some tweaks to the menu as well. Welcome back!