The iconic photographer Ansel Adams was best known for documenting the powers of nature in lush gelatin silver photographs. The de Young's major exhibition of more than 100 works from the self-described "California photographer" brings the artist back to the location of his first museum exhibition in 1932. This time, Adams's work is in dialogue with 23 contemporary artists engaging with the landscapes and environmental issues that inspired Adams. Coinciding with "Ansel Adams in Our Time" is "Elemental" at the Haines Gallery. Here, recent work from four West Coast photographers celebrate the natural world.
A PASSION FOR CONSERVATION
San Francisco was Adams's hometown, and he maintained close ties to the city throughout his life. In The Golden Gate Before the Bridge (1932), a colossal cloud skyscape takes up two-thirds of the image of San Francisco Bay minus its beloved Golden Gate Bridge. The construction start date began a year later, making the picture almost conceptual, as it's nearly impossible to see this photo of the bay without imagining the bridge.
Photographers have been instrumental in preserving the American wilderness. Landscape photographer Carleton Watkins's efforts first secured Yosemite as protected land. Adams's relationship with photography and conservationism began in his early years. As a young man, he frequently visited Yosemite with his Eastman Kodak Brownie camera. In 1975, he presented Yosemite: Clearing Winter Storm (ca. 1937) to President Gerald Ford. Adams urged, "Now, Mr. President, every time you look at this picture, I want you to remember your obligation to the national parks." Thomas P. Campbell, director and CEO of the Fine Arts Museum, said, "'Ansel Adams in Our Time' is exceptional in underscoring his brilliant legacy and the critical role that his works and others before him have played in safeguarding our national parks and other public lands."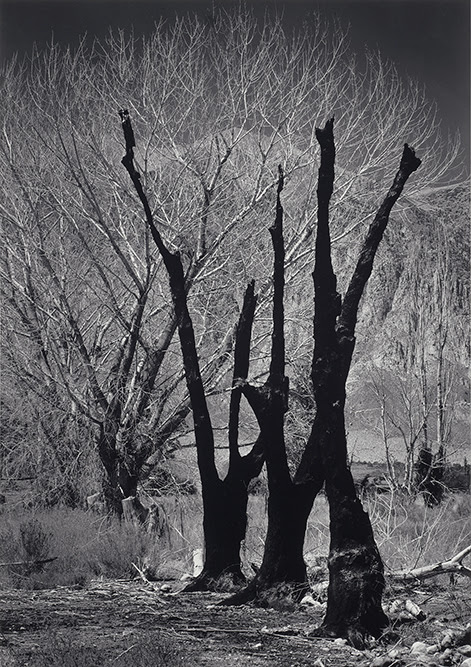 ART AS ENVIRONMENTAL ACTIVISM
The works of artists Catherine Opie, Abelado Morell, Binh Danh, Trevor Paglen, and others provide a counterpoint to Adams's work. Art and activism continue in nature photographers grappling with issues of drought and fire, mining and energy, economic booms and busts, and protected places and urban sprawl. The exhibition consists of five themes: Capturing the View, Marketing the View, San Francisco: Becoming a Modernist, Adams in the American Southwest, and Picturing the National Parks. Beach Restoration after El Niño Waves (2016) by Lucas Foglia shows excavation taking place where the ocean meets the beach, the machinery existing in sharp contrast with the waves. The skeletal remains of blackened tree trunks in Ansel Adams's Burned Trees, Owens Valley, California (1936) become a repeated motif in Laura McPhee's Early Spring (Peeling Bark in Rain) (2008), both illustrating the ravages of fire on the landscape.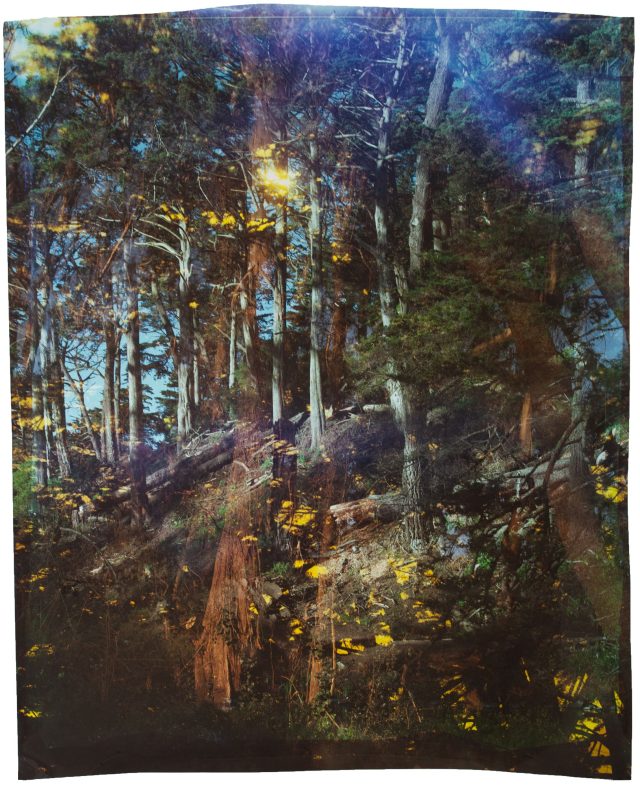 'ELEMENTAL' AT THE HAINES GALLERY
In a thematically related exhibition at the Haines Gallery, Elemental presents singularly unique photographic objects defined as much by how they are made as by what they depict. These contemporary photographers are known for their analog processes that explore chemistry and light. Binh Danh returns with daguerreotypes in Yosemite (2016), combining the exacting 19th-century process with contemporary imagery of Yosemite.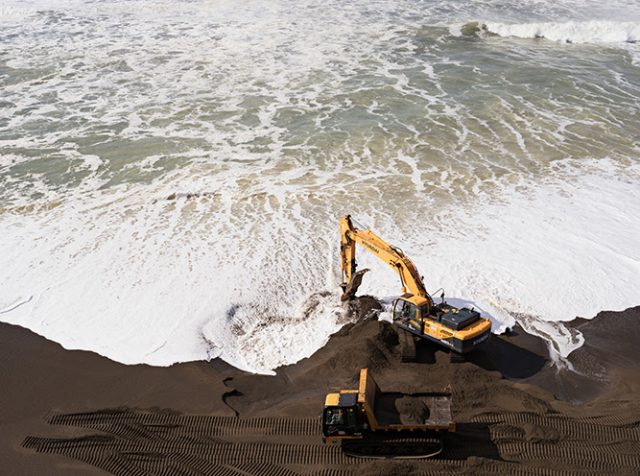 Chris McCaw's Sunburned GSP 945, Every Time The Sun Came Out, Wyoming, 2017 was created with powerful lenses in his hand-built cameras. Acting as a magnifying glass, the lens burned the sun's path on light sensitive paper, creating a moody, surreal abstraction of light and darkness.
Meghann Riepenhoff's cyanotypes include examples from her Ice series, made in freezing bodies of water. Paper coated in homemade emulsion was placed directly within the landscape, where the elements completed the work by physically inscribing themselves onto her materials. Chance and the unexpected create surprising results in works like Ice #326. Blue hues transform into flower-like shapes in the frozen water, the imagery taking on a painterly quality.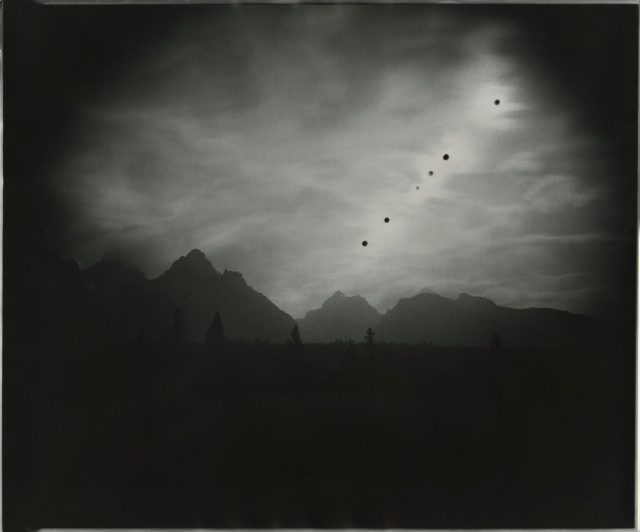 John Chiara's use of uneven hand-cut edges, tape marks, light leaks, and chemical streaking create evocative landscapes that are, in his words, "part photography, part sculpture and part event." Avenue H: Traverse: Strawberry Hill (2023) is burned with dappled yellow light in a double exposure of tree limbs and shadows.
Since photography's inception, West Coast photographers have collaborated with the natural world and documented the results. Through their lenses and the legacy of Ansel Adams, the rest of us understand what is at stake, and what can be lost without continued advocacy and preservation.

"Ansel Adams in Our Time": Tue.–Sun. 9:30 a.m.–5:15 p.m., April 8–July 23, $30, de Young Museum, 50 Hagiwara Tea Garden Dr., Golden Gate Park, 415-750-3600, famsf.org
"Elemental": Tue.–Sat. 10:30 a.m.–5:30 p.m. through May 27, free, Haines Gallery, Bldg. C, Fort Mason Center for Arts and Culture, 2 Marina Blvd., 415-397-8114, hainesgallery.com
Sharon Anderson is an artist and writer in Southern California. She can be reached at mindtheimage.com.