Denise York once told me the team wouldn't sell their soul to the devil to win games, but in the Harbaugh era, I'm not so sure.
In February of 2011, I penned an editor's note for Northside San Francisco magazine called "Are you ready for some felons?" The title referenced the many criminals playing in the National Football League. At that time, 21 percent of NFL players had been charged with at least one serious offense — including murder, rape, domestic violence, sale of narcotics, drunk driving, hit and run, and assault and battery — and there were 30 convicted felons on the gridiron with the league's blessing.
That same year, rumors started flying about the San Francisco 49ers picking up Michael Vick, a talented but psychopathic quarterback who spent nearly two years in prison for his role as the kingpin of a multistate dog-fighting operation where he ritualistically and sadistically tortured and killed dogs by hanging, drowning, pulling all their teeth out with rusty pliers and no anesthesia, and electrocution (battery cables and a swimming pool). If all that wasn't sick enough, he even used his kids' pets as bait. It just so happens that 49ers owner Denise York enjoys my writing and sent me an e-mail to tell me so in 2010, after which we became e-mail buddies. She sent me a Christmas card, donated a signed football to a fundraiser we sponsored for Rocket Dog Rescue, and even invited me to join the York family in the owners box for a game against the Arizona Cardinals. So when the rumors about Vick unfolded, I simply sent Denise an e-mail and asked if it was true. To my relief, she responded that her team had no interest in Michael Vick. "The 49ers won't sell their soul to the devil to win games," she said.
The 49ers have a lauded history as a winning team both on and off the field, well represented by legendary class acts like Joe Montana, Jerry Rice and Steve Young. However, the new generation of 49ers, led by head coach Jim Harbaugh, has taken a wrong turn while following what appears to be a broken moral compass. In his quest for a Super Bowl ring, Harbaugh seems willing to overlook criminal behavior and incredibly bad judgment as he cultivates and enables a troubled band of thugs. He talks big, with media ready quotes like, "Play by the rules," and "We want to be above reproach," but actions speak louder than words, and the team's actions have landed them the dubious title of "Second most arrested team in the NFL," just behind the Minnesota Vikings. Since 2000, the 49ers have had nearly 20 arrests, with a dozen players under police investigation in just the past two years alone — and after superstar linebacker Aldon Smith's April 13 arrest, the team is tied with the Baltimore Ravens for most players arrested since the beginning of 2014.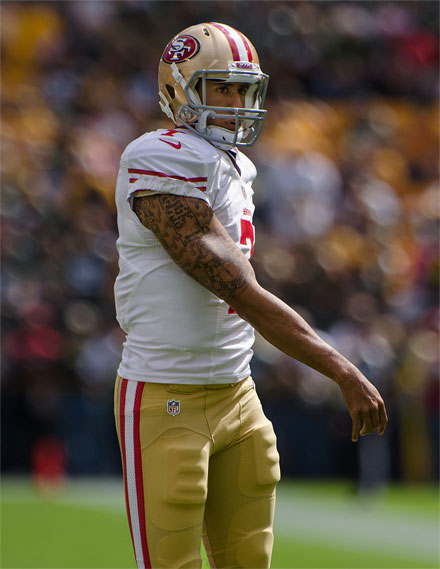 Allegedly, Smith said he was in possession of a bomb at the security gate of Los Angeles International Airport, where cops say he became "belligerent and uncooperative" after he was randomly selected for a secondary screening. This is just the latest disturbing incident involving Smith, who has been arrested four times since 2012, starting with a drunk driving charge in Miami Beach. In June of 2012, two men were shot during a party at Smith's home after they were caught in the crossfire of a drunken gunfight between Smith and former 49ers tight end Delanie Walker. At the same party, Smith was also stabbed in what prosecutors called "a gang-related attack," and he still faces three felony counts of possessing illegal assault rifles. In September of 2013, he was arrested just days before a critical game against the Indianapolis Colts near his home in San Jose on suspicion of drunk driving and marijuana possession after he collided with a tree. He made bail and participated in that afternoon's practice. Harbaugh also let him play in that critical game — after which Smith checked into rehab.
In April, 49ers cornerback Chris Culliver pleaded not guilty to misdemeanor hit-and-run charges and felony possession of brass knuckles stemming from an arrest on March 28 in San Jose after he struck a bicyclist, then rammed the car of a witness that was blocking him until police arrived. This is the same guy who sparked controversy after expressing anti-gay sentiments in the lead-up to the 2013 Super Bowl. Yet, like Smith, Culliver is (as of this printing) set to be a starter.
As if the 49ers needed any more bad publicity, star quarterback and human tattoo canvas Colin Kaepernick has been named in a police investigation of "a suspicious incident" in Miami involving a woman who spent an evening with Kaepernick, teammate Quinton Patton, and former teammate Ricardo Lockette (now with the Seattle Seahawks). According to the report, Lockette summoned 911 to his apartment at the Viceroy Hotel on April 2. The woman told police that after having drinks and smoking marijuana with the men, she began to feel light-headed and went to lie down in the bedroom. Kaepernick, with whom she had a previous sexual relationship, joined her, later leaving her undressed. At one point, Patton and Lockette opened the door and she yelled for them to get out; the next thing she remembered was waking up in the hospital. A rape kit was administered, and no charges have been filed at this point, but whether a crime actually occurred seems irrelevant considering the 49ers are reportedly negotiating a multimillion-dollar deal that will make Kaepernick the face of the team for years to come. The fact is, quarterbacks who have received similar deals — Drew Brees, Aaron Rodgers, Tony Romo, Jay Cutler, and others, as well as future Hall of Famers Peyton Manning and Tom Brady — have something more important in common than their big contracts: They've never been named in a police report involving "a suspicious incident." At the very least, Kaepernick displayed bad judgment and a disregard for the already battered reputation of his team — but as long as he wins for Harbaugh, there will likely be a place for him in the starting lineup.
When Denise York told me back in 2011 that the 49ers wouldn't sell their soul to the devil to win games, I believed her. But it appears the devil is in the details with Harbaugh at the helm, and I have a feeling that elevator to hell isn't heading up any time soon.