The de Young is presenting a series of exhibitions based on the Fine Arts Museums of San Francisco's Svane Family Foundation acquisition. The Svane acquisition brought 42 artworks by 30 emerging and midcareer Bay Area artists to the museums' permanent collection in 2022.  
CREATIVITY AND ACTIVISM
In "Crafting Radicality", art-making becomes a form of resistance. In the first of three exhibitions based on the acquisition, 12 selected artists review the past from the perspective of the marginalized utilizing multimedia techniques.
ERASURE AND EMANCIPATION
Cultural messages mesh with traditional histories while shining a light on subjugated lives. Demetri Broxton hails from Oakland, Calif., and his mixed-media art reflects his Creole and Filipino heritage. In Save Me, Joe Louis (2019–20), the beading tradition of New Orleans Mardi Gras Indians shows up in the cowrie shells — a symbol of colonial exchange — sewn into Everlast boxing gloves. The title's words sewn into the gloves invokes the story in Martin Luther King Jr.'s book Why We Can't Wait (1963) in which a Black adolescent on death row during the Jim Crow era called out to the famous Black boxer from the gas chamber.
REFRAMING OUR STORIES
Kota Ezwa in the animation National Anthem (2019) deconstructs archival footage of professional football players taking a knee, a Black Atlantic ritual acknowledging the globally subjugated. Two hundred watercolors turn this footage — appropriating multiple images of televised sporting events as a kind of meditation — into fine art.
Sadie Barnette creates using her own family stories of resistance during the 1960's protest movement. Her father was a member of the Black Panther Party, and the FBI placed him on a Counterintelligence Program watchlist. After gaining access to her father's 500-page FBI file through the Freedom of Information Act, Barnette used the materials to create FBI Drawings, Legal Ritual (2021). White flowers created from powdered graphite gently frame a copy of an FBI document labeled Exhibit A with a sense of sentimentality and reverence.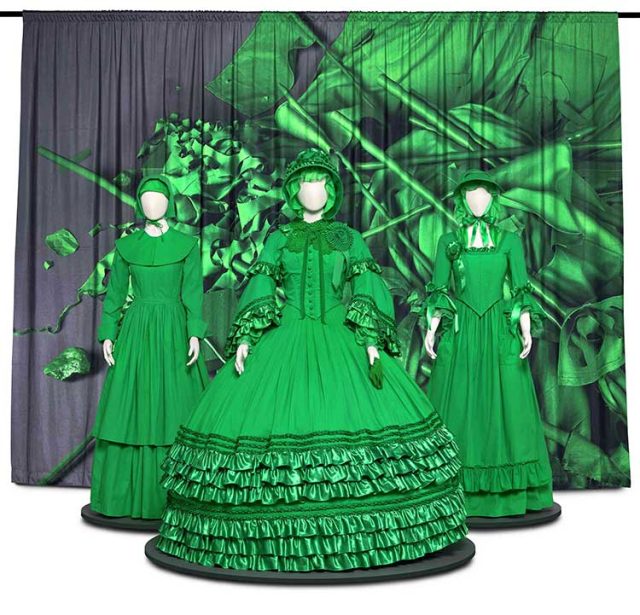 Muzae Sesay explores the universal sense of isolation experienced during the Covid-19 pandemic in Charades (2021). A stylized two-dimensional interior containing a coffee cup, a plant, and a window seems like a forgotten space completely absent of the bustle of human activity. Muted earth tones are interrupted by shapes of bright light like sunlight illuminating a shuttered home.
The Child Opens Its Eyes to the Earth (2022) by Sydney Cain creates imagery out of spiritual displacement using paint, iron oxide, steel charcoal, and graphite to represent otherworldly figures of ancestors quietly gathered together keeping watch. The journey within, and the exploration of invisible worlds, connects the unknown with genealogy and personal history.
THE VISIBLE INVISIBLE
Coinciding with "Crafting Radicality" is Svane artist Stephanie Syjuco's vibrant sculptural dresses sewn from bright green chroma key fabric, which will be on view in the American art wing. Chroma key is a visual effect used to composite an image for video and film that allows an editor to superimpose new backgrounds or settings for the original image. The Visible Invisible: Plymouth Pilgrim (Simplicity), Antebellum South (Simplicity), Colonial Revolution (McCall's) (2018) contain costumes based on theatrical plays and historical reenactment of early America. Utilizing green chroma key fabric commonly used for green screens implies that history itself is fabricated and manipulated like a projection that serves power over truth. The artist was inspired to create her work after witnessing protests between left and right leaning groups in the San Francisco Bay Area. Syjuco realized that the detritus and objects left behind at the protest scenes could be interpreted in many ways, and could be used in media reports to render public opinion by weaponizing information and manipulating the truth.
Crafting Radicality reinforces the Bay Area's identity, bridging political activism and art. Curator Janna Keegan observed, "Theirs is a reclamation of experiences and materials to tell subversive stories that question traditional narratives of art, history and identity." These stories are a part of the continuing dialogue with the museum's ongoing exhibition "Kehinde Wiley: An Archaeology of Silence."
"Crafting Radicality: Bay Area Artists from the Svane Gift": Tue.–Sun. 9:30 a.m.–5:15 p.m. through Dec. 31, $15, de Young Museum, 50 Hagiwara Tea Garden Dr., Golden Gate Park, 415-750-3600, famsf.org.
Sharon Anderson is an artist and writer in Southern California. She can be reached at mindtheimage.com