"Can anyone imagine the National Coalition Against Domestic Violence embracing wife killer O.J. Simpson as a spokesman? Can anyone imagine the National Organization to Prevent Sexual Abuse of Children embracing pedophile John Geoghan as a spokesman? Can anyone imagine the Rape, Abuse, and Incest National Network embracing rapist Josef Fritzl as a spokesman? It is unthinkable. And yet Wayne Pacelle is asking animal lovers in San Francisco to embrace our movement's version of Simpson, Geoghan, and Fritzl as a spokesman. It is beyond obscene. It is unthinkable."
– Animal activist Nathan Winograd
on the Humane Society of the United States' selection of dog killer Michael Vick as a spokesman
As if the Oct. 18 visit of Philadelphia Eagles back-up quarterback and notorious dog torturer Michael Vick for a match-up with the Oakland Raiders wasn't bad enough, 10 days later we had to endure the money-grubbing "Town Hall Meeting" of Wayne Pacelle, the president of the wealthy Washington D.C.-based Humane Society of the United States.
I have long been a critic of Pacelle, in particular his support of and participation in the mass slaughter of hundreds of "bust dogs" – pit bulls seized in dogfighting raids. While organizations like Bay Area Doglovers Responsible About Pit bulls (BAD RAP) and Best Friends fight in court to save the victims of this barbaric blood sport, the HSUS stands up right beside them arguing that they should be put to death. In the high profile case of Michael Vick, pit bull advocates prevailed; the animals were saved and most are now thriving in loving homes – many with children, cats and other dogs. In cases that fly under the media radar, the HSUS often gets its way: after a bust in Wilkes County, North Carolina, over 150 dogs – including puppies as young as eight weeks of age – were killed one by one in an excruciating day-long event.
When Pacelle selected disgraced former Atlanta Falcons quarterback Michael Vick, fresh from a too-short 18-month prison term for bankrolling a dogfighting ring, as the newest HSUS spokesman, I was skeptical; after watching Vick's insincere interview on 60 Minutes, I was outraged. As CBS Sports anchor James Brown recited the horrifying ways he tortured and murdered numerous dogs, Vick stared blankly at him with eyes as dark and emotionless as beady lumps of coal; occasionally the camera panned to the sidelines, where Vick's P.R. team looked far more nervous than he did.
Pacelle continually tries to justify his support of Vick, using the tired "If he can save one kid in the ghetto …" cliché. "The growth in dogfighting is occurring in inner cities, and it's predominantly with young African American boys and men," Pacelle said. "That's a fact, and we have to do something to arrest these social trends."
Unfortunately, Vick's apologies ring hollow, and so does his promise of using his celebrity to raise awareness – he rejected a no-strings-attached offer from BAD RAP to meet some of the dogs they rescued from his Virginia house of horrors. After he was booed at the Oct.18 game against the Raiders (he was in for two plays and lost four yards), Vick said in the locker room: "I just want to help more dogs than I hurt."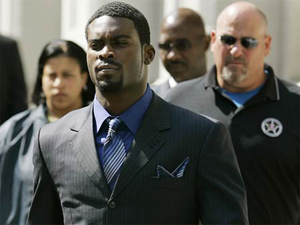 Vick likes to underplay his role in the dogfighting operation he funded and ran from his property with words like "hurt." The fact the National Football League so readily took him back is no surprise; they count among their current and former ranks dozens of thugs arrested for charges including drunk driving, domestic violence, assaulting a police officer, drug trafficking, lewd conduct, weapons possession, assault with a deadly weapon, and child rape – and those are just the ones who got caught. Our very own Oakland Raiders have had more than their fair share of thugs: In March of this year, offensive tackle Cornell Green was arrested and charged with aggravated battery with a deadly weapon after beating the mother of his two children with an aluminum mop handle.
Vick supporters like to point out these other acts to minimize what he did, but they're not the only ones downplaying his crimes – Nike gave Vick back his endorsement deal
faster than a pair of Air Jordans with jet packs.
Comedians apparently find it funny. I was shocked and angered to see Jay Leno joking with so-called comedian Chris Rock about Vick, pit bulls and dogfighting. Leno said, "It's amazing to me that you mistreat a dog and you lose your career and go to jail for two years." Rock responded, "What the hell did Michael Vick do, man? A dog – a pit bull ain't even a real dog. A pit bull, that's the white stuff. Dogs are white mans' best friend – dogs have never been good to black people."
Leno's chin couldn't fill one of Johnny Carson's shoes – I've never found him amusing. Rather than retire gracefully as Carson did and allow his replacement, Conan O'Brien, to bask in the spotlight, Leno accepted NBC's offer for a 10 p.m. variety show five nights a week. Perhaps his insensitive banter with Rock was meant to stir up some controversy and gain some much-needed attention – the Jay Leno Show is bombing nationwide, causing some NBC stations to threaten pulling it as their 11 o'clock news broadcasts rapidly lose market share from the weak lead-in.
Rock has made a career out of tasteless, racially driven tirades. While he may think his pit bull comments were funny, Richard Pryor's widow Jennifer, who started a nonprofit dog rescue, Pryor's Planet, with her late husband, does not. In a letter to Rock, she chastised him for his "ignorant remarks" and informed him that he will no longer be involved in the upcoming Pryor biopic because of them.
It's good to know that sometimes karma really does bite you in the behind, as well as in the ego and the wallet.
VickWhat Leno, Rock, the NFL, Nike, and Vick's supporters seem to forget is that Vick didn't just "mistreat" dogs, he tortured them and brutally murdered them in a premeditated fashion. Besides forcing them to fight, he slammed puppies to the ground over and over until their skulls cracked; he hung dogs from trees (Rock might make a joke here about something similar happening to Vick in the backwoods of Alabama 50 years ago). In one instance, Vick hung several pit bulls that refused to fight and, when he returned in the morning to find one of them miraculously clinging to life, he cut the dog down, dragged him to a bucket of water, and drowned him. As if these acts weren't heinous enough, Vick also enjoyed clipping jumper cables to the ears of dogs who lost or wouldn't fight, connecting the cables to the terminals of car batteries, tossing the dogs into the water, and having a good laugh as he watched the animals scramble. The dogs left haunting evidence on the pool –– bite marks on the aluminum and scratches on the liner where they desperately tried to escape before being electrocuted to death. Needless to say, they didn't escape. Vick also threw "family pets" in the pit and laughed as they were torn apart by starving, abused dogs who knew nothing else. Once again, he laughed. These are not the acts of an "animal abuser," these are the acts of a psychopath –– and if Leno thinks Vick doesn't have the capacity to do something similar to his wife if they met in a dark alley, he's sorely mistaken.
While Vick supporters love to point out that he "served his time" he actually didn't serve a single day for animal cruelty; the 18 months he served were for the dogfighting charges only and, in my opinion, it wasn't nearly long enough.
Also disturbing is that animal control officers nationwide are reporting a higher incidence of dogfighting and Vick copycat crimes: In a rough neighborhood of Philadelphia, a pit bull was found hanging by a thick chain from a chain-link fence after suffering a slow, agonizing death by stoning. The dog's battered body was covered with scars, and a huge brick coated in blood was found less than a foot away. Though the crime happened in broad daylight in an abandoned schoolyard across from a large apartment building, no one has come forward with any leads, despite a $5,000 reward for an arrest and conviction.
One young boy cavalierly told the police, "He prob'ly lost."
So Wayne Pacelle, why aren't you and your anti-dogfighting spokesman hitting that neighborhood? I guess it's just too hard fitting community service in around Vick's busy NFL schedule and lucrative endorsements.