The weather couldn't have been more perfect July 7, 2010 for a drive down the coast. Jazzy and I had been invited to stay at one of the ocean-view, dog-friendly cottages at the Ritz-Carlton in Half Moon Bay. My friend Sara, Northside San Francisco's art director, came along for a girls' night, and we had plans to enjoy dinner at the beautiful restaurant Navio, prepared by newly appointed chef de cuisine Richard Gras. As a food writer, I was looking forward to sampling chef Gras's food – he won national acclaim at Salt in Florida, and he had been tweaking the Ritz's menu to reflect the bountiful riches available from local purveyors.
Jazzy has stayed in nearly four dozen four-star hotels during our travels for this column and while researching cover stories like the one we had planned for early next year, "Where to shop, stay, play, and dine with your dog on the coast." Even though she is better behaved than most small children (and barks less than most small dogs), it's always a good idea to wear out the puppy before hitting your destination, so we stopped for a quick walk along Mavericks Beach. We threw a ball in the water for Jazzy (who is a surprisingly graceful swimmer for a bottom-heavy pit bull) and took in the fresh sea breeze; however, relaxation was short-lived: when we got back to my car, the rear passenger side window was broken. In an obvious smash-and-grab, thieves stole the only two things they could reach – my overnight bag and Jazzy's bag, which contained her favorite toy, a pink fleecy bunny. Having been burglarized this past February, I would have thought someone had it out for me, but as we waited for the sheriff we began noticing broken glass all over the parking lot. "It's been happening several times a day," the sheriff informed us when he arrived, "but we don't have the manpower to keep an officer here all the time."
Luckily the Ritz was just a short drive away, and the staff parked the car in the garage, moved what bags we had left to our cottage, and handed us glasses of Champagne (and a Champagne flute-shaped cookie for Jazzy). One of the valets drove us to the cottage in a golf cart – it was Jazzy's first time, but you would have thought she'd been caddying for Tiger Woods the way she settled in.
The cottage was nothing short of breathtaking, including sweeping views of the ocean and golf course and a patio with Adirondack chairs and a fire pit to take it all in. We also found a chilled bottle of wine waiting for us, and a bottle of Bark Vineyards canine wine for Jazzy (a 2010 "Pinot Leasheo" with heady notes of chicken and oregano).
Maureen Murray, owner of AnnaBee's Boutique in Pacifica, was also on hand to greet us with a closet full of clothes and collars to try on and huge baskets full of toys and treats. One toy, a plush pink pig with "I Belong to Jasmine Blue" written on its stomach – caught Jazzy's big blue eyes immediately; she cuddled up with it and took a snooze (and promptly forgot all about her favorite pink fleecy bunny). For Maureen, pit bulls bring a personal connection: her own, Annabelle, was a Hurricane Katrina survivor and barely lived through harsh conditions at a New Mexico shelter before being rescued. After making it through hell on earth to find a wonderful home with Maureen, Annabelle died just a short time later from brain cancer. To honor Annabelle and channel her grief, Maureen opened AnnaBee's – a boutique upfront full of unique toys, treats, collars, and clothes, and a doggie cafe in back, where you can order people food from a variety of delivery menus and dine alongside your dog as they munch on gourmet items made just for them like pizza, duck pâté brisée, and waffles with peanut butter. Maureen even gives a 10-percent discount to pit bulls – the smash-and-grab incident aside, this girls' night was getting better by the minute.
After Jazzy enjoyed an AnnaBee's chicken potpie, Sara and I couldn't resist trying some of the handcrafted, amazingly detailed doggie couture on her (though she was a little too big-boned for some). Before you send me letters about how mean it is to dress up your pet, you should know that pit bulls are often called "clown dogs" because they love to be the center of attention and please their owners (that's why you see so many photos of them wearing sunglasses and baseball hats). Jazzy is no different – she happily posed for photos in a fluffy pink robe. As I kneeled down to pull the robe off (we had a cute little Harajuku number calling her name), I noticed a small bump on the left side of her nose. "Do you see that?" I asked Sara as she came in for a closer look. "No," she said, "I don't see anything."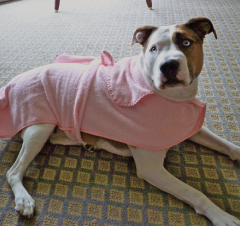 When we returned home the next day, I immediately made an appointment with Jazzy's veterinarian, Dr. Sherman Wong at Blue Cross Pet Hospital. When he lifted her lip, he noted that the gums around her left canine tooth were red and swollen. "It could be an infection," he said, "so let's try her on some antibiotics."
But after a week, the swelling had not subsided, and the bump on her nose looked slightly larger. Dr. Wong referred us to Dr. Milinda Lommer of Aggie Animal Dental Service, who does consultations at Pets Unlimited a few days a week. As soon as Dr. Lommer lifted Jazzy's lip and pressed her gums, she looked concerned. "I don't like that at all," she said. My heart started pounding faster, and I felt all the color leave my face. "What's wrong?" I asked. "I want you to go over to the Sams Clinic in Mill Valley and get a CT Scan as soon as possible," she said.
If the Sams Clinic sounds familiar, that's because I wrote several columns about it when Dr. Andrew Sams performed Jazzy's two TPLO surgeries to repair her bad knees (both before she turned 3 years old). He also had the equipment necessary to do a CT scan, which Dr. Lommer said was more expensive than an x-ray but the best way to see what was really going on.
My friend Steve came with me because I was too upset to drive. Everyone at the Sams Clinic was happy to see Jazzy (and, considering she went through two major surgeries there, she was surprisingly happy to see them). The staff was very supportive, reminding me that it could be any number of things; that Jazzy was very young and I shouldn't worry until I knew for sure.
The next four days were a nightmare as I waited for the results. I went through a range of emotions, feeling hopeful one minute ("it's just a bad infection – maybe they'll have to pull a tooth") and hopeless the next ("it's 'the Big C' – I'm going to lose her").
After what seemed like an eternity, Dr. Lommer called. "It's not good news," she said solemnly. "Jazzy has cancer." I felt like I was going to faint, so I sat down on the sofa and began sobbing uncontrollably. Dr. Lommer explained that it was an aggressive, malignant fibrosarcoma that extended from her upper left canine tooth to her skull, a tumor rarely seen in such a young dog. "I am referring you to Dr. Frank Verstraete, the chief of dental and oral surgery at U.C. Davis," she said. "I called him last night and we went over the film. He just had a similar case and performed a successful surgery on that dog last week. Jazzy may be a candidate for surgery. Here is the number …"
I was so in shock that Dr. Lommer's voice started sounding like the adults in the "Peanuts" cartoons, fading away as I tried to write down the number with my shaking hand. Jazzy, who had been lounging on the floor in the sun, climbed up on the sofa and began licking away my tears.
She had been there for me through so much over the past four years – the loss of my cat, Steven; the death of my father; relationship problems; being burglarized – yet even now, with an ugly and angry cancer growing inside her outwardly strong and beautiful body, she was still trying to comfort me and be my rock. I knew it was my turn now to be there for her, but I had no idea of the incredible journey we were about to embark upon together, or how difficult the coming months would be.