The night before Jazzy's first radiation treatment, I was a nervous wreck. I had no idea what to expect, and she had no idea what she was about to go through. We arrived in Davis around 4 p.m. on Tuesday and checked into our new home (at least for the month of September), Room 206 at the Stone Villa Motel. Heading into fall, the heat was stifling – over 100 degrees with nary a breeze. Jazzy had steadfastly refused to do her business before we left the City, and her pittie poots, potent enough to make my eyes water, told me that she needed to go.
There is a large grassy area next to the Stone Villa, in front of an office park and away from the busy Chiles Road, where Jazzy likes to go because there are plenty of her new obsession, ground squirrels. Unlike the small, relatively quiet squirrels in San Francisco, ground squirrels are quite large – the size of a small rabbit – and they emit a piercing squeak that hangs in the hot, still air. The strangest thing about ground squirrels is that they dive into their holes and continue squeaking, alerting Jazzy to their exact location. When we first approach the grass, there are sometimes dozens of them, sitting up on their haunches, squeaking away. As soon as I release the hound, she takes off like a bat out of hell (well, maybe more like a hippo out of heaven), and the squirrels dive into their holes, "Squeak, squeak, squeak …" Jazzy runs from hole to hole, looking up occasionally to make sure I'm watching her amazing rodent-rustling talents, her big tongue flopped out the side of that big pittie grin. As nervous as I was about tomorrow, for now all I could do was laugh.
In horrendous heat, it takes very little to wear Jazzy out – she was ready to sprawl out on the bed in front of the air conditioner.
At 7 a.m. the following morning, we walked in to the waiting room of the UC Davis onco-logy department. A few moments after checking in, Paul, one of the techs, came out in his well-worn pair of green scrubs. "Hi Jazzy." he said, crouching on his knees so she could slip him one of her sloppy kisses. "She's going to be fine," he said to me in a confident, calm voice. "You can pick her up in about three hours." I watched as he led her to the back, and she kept turning around to see where I was. After the doors closed behind them, I stepped out into the sweltering parking lot and burst into tears.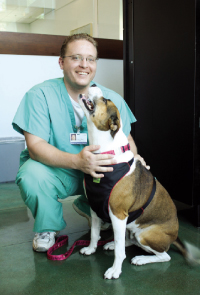 I headed over to Cindy's – the great little breakfast spot Kin and I discovered when our fruitless search for the Denny's on his GPS system took us to a residential track house – and ordered poached eggs, grits and freshly squeezed orange juice. Afterward I stopped by the Nugget Market, sort of Davis's version of Whole Foods. I picked up a few things I could keep in the fridge at the motel – croissants and cheese, chicken, tuna, potato, and macaroni salad – things that would keep me away from the drive-through windows at the half dozen fast-food joints surrounding the Stone Villa. As I waited in line, I checked e-mail on my iPhone. "Is that your dog?" the clerk asked. I glanced up and realized she was looking at the picture of Jazzy on the back of my phone's case. "Yes, that's Jazzy." I handed her the phone so she could take a closer look. "Oh, she's beautiful," she said as she handed back the phone. "We're here for the next month from San Francisco," I explained. "Jazzy is getting 16 radiation treatments for a tumor. Today is her first one …" My eyes welled up with tears; I grabbed my bag of groceries and headed out the door. "I'm so sorry," I heard the clerk say, her voice fading as I stepped back into the oven that is Davis. As I was putting my groceries in the back of my car, I felt a tap on my left shoulder. When I turned around, the clerk stood holding a huge bouquet of flowers. "These are for you," she said. "And for Jazzy. I'm going to say a prayer for her tonight." And then she hugged me. It was one of those wonderful small-town moments that make you understand why people put up with the stifling heat.
Back at the motel, I put my groceries away and arranged the colorful bouquet in a large blue and white vase I purchased at the Tuesday Morning store next to the Nugget – they brightened the room, and my spirits.
Just moments after I arrived at the oncology waiting room, Jazzy was dragging Paul toward me, slipping and sliding on the tiled floor. He let go of her leash and she jumped into the chair next to me, kissing me and wagging her butt as if she hadn't seen me in years. "She did great," Paul said, scratching her head. "We'll see you tomorrow, girl."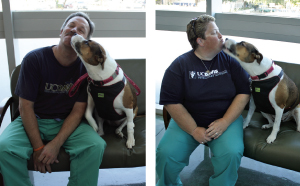 After chasing ground squirrels, Jazzy passed out on the bed in front of the air conditioner. As she snored away, I put on my swimsuit, grabbed a towel, and headed to the pool – it was 6 p.m., still 800 degrees, and I had it all to myself. I slipped into the cool water, swam back and forth a few times, and then lay on my back, floating. I looked up at the palm trees and the birds flying overhead; with my ears under water, the music piped through the speakers around the pool was muffled, but I could make out the lyrics to a song called "Astronauts" by the band One Eskimo, and they were so eerily appropriate, it seemed I was listening to the soundtrack of my life.So whenever you need space
I guess it's OK
When you're floating away
To feel nothing at all
We can be astronauts
If you want to … get out of here
At least in that moment, the world seemed peaceful. I closed my eyes, took a deep breath, and floated away.