Musician, man of letters, and global icon Leonard Cohen will be remembered in four solo exhibitions of contemporary art highlighting the man and his career at the Contemporary Jewish Museum. Artists George Fok, Judy Chicago, Candice Breitz, and Marshall Trammel's installations include a variety of immersive and rarely seen personal reflections on Cohen consisting of video, sound, and visual art.
THE LEGEND OF SONG
The sphere of human experience — from the exalted to the despairing — had an unparalleled narrator in Cohen. A poet and novelist who entered the world of music at the age of 33, he came to songwriting with an evolved sense of expression that birthed countless beloved tracks like "Suzanne," "Bird on a Wire," and "Hallelujah." "Leonard Cohen is an iconic figure whose work has had a lasting impact on artists and the general population alike," said senior curator Heidi Rabben. "His songs and poetry both reflect the time he was living in and continue to be meaningful today." 
BEGINNINGS IN MONTREAL
In 2017, the Musee d'art contemporain de Montreal combined the two exhibitions by Candice Breitz and George Fok for the large-scale touring exhibition Leonard Cohen: A Crack in Everything. Now, as a part of the CJM exhibition,Breitz's I'm Your Man will occupy the entirety of the 6,200-square-foot Koshland Gallery from Sept. 10, 2021 through Feb. 13, 2022. Comprised of a moving 19-channel video installation, the space portrays Cohen in his absence, and looks instead to his community of fans. Each delivers a track-by-track rendition of Cohen's album, I'm Your Man. Breitz synchronizes 18 amateur voices into an a cappella choir set against backing vocals by members of a Montreal-based congregation, the Shaar Hashomayim Synagogue Choir, a congregation Cohen belonged to all his life. The show was received with great emotion, especially because in the process of creating this tribute exhibition, Cohen died. 
George Fok's Passing Through is an immersive video work drawing on archives of audiovisual material. As a film montage of Cohen's history, his monumental career is shown in glimpses of concert footage, memories, and reconstructions of his life from bohemian Montreal in the 1960s to his later years. The video experience is an hour-long reflection of Cohen the performer. Passing Through runs from Aug. 5, 2021 through Jan. 2, 2022 in the Swig and Dinner Family Gallery.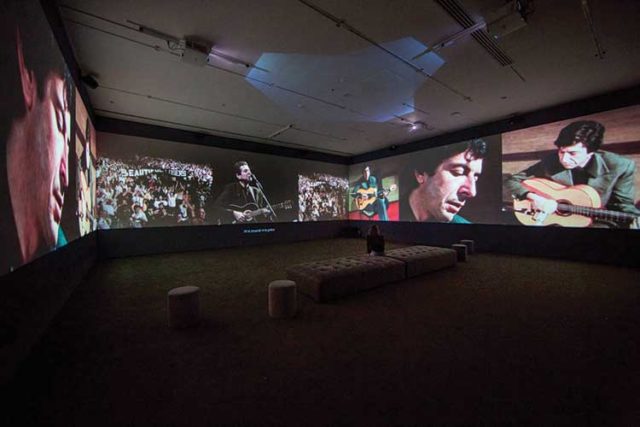 THE CJM AND TWO NEW INSTALLATIONS
To complement the original MAC exhibition, the CJM developed two additional installations over the last year with artists Judy Chicago and Marshall Trammell. Judy Chicago: Cohanim will be exhibited from Aug. 5, 2021 through Jan. 2, 2022 in the Sala Webb Education Center Vitrine, and focuses on Cohen the poet. Twelve paintings on porcelain each visualize specific Cohen lyrics that have a particular resonance with Chicago. As a renowned Jewish feminist artist, Chicago uses porcelain to commemorate the past, as in her celebrated work The Dinner Party (1974–75).
Chicago's work is also dedicated to ideas regarding Jewish identity, most notably in Holocaust Project: From Darkness into Light (1985-93). In Cohanim, Chicago reveals that her own artistic process and Cohen's lyrics are keenly linked. "Leonard Cohen's lyrics often seemed to perfectly express my feelings at various points in my life . . . I am so deeply moved by the rhythms that inform his music, perhaps because of our shared lineage. He is the grandson of a Talmudic scholar, and I am descended from 23 generations of rabbis."
Marshall Trammell in Residence will be exhibited from Sept. 18, 2021 through Feb. 13, 2022 in the Maribelle and Stephen Leavitt Yud Gallery, and reviews Cohen's life, spirituality, and musical practice in real time. Trammell is an Oakland-based experimental archivist, percussionist, conductor, and composer. His art centers around collaboration, and in that spirit, Trammell will from time to time inhabit the CJM's Maribelle and Stephen Leavitt Yud Gallery. This participatory residency will encourage an improvisational, performance, and collaborative recontextualization of Cohen. Participation in workshops will then be translated into audiovisual engagements in the gallery. This exhibition marks the first time the CJM's YudGallery will be used as a residency space.
The four exhibitions comprising Experience Leonard Cohen are made possible by entrepreneur and philanthropist Craig Newmark, founder of Craigslist. "Leonard Cohen is my rabbi, and his music is my prayer book," said Newmark. "He has inspired many people of many religions to know God, and to work together to repair the world — tikkun olam. These exhibitions honor Leonard, and remind us all of our connection to the divine, which is why I am proud to support the shows."
Experience Leonard Cohen: Thursday–Sunday, 11 a.m.–5 p.m., Aug. 5–Feb. 13, $16, The Contemporary Jewish Museum, 736 Mission Street, 415-655-7800, thecjm.org
Sharon Anderson is an artist and writer in Southern California. She can be reached at mindtheimage.com.