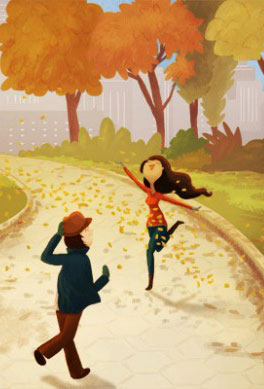 Artwork by S.F. artist Nidhi Chanani at
www.everydayloveart.com
Right after I moved here from the East Coast, San Francisco's mixed-up seasons really threw me off. One evening in July, as my family and I strolled down Chestnut Street wearing fleece jackets, we heard the crunching of fallen leaves under our winter boots.
"Look, it's autumn, Mommy!" my son said.
"No, honey, it's summer," I said. "Forget what you read in your book about the four seasons."
Then, by October, around the time the trees should have begun shedding their red and gold treasures, I had to explain to the kids why instead of jumping into piles of leaves, they were finally lathering on sunscreen and jumping into the bay near Crissy Field. Just when I wanted to be baking apple pie and wearing wool sweaters, San Francisco was heating up.
I have since come to accept the Bay Area's eccentric weather patterns, including the perpetual hair-frizzing fog and the fact that we can go sleeveless only a couple evenings a year without freezing. One month I especially look forward to is November, when Mother Nature bestows upon us its most sensuous gifts: mild but cooling temperatures, shorter days with beautiful sunsets, and a slight chill in the air that entices us to snuggle under a blanket with someone special. The rain (captivating in its offbeat, pitter-patter way) may visit, but the big storms won't find us here. While we may have to deal with BART strikes and bridge traffic, we'll never worry about digging our cars out of three feet of snow to make our dinner reservations on time.
Not that the powdery stuff is lacking in sex appeal. (After all, that's why we have Tahoe.) But I can honestly say that San Francisco is where I want to be in November, the month that ushers in the holiday season. As we scramble to make travel plans and check items off our to-do lists, the City beckons us to take a break from the chaos, to slow down and savor autumn's festive and romantic side.
One of the most sensual treats is eating out. Local restaurants, already sparkling with holiday adornments, are tailoring their menus toward pears and pumpkins and other late-harvest delectables, and serving up soups, pies and other warm, nurturing dishes. November also marks the arrival of the Beaujolais nouveau, and what's cozier than sipping some on a chilly night with a good meal and good friends? OK, maybe sipping the said wine (or hot cocoa, or a hot toddy) in front of a roaring fire. Lucky for us, local spots like Blackwood, Terzo, The Brixton, and Original Joe's make that possible by keeping their fireplace coals stoked all season long.
After dinner, the fires are still burning at the watering holes. Choices range from Matrix Fillmore, where well-heeled hipsters gather around a modern hearth, to the Big 4, a more refined fireside setting nestled within the Huntington Hotel. Falling somewhere in between is Sheba Piano Lounge on Fillmore, where you can listen to jazz while resting on a comfy couch next to the fire. In fact, the whole music district, from Fillmore to the Civic Center, is abuzz right now. The opera and symphony are in full swing, and the SF Jazz Center and the surrounding clubs are keeping us happily entertained.
For football fans, a perfect date is heading to one of the local sports bars, where large-screen TVs, chicken wings, and beer are the seduction. Those who prefer the dramatic arts can celebrate the kick-off of the holiday film and play season by snuggling in the back of a theater with hot popcorn (and possibly a hot date). And if you're missing the frozen ponds from your Midwest hometown, grab your sweetie's hand and hit the ice at one of the skating rinks going up this month (along with the Christmas trees!) at the Embarcadero Center and Union Square. Where else can you drink hot chocolate out of paper cups, listen to pop music that makes you feel 13 again, and, if you're lucky, get away with only a bruised tuchus when that figure-8 attempt sends you bouncing on the ice?
There's so much to do now, but honestly, just strolling around the City (finally, looking season-appropriate in a hat and scarf) is enchanting.
The main drags aglow with lights, and you can't shop in our neighborhood without being tempted by a cinnamon-scented candle or eggnog-flavored latte. And who's strong enough to walk past Williams-Sonoma as the smell of a baking pumpkin spice cake wafts out onto the sidewalk?
The City looks, tastes and smells so scrumptious right now, that for those of us planning to get out of town for the holidays, there's some regret. Yes, our city is imperfect, with its confused leaves and overabundance of bad-hair days. But those who have been here long enough understand what Tony meant in that oldie-but-goodie, and we can be thankful that no matter where we are eating our turkey this year, we'll eventually be coming home to the place we left our hearts.