I always found the diner ambiance, retro neon sign and Embarcadero locale of Fog City Diner charming. At one time the food was also a draw, but I hadn't been in years, as the menu had grown sadly forgettable. That has changed under the experienced eye of Bruce Hill, one of the pioneering chefs of modern-casual California cuisine. Hill cut his teeth at celebrated eateries like Stars and Aqua; in 2002, he became executive chef and co-owner of Bix, where he garnered critical acclaim and really made a name for himself. Hill also received rave reviews for Picco and Pizzeria Picco in Larkspur and Zero Zero in San Francisco, but it is his newest venture, where he partnered with Bill Higgins (who opened the original Fog City Diner) that brings more than a decade of stellar cooking full circle. It is, quite simply, Bruce Hill at his best.
Hill and Higgins dropped the "Diner" from the name, cleared out the kitschy '80s interior and replaced the old signage with slim sans-serif letters lit in cool blue neon, but the biggest change is the menu, and the makeover is a huge hit — on a recent weekday during lunch, the place was packed (even renowned director and father of the Star Wars franchise, George Lucas, was in the house).
STARTERS
The lunch menu is just the way I like it: short and sweet, but so enticing that I want one of everything. The deviled eggs are a great way to start — four plump whites piped with tangy, creamy filling, topped with smoky bacon and sprinkled with crisped quinoa and micro snips of chive ($7). Grilled kale salad, while it may not sound exciting, is a trifecta of beauty, flavor and texture: wilted, slightly bitter Tuscan kale, subtle notes of chervil (French parsley), sweet Fuyu persimmon, a dash of heat from watermelon radish, the richness and crunch of Duchilly hazelnuts, and a velvety, piquant goat cheese dressing ($12).
I'm a huge fan of barbecued eel — it's smoky and sweet, and the flesh is white, flaky and delicate — but it's rarely used outside of Japanese restaurants. Hill makes it the star of his take on a Caesar, paired with endive, a lemon-anchovy vinaigrette, shaved celery and Parmesan cheese, and Fiordolio olive oil, which Hill favors on all of his menus. Buttery, peppery and fruit forward, Fiordolio evens out the bitterness of the endive and the puckering tone often present in lemony dressings while still allowing the sweetness of the eel to shine. A hint of umami from the anchovy ties it all together ($13).
SANDWICHES
You can't go wrong with any of the sandwiches, but make your selection based on how hungry you are (and whether you can take a nap afterward). If you want something light, go with the smoked salmon smørrebrød (Danish open faced sandwich), sourdough rye seed bread topped with generous chunks of smoked salmon, smoked egg salad, California-grown Will's avocado, and fresh herbs ($16).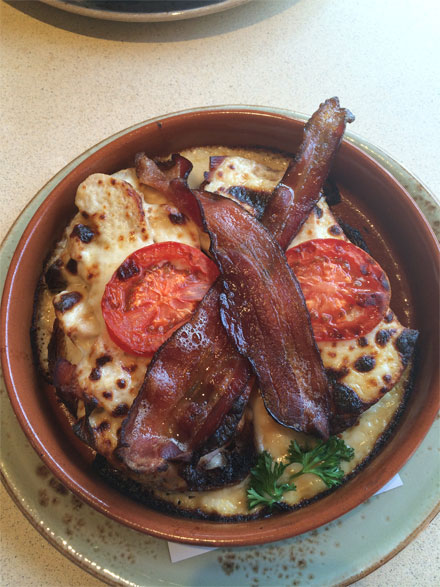 The Saigon dip, a riff on the Vietnamese bánh mì, is a soft French roll piled high with thinly sliced roasted pork, pickled vegetables, cilantro, and chili aioli, cleverly served with phở broth for dipping.
Hill's menu makes good use of the gargantuan, blazing hot wood-fired oven, which encompasses half the kitchen and roasts their much talked about whole chicken in under half an hour. While the chicken is only available on the dinner menu (which we will review at a later date), there are still plenty of uses for the oven at lunch. If you want something substantial, don't miss the wood oven Hot Brown, a straightforward version of the classic Kentucky sandwich that is all kinds of wrong but unapologetically, decadently delicious. Served open-faced on sourdough, it features roasted heritage turkey, Pt. Reyes cheddar Mornay sauce, bacon, and Roma tomatoes licked by the flames until the bread is crisp and the sauce is brown and bubbly ($18).
If there is one signature that has followed Hill throughout his career, it's the burger — aficionados and critics have crowned the version at Bix as the best burger in the city for years. You'll find another signature burger at Fog City, an upscale fast food style version with a thin patty, shredded lettuce, tomato and tomato aioli, onion, bread and butter pickles, and house-made American cheese on a house-baked bun served with a side of house-cut fries ($17).
ENTRÉES
Entrées range from vegetarian-friendly grilled trumpet mushrooms over Anson Mills grits with a blistered cherry tomato vinaigrette ($15) to farmers' market chicken noodle soup in a roasted broth with hand-rolled noodles, market vegetables and hatch chilies ($16). While I'm not a huge fan of swordfish, which most often I find dry and tasteless, the Fog City wood-grilled local swordfish made me rethink that; the juicy, tender fish is paired with plump, earthy shell beans and roasted cherry tomatoes in a marjoram-hatch chili broth with garlicky aioli for a little kick ($25).
DESSERTS
For dessert there are two must tries — both house made, both $6: the frozen custard made with Straus Family Creamery and vanilla bean (add the egg yolk caramel sauce) and the famous "fresh-to-order" French crullers (donuts made with choux pastry for a light, airy texture), one glazed with sweet orange and the other with intense dark chocolate. Trust me, it's worth saving some room just for these.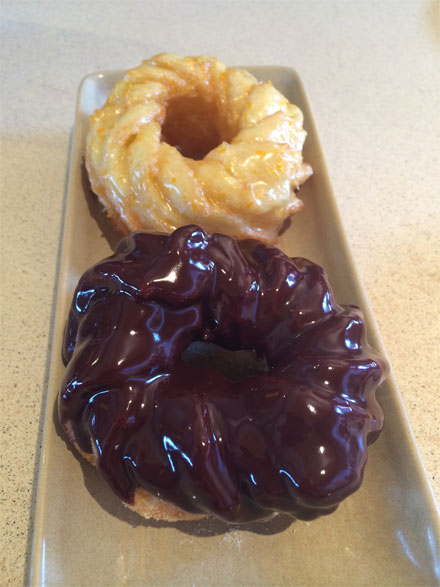 Fog City also has a selection of wines by the glass, draft and bottled beers, and artisanal cocktails — I loved the Fog City milk punch, made with clarified milk, bourbon, brandy and rum, infused with citrus and spices. Invented in the 17th century, milk punch became popular with southern riverboat gamblers and other gadabouts during the 1800s. The whey is removed, leaving the milk transparent. It still tastes like milk and feels silky on your tongue, so it provides an extra smooth vehicle for infusions (for more on Fog City's cocktails, see In the Spirit, page 10).
Fog City: 1300 Battery Street, 415-982-2000, www.fogcitysf.com; Sunday–Thursday 11:30 a.m.–10 p.m., Friday–Saturday 11:30 a.m.–11 p.m.; kitchen closed Monday–Friday 2:30–4:30 p.m.
Rating: ♦♦ ½
AMBIANCE
Sleek and chic enough for a business meeting, but comfy enough for a casual date or an outing with friends.
SOUND LEVEL
Quiet enough not to have to shout at your dining companions.
LIGHT LEVEL
Large windows allow for plenty of natural light at lunch.
NOT-TO-MISS DISHES
Deviled eggs; barbecued eel "Caesar" salad; smoked salmon smørrebrød; Kentucky Hot Brown; frozen custard; fresh-to-order French crullers.
WHAT THE DIAMONDS MEAN
Ratings range from zero to four diamonds and reflect food, atmosphere and service, taking price range and type of restaurant into consideration.
OUR REVIEW POLICY
We conduct multiple visits anonymously and pay our own tab.