Guo Pei's extraordinary designs are currently on view at the Legion of Honor in the exhibition, Guo Pei: Couture Fantasy. Fusing elements from architecture, the botanical world, decorative arts, and China's imperial history, these opulent, unconventional pieces — 80 in total — will be on display through Sept. 5.
As China's most renowned couturier, Guo has been dressing royalty, celebrities, and politicians for more than 20 years. Born in 1967, she had a passion for sewing and dressmaking at a young age. After graduating from the Beijing Second Light Industry School in 1986, she spent several years designing for major manufacturers until she launched her own label and atelier, Rose Studio, in 1997. By 2015, Guo had been named one of Time magazine's 100 Most Influential People and one of the Business of Fashion's BoF 500, a list of the most important figures shaping the global fashion industry.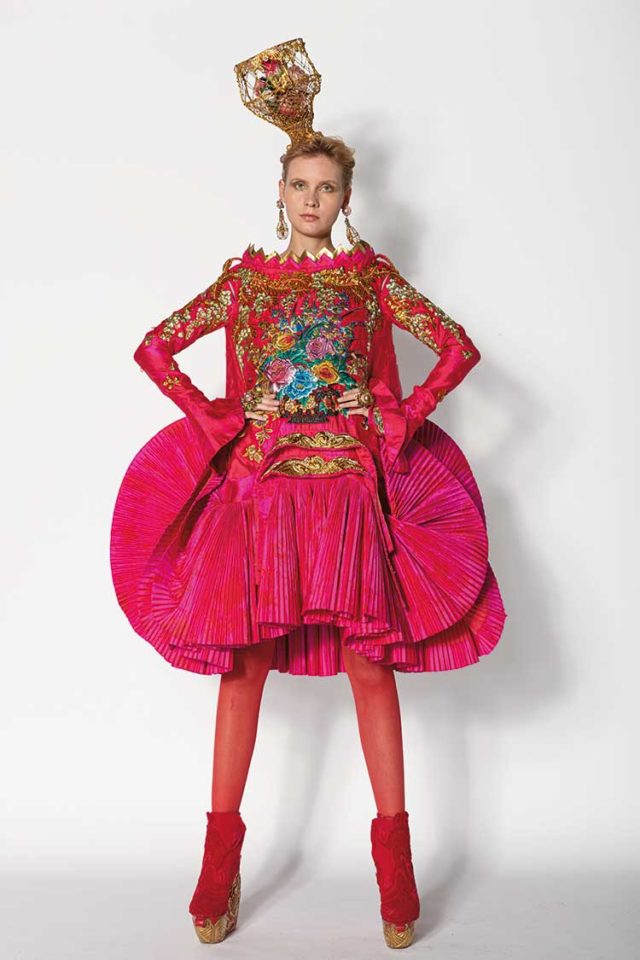 A MULTIDISCIPLINARY APPROACH
Each gallery is dedicated to one or more of Guo's runway collections. An Amazing Journey in a Childhood Dream (2008) was inspired during Guo's second pregnancy. Designs based on dolls from her childhood and pastel-colored pleated dresses with origami style folds hearken back to the artist's early years during the Cultural Revolution. The pastel palette was inspired by French 18th-century drawings, and Guo's raised metallic threads were inspired by matador costumes worn by Spanish bullfighters.
Traveling throughout Europe and exhibiting in Paris made a deep impression on the designer. Her time spent in France and Switzerland influenced two collections: Legend (2017), and L'Architecture (2018–19) inspired by Romanesque, Gothic, and neoclassical cathedrals. Garments made of silk were transformed into flying buttresses and other structural elements served to communicate "beauty of strength" and to encourage "a dialogue between the human body and spatial dimension."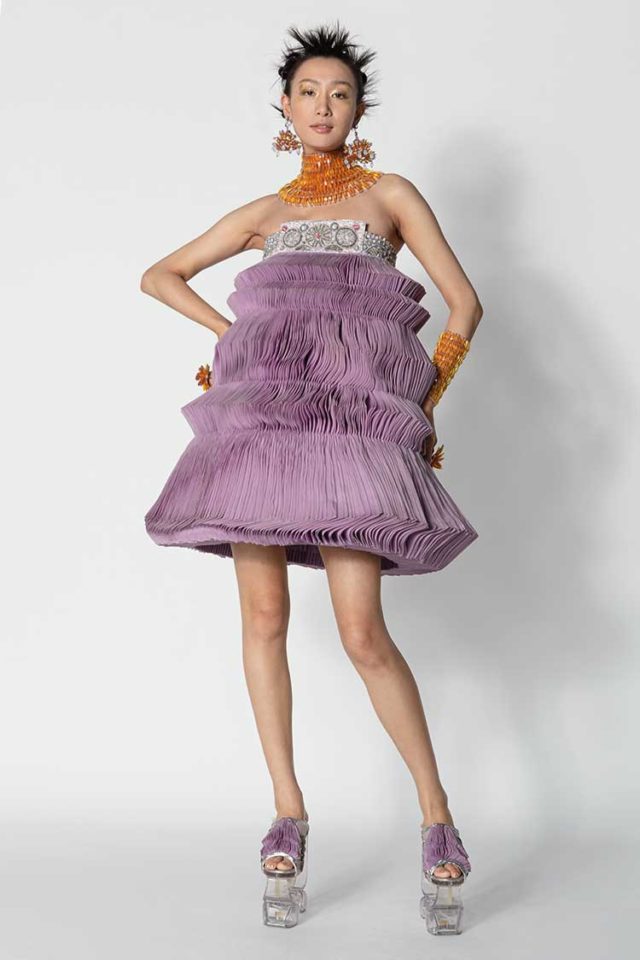 TRADITION MERGED WITH THE CONTEMPORARY
The imperial history of China is the focus of the collection East Palace (2019). Creating a rendition of the Hall of Supreme Harmony in the Forbidden City in Beijing, the pieces are inspired by Qing Dynasty court dress. Using pale gold embroidery, the elaborate designs depict imperial dragons, birds, and flowers.
Chinese decorative arts and textiles traditionally use floral motifs. Citing the Chinese saying, "There is a kingdom in a flower; wisdom in a leaf," the collections Garden of Soul (2015) and Elysium (2018) echo nature and nurtured gardens as a metaphor for the human soul. Elysium expands on the designer's interest in botanical shapes that come to life in her costumes as tendrils that extend from the garments like tree branches or roots.
Guo's most recent collection, Himalaya (2020), is inspired by the Himalaya mountain range. As a holy place and home of the gods, the location represents what is sacred in Asian culture. Using a rare collection of Japanese obi belts, Guo and her team turned them inside out and reassembled them, making evident the labor process required to create the exquisite textiles.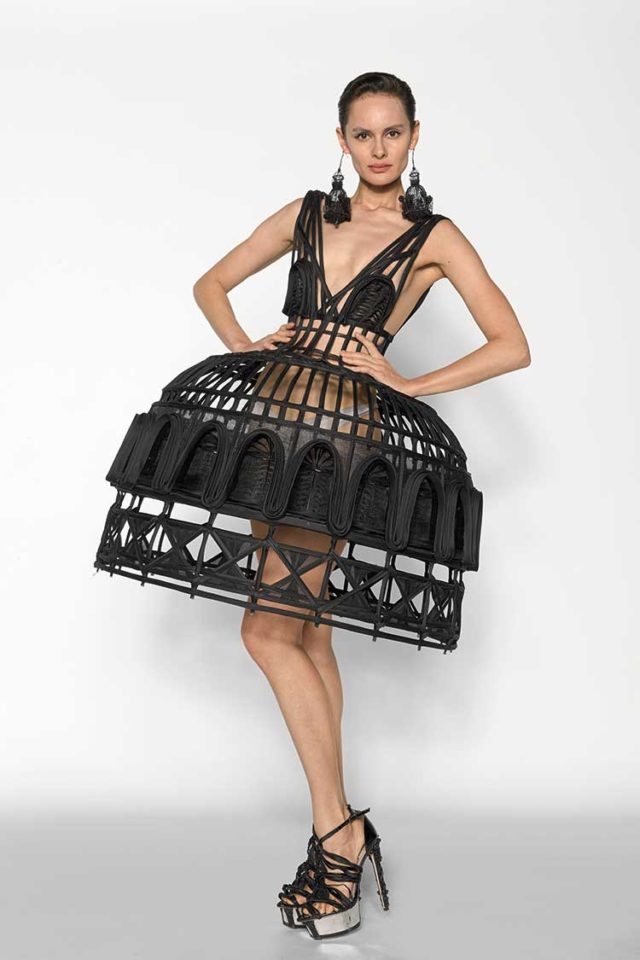 The exhibition finale is the dynamic presentation Alternate Universe (2019–20). Guo says, "Since death is inevitable, I prefer to imagine it as a dream, an alternate universe parallel to this world where everything returns to its original state of true pureness and beauty. It is the start of a mysterious journey." Light and darkness, angels and demons combined with Guo's signature three-dimensional embroidery techniques conjure a magic realist landscape of mythology, from the monkeys of Aesop's Fables to the snake that lured Eve to the forbidden fruit in the Garden of Eden.
Guo's designs highlight the rich history between China and the Western world. "Layers of meaning and imagery form a bricolage of opulent surfaces imposed upon sculptural silhouettes," explains Jill D'Alessandro, curator in charge of costume and textile arts. "For Guo Pei, each collection starts with a philosophical idea — a spark of inspiration — drawn from a wide range of sources from her personal life and travels, as well as art and architecture, literature, and nature." Positioned on the Pacific Rim, San Francisco's location combined with its significant Chinese heritage is the perfect city to exclusively host Guo's first major museum exhibition.
Guo continues to employ nearly 500 dedicated artisans to produce her dazzling pieces, some of which can take thousands of hours and up to two years to complete.
Guo Pei: Couture Fantasy | Tue.–Sun. 9:30 a.m.–5:15 p.m. through Sept. 5, $30, Legion of Honor Museum, 100 34th Ave., Lincoln Park, 415-750-3600,
legionofhonor.famsf.org
Sharon Anderson is an artist and writer in Southern California. She can be reached at mindtheimage.com.