The Presidio Trust has completed its three-year renovation of the historic Officers' Club located on the Main Post at 50 Moraga Avenue, and has put together a grand celebration of free events on the weekend of Oct. 4–5 to introduce it to the public.
The Officers' Club dates back to the 1776 Spanish colonization of California, which was centered at the Presidio, and is one of just two buildings in San Francisco sharing that distinction, the other being Mission Dolores. The building was a social center for Spanish officers, and then later Mexican and American officers. The Presidio Trust sought to re-establish the historic building as a social destination that would also be a vibrant cultural destination and to offer a variety of event programming free of charge to the public.
"The Officers' Club was a place where officers and their families gathered to celebrate and socialize. When the club reopens in October, everyone will be welcome to enjoy a robust schedule of events that enlighten, engage, and entertain," said Craig Middleton, executive director of the Presidio Trust.
To celebrate the reopening, a weekend of free events (see sidebar, page 4), sponsored by the Presidio Trust and Bay Area cultural institutions, is planned to give the public a sampling of what will be offered on a regular basis. The events include drop-in children's craft activities, discussions, music, and cultural performances throughout each day, plus ongoing multimedia exhibitions that explore the role of the Presidio in American history. Arguello, the club's new restaurant helmed by award-winning chef Traci Des Jardins, features Mexican food and drink and will offer a special dinner tasting menu on Sunday, Oct. 5, available by reservation (415-561-3650, arguellosf.com, presidioofficersclub.com). The restaurant also features a heated patio adjacent to a new Andrew Goldsworthy installation, Earth Wall.
The ongoing programming consists of the Presidio Dialogues, Thursday evening lectures that encourage audience participation and features authors and artists as well as "thought leaders," who will explore history and current events through dialogues, panels and films. The series is designed to encourage debate and discussion while introducing diverse perspectives.
Friday evening Presidio Sessions will feature live music from jazz to classical to contemporary, curated by the San Francisco Friends of Chamber Music. "We are thrilled to partner with the Presidio Trust to bring the best of the Bay Area's musicians, many internationally recognized, to the Presidio Officers' Club," said Dominique Pelletey, executive director of the San Francisco Friends of Chamber Music. The evening programs will be held in Moraga Hall, the intimate fireplaced space adjacent to Arguello.
During Weekend Family Fun, designed for ages 5 through 12, families can drop in from 10 a.m. to 3 p.m. for craft-making activities based on the Presidio's natural and cultural heritage and for Family Special Events (Saturdays, 2 p.m.) featuring performance-based activities, both experiential and participatory, including live music, dance, and theatre.
Signature Events range from big band music and swing dancing to San Francisco's annual birthday commemoration to Shakespeare discussions and performances.
Education and learning is an important part of the new Officers' Club. Docents will offer tours daily to help visitors explore the rich history of the Presidio. The 4,000-square-foot Presidio Heritage Gallery features multimedia displays and programming, and the Mesa Room displays the original adobe walls of the building dating to the 1800s. Presidio Trust educators will offer immersive, hands-on experiences tied to the California common core curriculum to elementary through high school-age students that will explore the Presidio's history, cultural diversity, and the impacts of conflict and war. In addition, the Officers' Club features a hands-on archaeology research lab, which will allow visitors to interact with archaeologists, experience actual artifacts up close, and observe the ongoing discovery onsite and around the park — through October the public may view actual excavation a few yards from the Officers' Club at Pershing Square from 9 a.m. to 4 p.m. Thursday through Saturday.
Meeting and event space is also available at the Officers' Club, from the grand second-floor Ortega Ballroom with panoramic views of the bay to the more intimate Hardie Courtyard.
With all of these amenities and diverse programming, the Officers' Club is sure to become a destination for locals and visitors alike.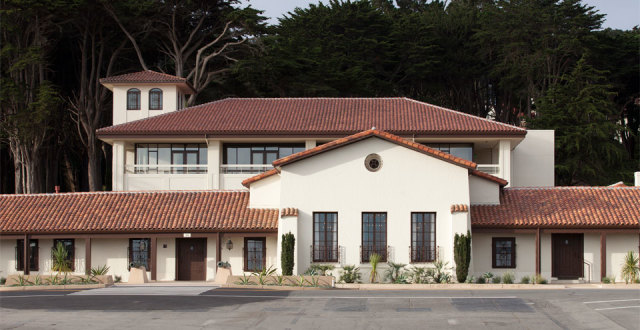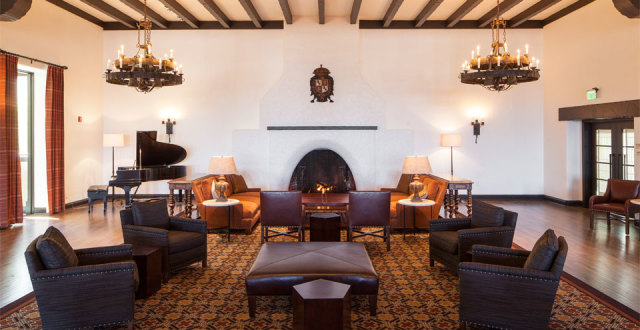 Upcoming Presidio Officers' Club Events
OPENING WEEKEND EVENTS (OCT. 4–5)
The events start at 10 a.m. Saturday (Oct. 4) with a flag raising, color guard, and marching band and continue throughout the day. Enjoy a full weekend of cultural programming, including multimedia exhibitions, live music, and craft making for kids. Here's what's in store:
Saturday and Sunday (Oct. 4–5), Creative family drop-in programs (10 a.m.–3 p.m.) feature imaginative craft-making activities for kids ages 5 through 12 that are based on the Presidio's natural and cultural heritage. Also open throughout the day are multimedia exhibitions that include films, images, and artifacts that explore the impact of the Presidio on American history. Music programs both days begin at noon and continue at 1 p.m., 3 p.m., 4 p.m., 5 p.m., and 7 p.m. (Saturday only).
The music features a variety of performances on Saturday (Oct. 4) from the Latin rhythms of Quinteto Latino; the high-energy of West African drumming company Bu Falle; the jazz piano music of the Adam Shulman Sextet, the Bella Piano Trio performing works from the Romantic and 20th century composers; the Hawaiian cultural ensemble Halau o Keikiali'i; and Les Gwan Jupons, a contemporary acoustic jazz ensemble playing vintage Caribbean party music. Oakland's Grammy-Award winning 19-piece Pacific Mambo band closes the evening playing salsa, mambo, Latin jazz & cha-cha.
Sunday (Oct. 5) features music from Quartet San Francisco playing broad-ranging styles from jazz to tango, blues to bluegrass, and even gypsy swing and funk; Chaskinakuy features a collection of regional instruments used to play music originating in Ecuador and Argentina; Real Vocal String Quartet incorporates classical, jazz, and rock with influences from West Africa, Brazil, and rural America; the clarinet, flute, voice, piano, and percussion of the Bernal Hill Players produce Latin as well as classical and commissioned pieces; Bay Area favorite and internationally recognized Lavay Smith and the Red Hot Skillet Lickers play in their swinging style of jazzy blues influenced by Billie Holiday, Dinah Washington, Bessie Smith, and more; and the Marcus Shelby Quartet closes the evening with Shelby's jazz bass, which incorporate stories of the African American experience into his compositions.
FALL PROGRAMMING HIGHLIGHTS (OCT. 9–DEC. 28)
Presidio Dialogues: Lectures include 50 Great American Places: Essential Historic Sites Across the United States (Oct. 9), featuring Brent Glass from the Smithsonian Institution previewing his forthcoming book and discussing the connection between places and themes in American history; Coyotes in Our Midst: Learning to Live with North America's Native "Song Dog" (Nov. 6), featuring Camilla Fox of Project Coyote, who discusses the history of coyotes throughout North America, their adaptability, and challenges in rural and urban communities along with positive strategies for coexisting with this resilient and successful predator; and Presidio Archaelogy: Past, Present and Future (Dec. 4) presents archaeologists Barbara Voss and Kari Jones as they share their finds and hopes of future discoveries of El Presidio, the original Spanish fort from 1776, buried just below the surface of the Officers' Club.
Presidio Sessions: Additional music programming at the Officers' Club includes the premier Alexander String Quartet (Oct. 10) performing classical interpretations of Beethoven and Mozart as well as music by cutting-edge contemporary composers. Solo pianists Eva-Maria Zimmermann and Keisuke Nakagoshi perform as the Zofo Duet (Oct. 17), Grammy-nominated, award-winning, and one of the few piano duos worldwide perform a repertoire of 20th and 21st century music; the award-winning Bay Area Agave Baroque (Oct. 24) specializes in 17th-century string chamber music; and the award-winning San Francisco-based Telegraph Quartet (Oct. 31) boasts members from Juilliard, Rice University, The Cleveland Institute of Music, and the San Francisco Conservatory of Music. The Del Sol String Quartet (Dec. 12) specializes in music by living composers and has performed in prominent venues domestically, including the Kennedy Center, as well as internationally; and the Frank Tusa Quartet performs be-bop standards, with Tusa having performed and recorded with many great jazz legends including Stan Getz, Chet Baker, Joe Henderson, and many more.
Weekend Family Fun: In addition to drop-in sessions each Saturday, special events include the high-energy Drumming and Rhythms of Japan (Oct. 18) by multifaceted artist Melody Takata, providing an experience of both classical and folk styles of Japanese dance and music, combined with spoken word, visual design, and more; Mexican Folk Music and Dance (Nov. 1) featuring Cascada de Flores combining Mexican and Caribbean music in a participatory program that tells the story of the Mexican people; and Shadow Puppet Performance and Workshop (Nov. 15) with Daniel Barash, who after performing some favorite stories on screen will conduct a hands-on workshop where children will create their own puppets.
Signature Events: Moraga Hall was the social center of the original Officers' Club and Moraga Hall Dance: The 1930s (Oct. 11) features dance lessons from Cynthia Glinka and music by the Royal Society Jazz Orchestra and The Jitterbugs; Bullying in The Merchant of Venice (Nov. 22) incorporates an interactive discussion led by San Francisco Shakespeare Festival staff along with performances to explore themes of religious intolerance and prejudice; and the festive, family-friendly Holiday Revels Mask-Making (Dec. 13) is just in time for holiday festivities (415-561-5300, presidioofficersclub.com).