"You have to see the paintings with your own eyes. Prepare to be flabbergasted."
— Art Critic Sebastian Smee, The Washington Post
The Legion of Honor presents "Sargent and Spain,"the first exhibition to explore the influence of Spanish culture on American expatriate artist John Singer Sargent (1856–1925). In keeping with many artists of his era, the portrait painter sought inspiration from Spanish painters. In his early 20s, he began a series of visits to the country during which time he created a significant body of work.
SARGENT, TRAVEL, AND THE SPANISH INFLUENCE
Sargent was the definitive society portraitist of his era. His canvases bore a distinction for the individuality he portrayed in his sitters and their opulent fabrics represented in loose, gestural brushstrokes. He was born in Florence to American parents and received an art education in Rome, Florence, and Paris. Sargent traveled to Spain from his homes in Paris (1874–82) and London (1882–1925). His travels took him to Majorca, Madrid, Toledo, Cuenca, Seville, from Granada in the south to Camprodon and Santiago de Compostela in the north. Travel provided a wellspring of discovery and inspiration that complemented Sargent's work."Sargent and Spain"is organized in sections that trace the artist's multifaceted approaches to portraying the landscape and culture of Spain.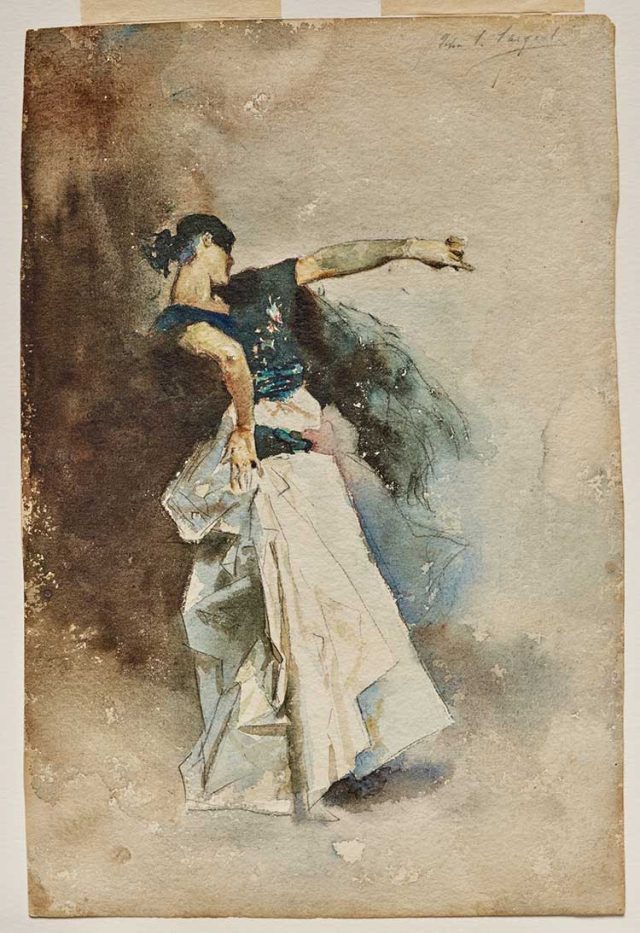 VELÁZQUEZ AND THE SPANISH MASTERS
Velázquez, Goya, and El Greco represent just a few of the artists that became the focal point of academic study by up-and-coming painters during the Impressionist era, and Sargent was no exception. This gallery features Sargent's powerful early oils dating from his first trip to Spain. Inspired by visits to the Museo del Prado in Madrid, Sargent learned through the tradition of imitation. The artist copied famous works by the masters, and learned to adapt the palette and brushwork of these paintings, especially those of his aesthetic hero, Diego Velázquez. Contrasting these copied studies, the gallery will include paintings by the Old Masters whom Sargent admired.
DANCE AND MUSIC
This gallery is dedicated to Sargent's admiration and enthusiasm for performing arts, specifically Spanish Roma peoples' flamenco dance, dress, and music. Paintings include his full-length oil portraits of the acclaimed Spanish dancer Carmen Daucet Moreno, known as La Carmencita. A series of spectacular studies include Study for the Spanish Dancer, an 1880–81 watercolor. Fabric and its movement, one of Sargent's signature themes, becomes lively motion in the jagged, swirling lines of dress — a figure emerging from muted earth tones into the light of the foreground.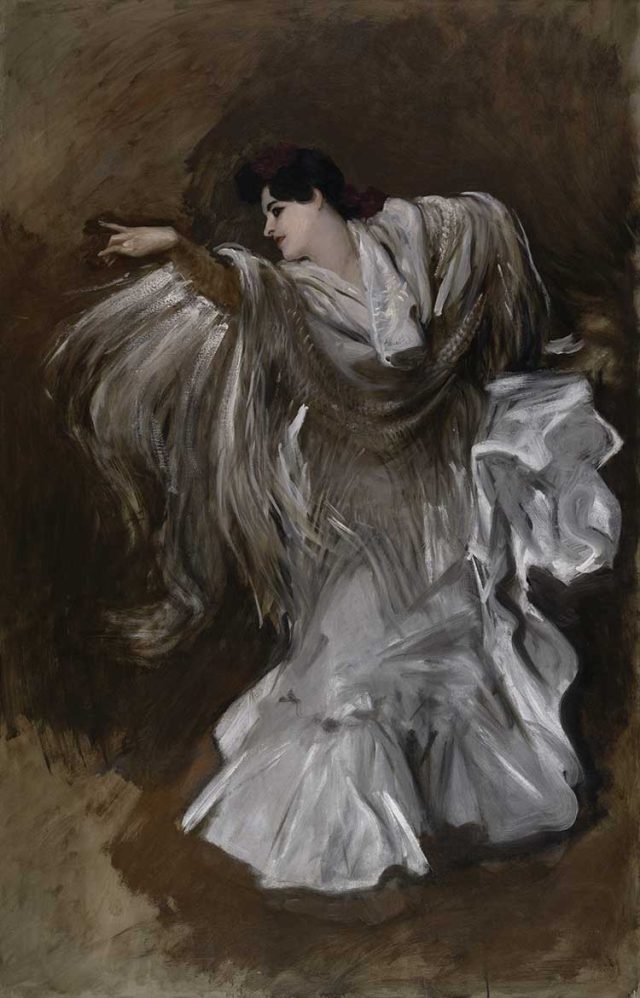 ARCHITECTURE AND GARDENS
The next three sections highlight travels throughout Spain and the countryside Sargent brought to life in brilliant oils and watercolors. Both rural and urban locales were a fascination, and views of Spanish architecture, royal palaces, and environs such as the Alhambra and Generalife, located in Granada, are captured by Sargent. Majorcan Fisherman, a 1908 oil on canvas, is an homage to light; refracted through a makeshift roof, the brilliant light as bright cross hatchings amongst shadows rendered in rapid, painterly strokes of browns, blues, and oranges. The fisherman in the foreground looks at the viewer with a friendly, informal stance, leaning on a fence in front of the brilliant blue of the ocean. The artist had an intense fascination with the dazzling and varied terrain, lush fruits, and foliage of Mediterranean islands, which he explored during his two visits there.
RELIGION AND SPIRITUALITY
The exhibition concludes with a gallery dedicated to Sargent's interest in religion and spirituality. Spanish Catholic religious imagery, soaring cathedrals, crucifixions, and Madonnas reflect the artist's appreciation for local iconography. Some of the studies were preparatory works made in advance for Sargent's ambitious mural cycle at the Boston Public Library, the Triumph of Religion (1890–1919). Sargent's personal collection of Spanish devotional sculptures represented in photographs will be on display as additional source materials for the library project.
Organized by the National Gallery in Washington, D.C., the Palace of the Legion of Honor will be the exclusive West Coast venue for this exhibition. This never-before-seen slice of the famed artist's life reevaluates his era and work, in the process exposing the bold, diverse accomplishments of a charismatic talent who was much more than a society portrait painter.
Sargent and Spain: Tue.–Sun. 9:30 a.m.–5:15 p.m., Feb. 11–May 14, $25–$28, Palace of the Legion of Honor, 100 34th Ave., Lincoln Park, 415-750-3600, famsf.org
Sharon Anderson is an artist and writer in Southern California. She can be reached at
mindtheimage.com.