What kind of artist am I? I'm determined to follow my own vision. I'm willing to risk everything. I'm dedicated to making a contribution — art historically, culturally and socially.
— Judy Chicago
Artist, author, educator, and feminist Judy Chicago will have the first retrospective of her legendary career opening Aug. 28 at the de Young museum. Beginning with her Californian Light and Space Movement in the 1960s to her contemporary offerings, the exhibition will include more than 125 paintings, drawings, ceramic sculptures, prints, and videos. Judy Chicago: A Retrospective is presented on the heels of the 100th anniversary of women's right to vote in the United States.
'THE DINNER PARTY'
Chicago was one of the driving forces behind the 1970's feminist art movement, cementing her reputation as a boundary-defying artist with her installation The Dinner Party (1974-79).Each of the 39 dinner place settings in the installation represent women who contributed to history. Artists in many mediums were represented from Emily Dickinson to Georgia O'Keefe, ancient deities such as Ishtar and Kali, and historical figures like Hildegarde of Bingen and Sojourner Truth.
The place settings on a triangular table feature a table runner embroidered with each woman's name and images representing her accomplishments. Many of the plates are designed with flower or butterfly imagery to represent a vulva. The work was completed in 1979 after a five-year period and with the help of many collaborators and volunteers. Some segments of the art world criticized The Dinner Party for its use of vaginal imagery and embrace of feminine craft such as textiles and ceramics; however, The Dinner Party is now regarded as one of the most iconic artworks in the history of feminist art.
Though it is permanently installed in the Brooklyn Museum's Elizabeth A. Sackler Center for Feminist Art, The Dinner Party will be represented in the de Young exhibition by preparatory studies, including test plates, archival materials, and preliminary drawings. Additionally, the film Right Out of History: The Making of Judy Chicago's Dinner Party will be on view to provide visitors additional insights to the process of making this colossal work.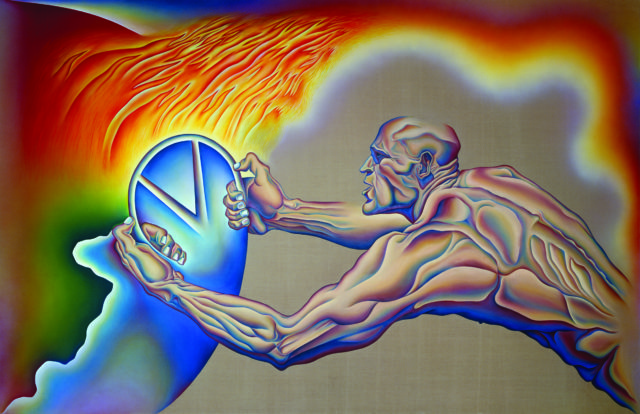 BIRTH AND GENDER
The Birth Project (1980–85) takes on the absence of birth imagery and birthing as a fundamental feminine — and human — experience. Conceived from her research for The Dinner Party, Chicago created 80-plus works with female volunteers and produced paintings and needle-worked images such as Earth Birth which vividly illustrates the process of creation and birth through powerful female forms. The Crowning 4 (1984) combines needlepoint and painting to represent a brightly colored stylized image of a woman giving birth and including, in the perimeters, the names of women and number of births for each.
Chicago examines gender roles in works like Driving the World to Destruction (1985) in her work Power Play (1982–87). Lush colors depict a male torso gripping a steering wheel surrounded by flames, suggesting masculinity's struggle with femininity.
VIOLENCE AND MORTALITY
The work Holocaust Project: From Darkness into Light (1985-93) is the result of a highly personal exploration of Chicago's Jewish roots and heritage, which ultimately led to an exploration of genocides around the world. In The Fall, a modified Aubusson tapestry including weaving by Audrey Cowan, abuses of power are shown through time. Violence is depicted through slavery, crucifixion, torture, and the Holocaust, as bodies are tortured then placed in ovens under a rack of slaughtered pigs.
Chicago's latest project, The End: A Meditation on Death and Extinction (2015–19) confronts visitors with issues relating to mortality and the environment. Stranded, created from kiln-fired glass paint on black glass, illustrates a polar bear on a small raft of ice, a cautionary tale of climate change and the death and destruction left in its wake. Words captioning the image leave a glimmer of hope that "… our time of awakening comes soon."
"Judy Chicago: A Retrospective will reveal the continued radicality of Chicago's practice, both in her choice of subject matter and embrace of media traditionally excluded from the art historical canon," said Claudia Schmuckli, curator in charge of contemporary art and programming at the Fine Arts Museums of San Francisco. "To this day, her art is activist in its foundations. It is driven by the need and desire for social justice and an insistence on aesthetic strategies that don't require knowledge of art history or critical theory to be legible, while being informed by both."
Judy Chicago: A Retrospective: Tue.–Sun., 9:30 a.m.–5:15 p.m. Aug. 28–Jan. 9, 2022, $15, 50 Hagiwara Tea Garden Drive, 415-750-3600, famsf.org
Sharon Anderson is an artist and writer in Southern California. She can be reached at mindtheimage.com.