"That is the archaeology I am unearthing: The specter of police violence and state control over the bodies of young Black and Brown people all over the world." 
— Kehinde Wiley
Portrait painter Kehinde Wiley's An Archaeology of Silence is a new, monumental body of work having its U.S. premiere at the de Young. The 26 works stand as elegies and monuments to young Black people all over the world killed in acts of systemic violence. Black bodies are rendered in lush, baroque paintings and sculpture as a meditation created during the Covid-19 era and inspired by the Black Lives Matter movement.
A MODERN TAKE ON TRADITIONAL PORTRAITURE
Born in Los Angeles and a BFA graduate from the San Francisco Art Institute, Kehinde Wiley's portraits render people of color in the traditional settings of Old Master paintings with a contemporary twist. In 2018 Wiley became the first African American artist to paint an official U.S. presidential portrait for the Smithsonian National Portrait Gallery. Hand-picked for the task by President Barack Obama himself, Wiley's interpretation abandons traditional realism by portraying President Obama sitting in a chair that floats before a botanical scene. Blooming flowers act as symbols of the places the president and his family have lived.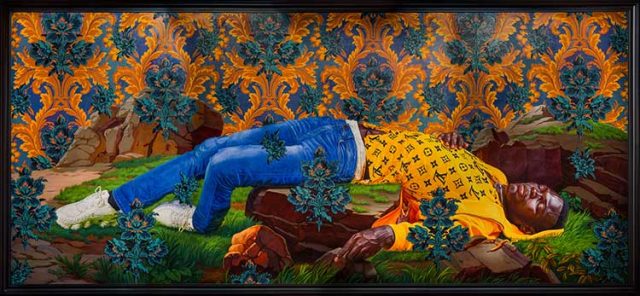 ICONOGRAPHY OF THE FALLEN FIGURE
In his 2008 series Down, Wiley created a group of large-scale portraits of young Black men inspired by Hans Holbein the Younger's The Dead Christ in the Tomb (1521–22). Wiley traced the iconography of death and sacrifice in Western art across religious, mythological, and historical subjects. "An Archaeology of Silence"utilizes the visual language of the dying hero in its depiction of Black people struck down, wounded, resting, or dead, all referencing iconic historical paintings of martyrs and saints. In Femme Piquée par un Serpent (Mamadou Gueye) (2022), a figure in repose surrounded by ornate foliage measures in at a monumental 25 feet wide. The floral patterns and saturated hues continue in Reclining Nude (Babacar Mané) (2022). Rendered in a hyperreal, lifelike manner, the folds in the clothing, the texture of skin, leaves, and flower petals in dazzling colors add an element of visceral astonishment to the somber subject matter.
CLASSICAL THEMES MADE CONTEMPORARY
Sculptures continue the symbolism of pain, repose, and torment in Dying Gaul (After a Roman sculpture of the 1st Century) (2021) in which a young Black male in a hoodie sits with his head bowed, eyes closed. In Morpheus (2021), a young Black girl in jeans and sneakers, resting her head in a languid pose, becomes Morpheus, a God associated with sleep and dreaming. In the painting The Wounded Achilles (2022), Achilles, a Greek hero of the Trojan War, is reimagined as a figure in jeans and a tank top. He stares directly at the viewer while seated amidst a richly designed floral pattern that seems to engulf him like a wallpaper pattern come to life.
"By inscribing Black people into known examples of Western painting and sculpture, Kehinde Wiley counters the historical erasure of people of color from the dominant cultural narratives," said Claudia Schmuckli, curator-in-charge of Contemporary Art and Programming at the Fine Arts Museums of San Francisco. "This new body of work forgoes the rhetorical tools of empire that have informed his portraiture thus far to shift the conversation toward a recognition of suffering and resilience that is both vulnerable and strong, elegiac and ecstatic, devastating and beautiful."
The museum's Textile Arts gallery adjacent to the exhibition will be utilized as a space of respite for museumgoers with the aim of practicing care for visitors during and after their visit. Also the Piazzoni Murals Room will be used as a library for visitors to reflect and access resources about the exhibition. Comment cards, drawing materials, audio recordings, books, and magazines will provide visitors information and the ability to express their own reactions to the history of systemic violence against Black people in the United States, and the resistance to systemic violence.
'Kehinde Wiley: An Archaeology of Silence': Tue.–Sun. 9:30 a.m.–5:15 p.m., March 18–Oct. 15, $15, de Young Museum, 50 Hagiwara Tea Garden Dr., Golden Gate Park, 415-750-3600, famsf.org
Sharon Anderson is an artist and writer in Southern California. She can be reached at mindtheimage.com.