The traditional beginning of summer in most parts of the country is Memorial Day, but in San Francisco, it's also our unique street festivals. We may see many of the same vendors at each festival, but each has its own personality depending on the neighborhood. You'll find arts, crafts, food, and music at all of the festivals, as well as free admission, but occasionally one will incorporate new features or themes, as the Union Street Festival has done in its 38th iteration.
Gearing up a week later this year, on Saturday and Sunday, June 7–8 from 10 a.m.–6 p.m., the Union Street Festival again will stretch from Gough Street to Steiner Street. What's new is that each of the six blocks will be themed a unique "world": Fashion World, Culinary World, Tech World, Local World, Craft World, and Health and Fitness World. This feature is attributed to Regan Caponi, owner of the Comet Club on Fillmore Street and member of the Union Street Association, who was inspired by the different "lands" at last year's Outside Lands music festival.
Also new this year after a three-year hiatus is the return of wine and beer in the form of "tasting pavilions," to include food pairings of gourmet cheeses, nuts, and olive oils. Each of the three pavilions will incorporate the décor of the world block on which they are located. Before you get too excited, you've got to pay to play at $30 advance and $35 onsite for a ticket of 10 tastings of one-ounce pours from over 12 wineries like Rosenblum, Howell Mountain, and Pope or two-ounce pours of craft beer. The pavilions are open from noon–5 p.m. each day with the last pour at 4:30 p.m.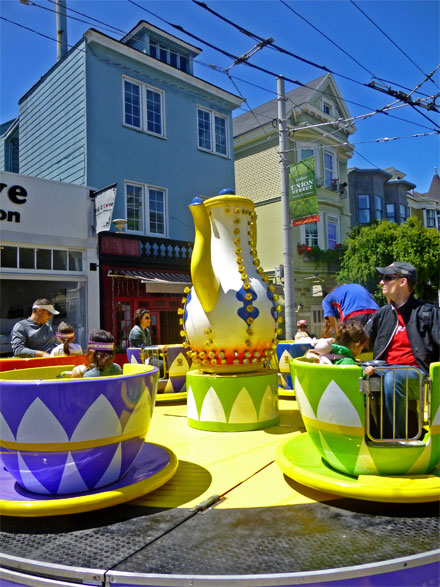 The more traditional festival offerings include over 100 boutique artists from across the country offering their specialty arts, crafts, and products. Between the dozens of food vendors dishing out your favorite street-fair specialties from corn dogs to souvlaki to teriyaki, and the many cafes and bistros along Union Street offering a more refined dining experience, there's no reason to leave hungry. Live music will also return; visit unionstreetfestival.com for the schedule.
Local chefs from Café Claude Marina, Dosa, and more will demonstrate their signature dishes each day at Culinary World (Fillmore Street). A fashion show both days (1–2 p.m. and 3–4 p.m., Gough Street) will feature the latest styles from Union Street's finest and trendiest boutiques, many of which will be open, so don't forget to stop in and visit after the show. You won't want to miss the entertainment between each set, which includes a pet fashion show.
As with past years, the Union Street Festival proceeds help support the Union Street Association and its efforts to beautify, promote, and preserve Union Street.
Now in its 60th year and considered the country's original street fair, the North Beach Festival follows the next weekend, June 14–15, 10 a.m.–6 p.m. More than 150 booths will feature fine arts, crafts, gifts, and of course, food and drink, spanning several streets (Columbus Avenue between Broadway and Green; Vallejo and Green Streets between Grant and Columbus; and Grant Avenue between Columbus and Filbert) for a true North Beach experience.
The fair features traditional Italian street painting with chalk, and you can also buy space for your future Rembrandts to create their own masterpieces at the kids' chalk area on Vallejo Street (between Grant and Columbus). There will be live music on two stages (visit sresproductions.com for the entertainment line-up), and you can enjoy your beer and wine in the beverage gardens. And of course you'll want to bring your pets for the ever-popular traditional animal blessing at the Shrine of St. Francis of Assisi (610 Vallejo Street) each day from 2–3 p.m., perhaps to help absolve your furry friend of all past and future transgressions.
And, again, don't forget to visit the local merchants who make up this vibrant and colorful North Beach neighborhood. Some of the artists in the many galleries on Grant Street will have booths outside — don't miss the eclectic collection of photographs by Craig Fonarow and altered books and drawings by Elizabeth Ashcroft, who are also part of a group show at Live Worms Gallery (1345 Grant Avenue).
Proceeds from the fair benefit the North Beach Business Association, which funds many neighborhood projects from hanging flower baskets to holiday lighting to sidewalk steam cleaning, as well as providing financial support for neighborhood organizations.