The traditional beginning of summer in most parts of the country is Memorial Day, but in San Francisco, it's also our unique street festivals. We may see many of the same vendors at each festival, but each fair has its own personality depending on the neighborhood. You'll find arts, crafts, food, and music at all the festivals, as well as free admission, but occasionally one will incorporate new features or themes, as the Union Street Festival has done in its 41st iteration as the Union Street Music Festival.
UNION STREET MUSIC FESTIVAL
Up first on the summer street fair schedule is the renamed Union Street Music Festival on the first weekend in June. As the new name suggests, look for more emphasis on live music — 24 bands will perform bluegrass, blues, country, jazz, and local bands performing in four areas (Fillmore, Webster, Laguna, and Octavia Streets), beginning at noon each day (visit sresproductions.com for the schedule).
After some experimentation with the wine and beer tasting pavilions, this year the familiar beverage gardens will return, offering full pours of wine and beer. The gardens will be conveniently located near the entertainment areas to enhance your listening enjoyment.
There will also be a juried art section, with cash prizes awarded to winners, in additional to the traditional festival offerings, which include boutique artists from across the country offering their specialty arts, crafts, and products. Community groups and unique sponsors will also be visible. Between the dozens of food vendors dishing out your favorite street-fair specialties from corn dogs to souvlaki to teriyaki, and the many cafes and bistros along Union Street offering a more refined dining experience, any hunger needs will surely be met.
As with past years, the Union Street Festival proceeds help support the Union Street Association and its efforts to beautify, promote, and preserve Union Street.
Union Street Music Festival: 10 a.m.–6 p.m., Saturday–Sunday, June 3–4, Union Street (Gough to Steiner). 800-310-6563, sresproductions.com
NORTH BEACH FESTIVAL
Considered the country's original street fair, the 63rd Annual North Beach Festival happens the weekend of June 17–18. Over 125 booths will feature fine arts, crafts, gifts, and of course food and drink, spanning several streets in the area made famous by the beat generation.
The fair features traditional Italian street painting with chalk, with a special area for your future Rembrandts to create their own masterpieces at the kids' chalk area. There will be live music on two stages (visit sresproductions.com for entertainment line-up), and you can enjoy your beer and wine in the beverage gardens. And of course you'll want to bring your pets for the ever-popular traditional animal blessing at the Shrine of St. Francis of Assisi (610 Vallejo Street) each day from 2–3 p.m., to absolve your furry friend(s) of all past and future transgressions.
New this year is Circus Bella, a one-ring circus featuring static trapeze, rope walking, a nine-person juggling act, contortion, hula-hoop, original clowning, and more.
And, again, don't forget to visit the local merchants who make up this energetic and colorful North Beach neighborhood.
Proceeds from the fair benefit the North Beach Business Association, which funds many neighborhood projects from hanging flower baskets to holiday lighting to sidewalk steam cleaning, as well as providing financial support for neighborhood organizations.
North Beach Festival: 10 a.m.–6 p.m., Saturday–Sunday, June 17–18, Columbus Avenue (between Broadway and Green); Vallejo and Green Streets (between Grant and Columbus); and Grant Avenue (between Columbus and Filbert). 800-310-6563, sresproductions.com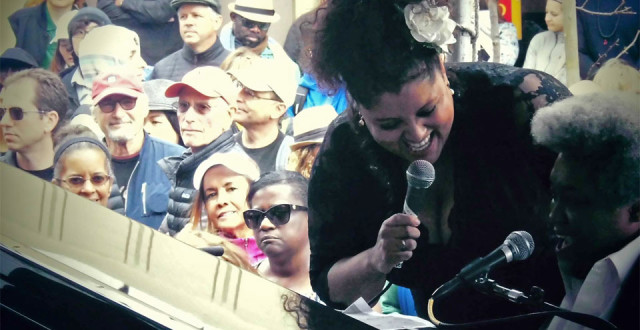 FILLMORE JAZZ FESTIVAL
The largest free jazz festival on the West Coast, now in its 33rd year, is up next July 1–2. With the theme of Summer of Love Revisited, the festival will celebrate the 50th anniversary of the Summer of Love when classic rock bands like Jefferson Airplane, Fleetwood Mac, Jimi Hendrix, The Grateful Dead, Credence Clearwater Revival, and many more emerged. The festival will honor the Summer of Love message of compassion and community, and the musicians will perform some songs from that time, as an example of how other music genres can be successfully adapted by jazz.
A local favorite, Artist-in-Residence Kim Nalley returns to the California Street Stage both days, and five additional stages will be located at Sutter Street, Eddy Street, Washington Street, O'Farrell Street, and the O'Farrell Fountain (visit fillmorejazzfestival.com for complete lineup). Also along the 12-block span of the festival, the original jazz district of the city, you'll find handmade arts and crafts booths, your favorite international gourmet food, beverages, and much more.
Fillmore Jazz Festival: 10 a.m.–6 p.m., Saturday–Sunday, July 1–2, Fillmore Street (Jackson to Eddy). 800-310-6563, fillmorejazzfestival.com
The street fairs take place in some of the most vibrant neighborhoods in the city, which might be a reason those neighborhoods host the fairs. A large part of what makes a neighborhood a destination is the merchants, so as you visit the fairs, don't forget to also visit the boutiques, bookstores, galleries, and restaurants, which help to make these neighborhoods what they are.