At the precocious age of 16, Lea Maxwell knew she needed a job, and she had a pretty good idea of where she wanted to work — Safeway. However, at the time, applying for a job at the grocery chain wasn't exactly the easiest process.
"Back then, you had to be referred for a job by someone at Safeway, and then you had to go through this pretty thorough interview process," said Maxwell. "I have a few family members who worked at Safeway and they were able to get me an interview and I came in prepared. I was a teenager all dressed up in a suit, and I sat through a 45 minute interview process to get the job. As a bagger. I was making $5.25 an hour and I felt like I was on top of the world."
That initial interview was the beginning of a 33-year journey where she has steadily elevated through the leadership ranks at Safeway. She now works as the store director of the Marina Safeway, managing all operations and employees at the iconic location.
"It's a huge honor to be managing this store," said Maxwell. "We are an essential hub in the city. I sometimes call it the Grand Central Station of San Francisco. We see people from all walks of life here. You have tourists, you have people stopping by on the way out of the city, and of course you have the local community. It makes for a really dynamic scene."
While Maxwell sits atop the operational leadership structure at Safeway now, she started from humble origins. A San Francisco native, Maxwell was essentially living on her own as a 13-year-old. Seeking to find more stability in her life, she relocated to Daly City to live with relatives and attend Jefferson Union High School, although she continued to face daily challenges. It was during that time that she secured her first job at Safeway and found a path to financial stability.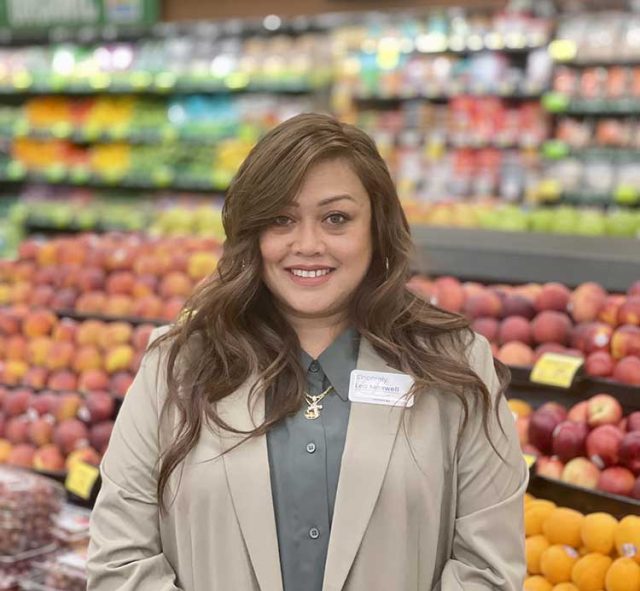 "You know, $5.25 might not sound like much, but before that, I was making less than $4 an hour," said Maxwell. "As a teenager that was a big deal for me. I needed a foundation and Safeway was able to provide that for me."
That first job bagging groceries was at Safeway's Market Street location, and over the decades, Maxwell has worked at numerous different stores in San Francisco and the Bay Area. Her initial stint in the Marina came in 2003, when she joined the store as an assistant manager. That initial experience proved to be incredibly illuminating.
"When I first came to the Marina Safeway, every employee there was a 20- or 25-year employee," said Maxwell. "So, you're talking about exceptional standards and this amazing level of pride. They cared so much about what the store looked like and they really prized personal relationships. And that helped shape me and set the tone for how I wanted to lead as a director."
Maxwell rejoined the Marina Safeway in 2017 as the store director and she has been at the role since.
Her performance as the leader of that Safeway branch has garnered attention and praise from her peers both within the company and the industry at large. Maxwell, who's been living in the Mission District since the 1990s, said she was excited to return to the Marina, a neighborhood she said she loves for its community, great food offerings, and of course, the views.
Last year, Maxwell was named Safeway's Store Director of the Year for her division, which includes all outlets within San Francisco and Pacifica. And in 2019, she was named a Top Women in Grocery award winner from Progressive Grocery, a nationwide industry group.
"That [Progressive Grocery Award] was pretty exciting and inspiring," said Maxwell. "I got to go to Florida and meet all these really amazing women in the industry."
With more than 30 years of experience under her belt, Maxwell reflects the lengthy tenures that define many Safeway employees. While many workers use Safeway as a springboard to other careers, the company has an impressive track record of supporting lifelong employees. In San Francisco, nearly 40 percent of the company's workforce has been with Safeway for more than 10 years and 20 percent of those associates have logged 20 years with the company.
"It's a great company to work for and it really instilled in me this motto — 'treat people the way you want to be treated,'" said Maxwell. "That's why we are here. That's why the Marina is a special place. I think we all value the importance of treating people with respect."
Email: [email protected]