MARINA
The former All Star Donuts space on Chestnut Street, which closed in September 2014, has become the second San Francisco location of Glaze Teriyaki. And yes, the brilliant All Star sign remains (2095 Chestnut Street, 415-590-3193, glazeteriyaki.com; daily 11 a.m.–10 p.m.).
RUSSIAN HILL
Husband and wife co-chefs Carrie and Rupert Blease are opening a new restaurant in the former T2J Thai space, Lord Stanley (2065 Polk Street). The duo, who met in England at Le Manoir aux Quat'Saisons, have since worked at New York's Per Se and Blue Hill and Central Kitchen and Commonwealth here in San Francisco. A British and European sensibility will influence the food, with a California emphasis on excellent seasonal ingredients. They'll be making nearly everything in-house, including the bread and butter, and will keep the menu small and not overly complicated.
The space seats 40, and Boor Bridges Architecture is behind the design. They've opened it up, with an upstairs loft that houses a communal table, along with floor-to-ceiling windows and clean lines. Warm wooden tables balance the touches of concrete, steel, and neon, while custom dishes from Melissa Rice, canvas bread bags, and textiles soften the hard, clean lines of the space.
The restaurant also features a bar, where wine director Louisa Smith will pour wines from small producers both local and international, with a focus on organic, biodynamic, and unique offerings. There will also be a regularly changing selection of beers on tap, including many international choices. You'll also find sake, low-proof cocktails, and nonalcoholic selections, including many with juices made in-house (2065 Polk Street; opening in early June; dinner Sunday and Tuesday–Thursday 5:30 p.m.–10 p.m., Friday–Saturday 5:30 p.m.–11 p.m.).
Financial District
As we keep hearing about luxury tasting-menu-only restaurants pushing our credit card limits, it's refreshing to write about a restaurant featuring a prix-fixe tasting menu that is just $35 — for three courses. Yes. You can pay $10 for an additional pasta course, and guess what, you're going to be stuffed.
The Hi Neighbor restaurant group (Stones Throw, Fat Angel) has just opened Trestle in Jackson Square
in the former Great Hunan (it's right where Chinatown, North Beach, and the Financ-ial District converge) — you
won't even recognize the space. The 1911 building had some beautiful bones, with dark brick walls, and Apparatus Architecture did a stellar job opening up the space. There are touches of rusticity, like the wide-plank oak floors and ash tabletops, and modernity, too, in the artwork and the sinuous shape of the chairs. The wood beams create an eye-catching element. The music is upbeat. The meal pace is brisk, so you can get on with your night and go grab a cocktail nearby.
Like Stones Throw, the team is comprised of executive chef Jason Halverson, Ryan Cole, and Tai Ricci (all Michael Mina alums), plus partners Jason Kirmse and Cyrick Hia. Halverson's dishes will rotate often and have roots in comfort dishes, but they are elevated with some modern techniques, lightened up with fresh California produce, and beautifully plated. You'll have a choice of a few dishes in each section, and partner Cole wants people to be excited to make dessert a part of their meal again. The place hits that San Francisco tone we like so much: casual but quality, with good service, wines, and design details.
On the opening menu, my guest and I started with a Little Gem salad with meaty pieces of bacon lardons and a sunny-side up egg, and marinated calamari and roasted fingerling potatoes and Calabrian chile aioli; we had to supplement our meal with the hearty garganelli Bolognese, with a spoonful of burrata on top; and the main event was a short rib "pot roast" with potato gratin, and pan-roasted salmon with farro and an orange-sherry vinaigrette. You can also request bread, and you'll get some Firebrand bread with burrata.
For dessert, a strawberry and rhubarb pavlova, and a warm chocolate brownie sundae, with some amazing elderflower ice cream from Humphry Slocombe. The price for that meal is $45, and it over delivered in quality, portion, and taste. They're on to some-thing here.
Value is also a big part of Jason Kirmse's wine list. You'll find a list of bottles for less than $50 (like a 2013 Château Thivin "Côte de Brouilly" Gamay from Beaujolais for $42), and some quality picks by the glass ($9–$15), but the real big-name bargain hunters will want to check out the bottles for $100 and more, which will only have a markup of $40 per bottle (instead of the industry standard of 200–300 percent). Yeah, there's some Krug for $201. And a Moreau "Les Clos Grand Cru" from Chablis for $119. So if you want to still blow some cash, you'll be handsomely rewarded. And of course, the beer list totally rocks (you know, that Fat Angel connection), with over 25 bottled selections from around the world (531 Jackson Street, trestlesf.com, 415-772-0922; Monday–Thursday 5:30–10:30 p.m., Friday–Saturday 5:30–11 p.m., Sunday 5:30–10 p.m.).
The San Francisco location of The Barrel Room has taken over the former Georges space on Sansome Street in the Financial District. The full-service restaurant is now open, and soon there will be many expanded offerings, including a wine bar and tasting room, a retail shop, and a subterranean speakeasy-style full bar. The wine bar and retail shop will open this month.
The concept is ambitious: Every three months, the restaurant menu, bar menu, and wine list will change completely. Each new menu will draw inspiration from a wine region of the world, including places like Germany, France, Austria, and Italy. The opening focus is on Latin America, with dishes like fish tacos with jicama and pineapple salsa, and rib eye with bone marrow-ancho chile salsa. As for the wine list, there are more than 200 bottle selections and more than 50 options available by the glass. Educational and regional flights will be offered as well (415 Sansome Street, 415-956-6900, barrelroomsf.com; lunch Monday–Friday 11 a.m.–2:30 p.m., dinner Monday–Saturday 5 p.m.–10:30 p.m.).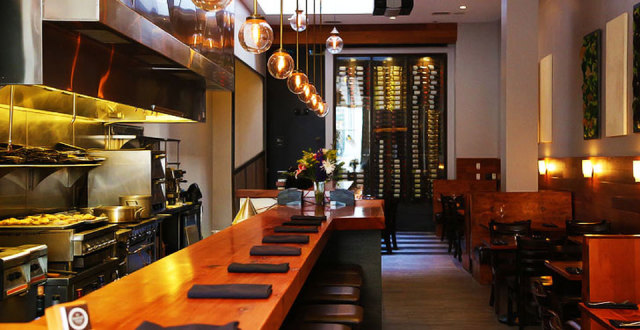 LOWER PACIFIC HEIGHTS
The somewhat cursed space on the northeastern corner of Divisadero and California has a new taker, and it's a good one: none other than Belinda Leong of neighboring B. Patisserie. Hoodline reports that the new project is called B. on the Go. Leong and Michel Suas, her business partner and baker, plan to open the new location on June 1.
They've run out of room at B. Patisserie, and having additional kitchen space will free up the original location. In fact, B. Patisserie has been so busy and crowded that Leong hasn't had the opportunity to start serving wine, despite the fact that she's had a beer and wine license for almost two years. The new space will change all that. They will bake in the satellite kitchen, in addition to preparing new items like sandwiches and snacks to go (2794 California Street).