Congratulations to chef-owner Melissa Perello on opening her second beautiful restaurant, Octavia (1701 Octavia Street, 415-408-7507). Her new Pacific Heights restaurant (which is in the former Baker & Banker and original Quince location) has a little bit more of everything: more dishes (there is quite the array of stunning small plates to start, like squid ink noodles with fennel vinaigrette, green garlic, Marash chile, and Cortez bottarga, and grilled beef tongue with charred broccoli in a flavorful marrow broth), more seats, and the bigger cellar means more wine selections from beverage director Paul Einbund (plus some tasty vermouth cocktails to start). The dining room (designed by Michael Baushke of Apparatus Architecture) has classic American good looks, and feels airy, rustic, spacious, and welcoming. Reservations are recommended, and there are also seats reserved for walk-ins. Dinner nightly 5 p.m.–10:30 p.m.
PRESIDIO
Traci Des Jardins has reopened the casual cafe Transit (215 Lincoln Boulevard, 415-561-5300), after taking it over earlier this year. It offers an easy spot to grab a bite, coffee and espresso (by Equator Coffees and Teas), pastries, wine, and beer. You'll find salads, sandwiches, grilled burgers, and pizza from the wood-burning oven in the afternoon, breakfast items, as well as a tightly edited selection of beer and wine on tap. There's an outdoor patio with views, and indoor seating if it's too breezy. Takeout is also available. Hours are Monday–Friday 7 a.m.–7 p.m.
COW HOLLOW
Coming soon is Belga (2000 Union Street), Adriano Paganini's latest project in the old Cafe des Amis space. Freedom Rains has been appointed as chef of this Belgian brasserie — his previous experience includes Flour + Water, Boulevard, RN74, and Incanto, and he will be bringing a California focus to the Belgian-inspired offerings. The menu is all about celebrating hospitality and "conviviality" (a word that's been turning up a lot lately), with dishes that encourage sharing, like house-made sausages cooked in the wood-fired oven, a rib eye for two, and his takes on classics like salad Lyonnaise and moules frites. It will all pair well with beverages, of course, with a substantial beer list of Belgian and Belgian-inspired suds selected by bar manager and cicerone Ryan Murphy (Abbot's Cellar). There will also be cocktails from Nora Furst designed to pair well with food. The space and other menu details are still in development, but we'll have a closer look soon. Get ready for the opening in mid-May.
MARINA
Good news for fans of Seed + Salt (2240 Chestnut Street, 415-872-9173), the "clean," vegetable-based eatery: Your beet burger just got tastier, thanks to the restaurant's new gluten-free baguettes and hamburger buns, which, as of the end of April, they are using to craft their tasty sandwiches. Made with whole grain (rice, psyllium, and chia), with no processed fillers (like xanthan gum), and unlike most dense and dry gluten-free breads, these hand-shaped artisanal beauties are moist but with a golden crust, light texture, and a sweet, nutty flavor. You can also enjoy the bread at home if you order online (seedandsalt.com) by 10 a.m. for same-day restaurant pick-up or next-day delivery by Caviar. Only a limited number of the six-inch sandwich loaves ($6) are available daily with a maximum of 12 per person. Look for full-sized baguettes in June.
RUSSIAN HILL
Local mini-chain, Rangoon Ruby (1608 Polk Street, 415-610-4333), took over the former Sushi Rock space on Polk Street. According to Chowhound, the space is now open, serving Burmese staples like tealeaf salad, noodles, and stews.
NORTH BEACH
Teague Kernan of Tupelo has a new project called Belle Cora, opening in the former Dell'Uva (565 Green Street) space. The name refers to the novel by Phillip Margulies about a notorious madam from the 19th century, and Kernan says the restaurant "will be a comfortable, inviting place to come share drinks and food." Chef John Kenner's menu will focus on lighter dishes, with an emphasis on vegetable-driven preparations (he's vegan). Don't worry, though, they'll play nice with meatier items, too, and everything will be designed for sharing. The wine list features about 25 bottles from consultant Paulina Krol, and it's intended to be approachable and affordable. Craft beers will also figure prominently.
The space has been designed with assistance from Julie Brown of Re:Design and will be warm and inviting, with some nods to the neighborhood's history and old-world ambience. They will take full advantage of the restaurant's great outdoor seating, too; sidewalk tables will definitely be available. The plan is to open in early June, but they are realistic about how long construction and permits may take.
Hoodline caught the details on Acquolina, the new project moving into the former Cafe Divine (1600 Stockton Street) space. It comes from a trio of Italians from Livorno — Rutilio Duràn (whom you may recognize from C'era Una Volta Ristorante Italiano in Alameda), Marco Marianelli, and Dario Nicotra — and will serve breakfast, lunch, and dinner daily. They'll have eggs and a breakfast pizza in the mornings, with pizza and pasta at lunch. At dinner, you'll also find meat and seafood plates. The wine list is mostly Italian, with selections priced for everyday consumption as well as special occasion choices. There is a special stone-lined oven for pizza and an imported Stylema machine for espresso. They want to appeal to a broad range of diners, including families with kids and those looking for a date night. The bar is having some adjustments made to it so it will be easier for dining. Opening is planned for the first week in May.
UNION SQUARE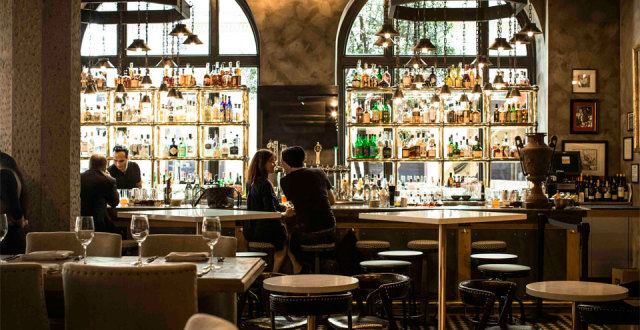 BDK Restaurant & Bar (501 Geary Street, 415-292-0101) has opened in the former Grand Cafe in the Hotel Monaco, with chef Heather Terhune (Chicago's Sable Kitchen & Bar). She has put together an American menu with some fun updates, like bacon croutons in an iceberg salad, and avocado and Calabrian chile in the steak tartare. The braised lamb poutine and smoked ham and Brie pop-tarts also sound like good trouble. Mains include pickle-brined fried chicken thighs with coleslaw and mini buttermilk biscuits ($22), spaghetti and meatballs ($21), and I am all over the potato and cheese pierogies ($19) with caramelized onions, sour cream, and dill.
The space got a big refresh from design firm Ken Fulk Inc. (Marlowe, The Battery), and now has an energetically patterned tile floor, leather banquettes in dark butterscotch, and stylish dining room chairs. The dining room has 72 seats (with high-top tables and pub-style booths and banquettes), and there is still a spacious bar and lounge area, with 17 seats at the California granite bar and 20 seats in the lounge. The huge dining room has been converted back to its original ballroom state (it was the grand ballroom of the Bellevue Hotel in the early 1900s). Bar manager Kevin Diedrich is behind the cocktails ($11–$12), and the wine list will emphasize Chianti (seems Bill Kimpton, the man behind the BDK initials, was a fan). You'll find wine, beer, and Diedrich's spin on an old-fashioned all on tap. Open for breakfast and dinner; bar open daily at 4 p.m. Brunch is coming soon.