Fort Mason Center for Arts & Culture, in the fall of 2021, set a goal to position art outside, creating a publicly shared art space. As an accessible resource to the community, the installations include "Out of Sight" by the celebrated artist Lawrence Weiner, which will be on view through the end of January.
EXPLORING ART IN UNEXPECTED, EVERYDAY PLACES
Multilingual hopscotch-like medallions or marelles (French for hopscotch) can be seen on the sidewalk across the city's waterfront at Fort Mason and the Exploratorium and in the Dogpatch neighborhood at the Minnesota Street Project. This ground-based work combines wit and whimsy in a game format, encouraging play and interaction along with learning.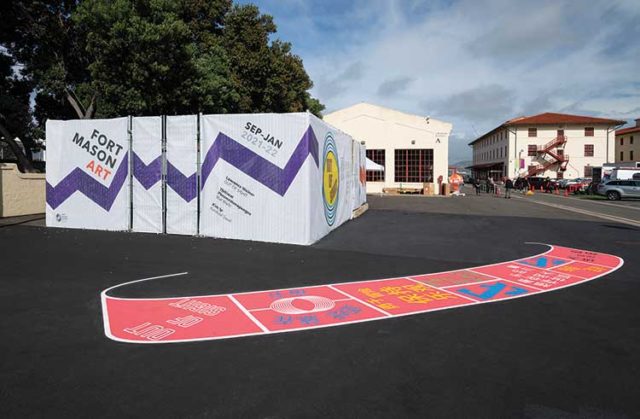 "Out of Sight" references the "gamification" of learning while the viewer interacts with the marelles in English, Mandarin Chinese, and Spanish. "A person coming in with whatever situation they find themselves in, the minute they have any thoughts about themselves going From Here to There, they will be able to stand in front of the marelle and realize they first must imagine themselves doing it, that's assuming a position," said Weiner.
This installation has proven to be a highly adaptable sculpture that has merged with different institutions, different spaces, distinct sites, and specific language communities, and has been shown in public spaces including the Chicago Park District; the downtown shopping district of Kortrijk, Belgium; the Pérez Art Museum in Miami; and the National Gallery of Victoria in Melbourne, Australia.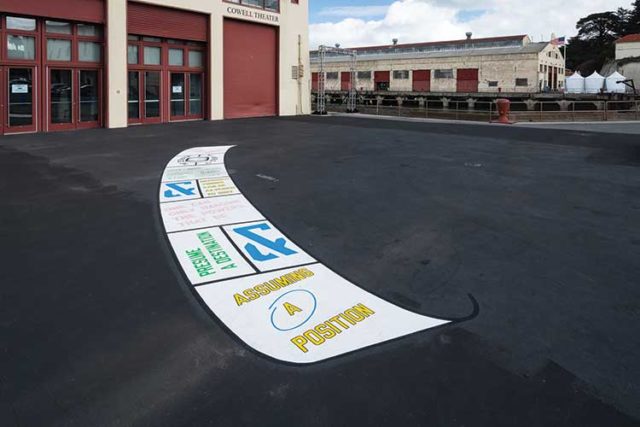 WORDS AS SCULPTURE
An American Conceptual artist from the South Bronx, Weiner died on Dec. 2, 2021. After traveling throughout the United States, Mexico, and Canada, Weiner found himself in the Bay Area, having his first exhibition in 1960 in Mill Valley, Calif. A National Endowment for the Arts and Guggenheim Fellowship recipient, Weiner was a central figure in the development of Conceptual Art during the 1960s. His approach to art was brilliantly original and yet still relatable to the general public. The visual poetry of communication became the medium. Weiner maintained that "Art is the empirical fact of the relationships of objects to objects in relation to human beings and not dependent upon historical precedent for either use or legitimacy." Creating mostly word-based artworks presented as sculpture, Weiner replaced the traditional three-dimensional object with boundary-expanding ideas presented through language. In this way, viewers can source meanings and perspectives from their own experience.
OUT OF SIGHT BUT NOT FORGOTTEN
"Out of Sight," during its time at Fort Mason, has profoundly distinguished itself from the installation's past lives. Art, like language, lives on beyond its creator. We now find ourselves interpreting this installation knowing the artist has recently passed. Will this change the meaning of the hopscotch game when the public "jumps" into this conversation? What thoughts will arise when a visitor hops on a square challenging them to Spit In The Wind, Hope For The Best? Or the square One Can Only Imagine The Powers That Be? The timing of this installation and the power of the messages seem to take on a greater poignancy owing to Weiner's recent death, an artist who challenged us to see the world differently via language as sculpture. What was set in motion changes its velocity. The interaction, and the dialogue, continues to evolve, as Weiner states in his hopscotch game, Imagined Things Can Be Altered To Suit.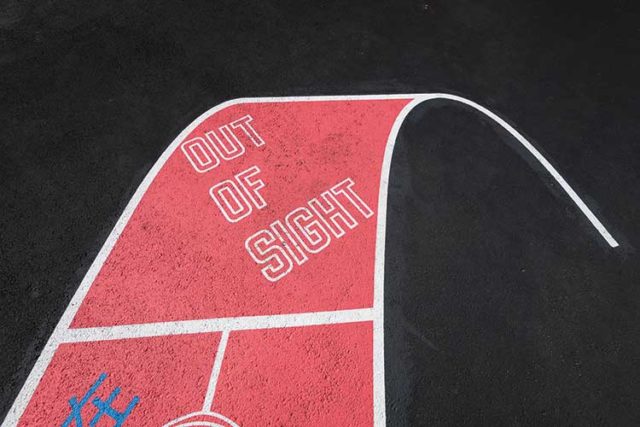 Frank Smigiel, FMCAC's director of arts programming, notes that "Out of Sight" "… shows artists continually reimagine where their work can live and what their work can do. In a city with a long history of public art, these artists place Fort Mason at the center of a larger conversation about what art out in the community can spark."
"Out of Sight": Daily through Jan. 30 at Fort Mason (2 Marina Boulevard, entrance and Pier 2); daily through Jan. 9 at the Exploratorium (Pier 15, the Embarcadero, entry plaza); and through Jan. 22 at the Minnesota Street Project(1275 Minnesota Street, atrium), free, 415-345-7500, 415-243-0825
Sharon Anderson is an artist and writer in Southern California. She can be reached at mindtheimage.com.